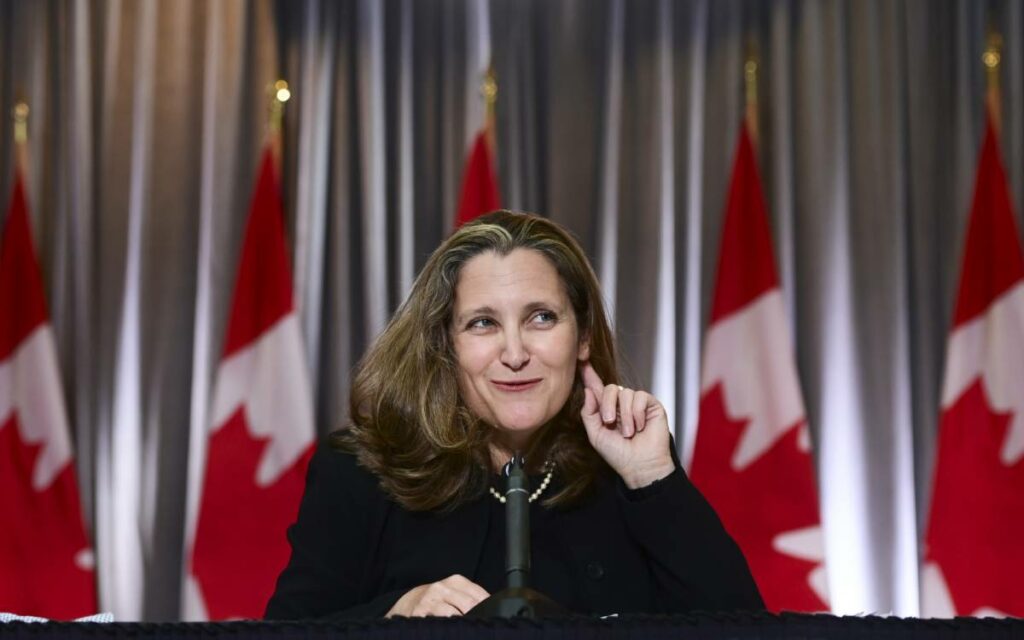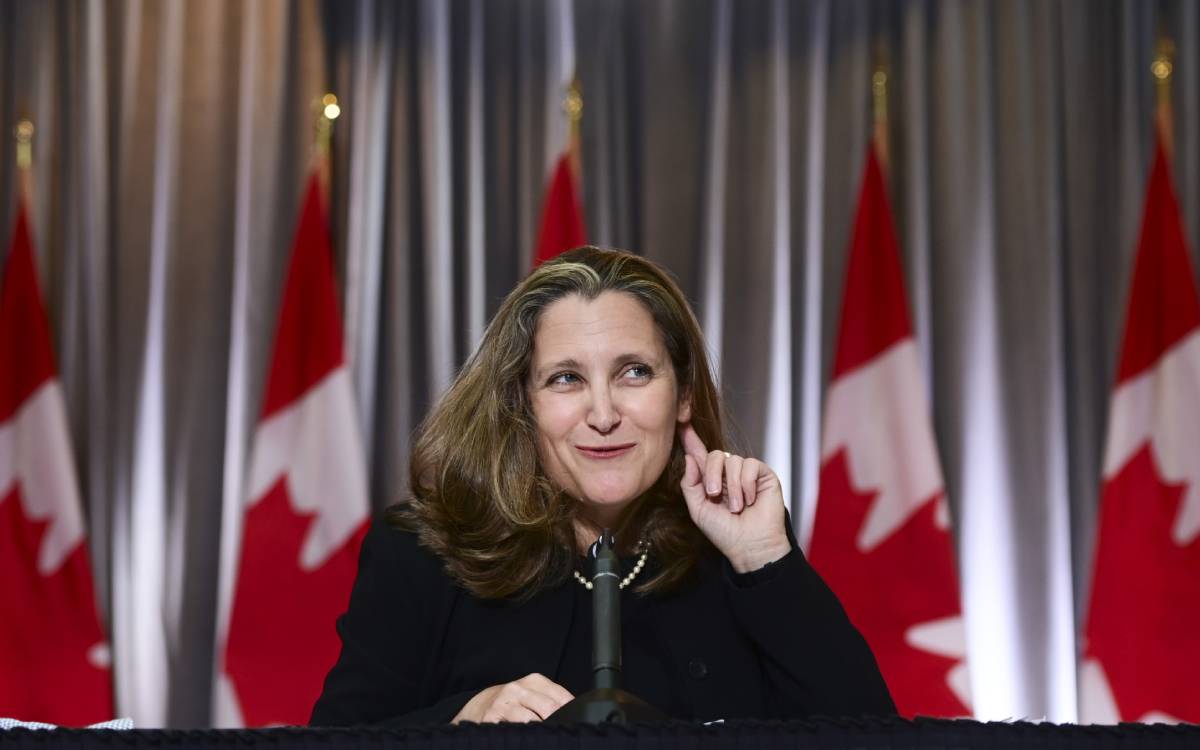 Deputy Prime Minister and Minister of Finance Chrystia Freeland. Freeland will release the Liberals' 2022 budget sometime next month. Photo credit: The Canadian Press/Sean Kilpatrick
As winter chugs along, more and more politicians are coming out of their winter hibernation to be seen in public again. Last week, Alberta Premier Jason Kenney left what we could only describe as a self-inflicted witness protection program to share the good news of Alberta's balanced budget.
Rumour has it that Doug Ford has been spotted in Toronto and is ramping up not only his re-election efforts but also preparing for his last budget before June's election. On the national scene, Justin Trudeau has been seen around Ottawa and so has Deputy Prime Minister and Minister of Finance Chrystia Freeland. While Associate Minister of Finance and Minister of Tourism, Randy Boissonnault, has more tour dates booked across Canada than the Blue Man Group. 
With the rise of political sightings, it must mean one thing: it's budget season. For most households, budget day is not the day that gets you out of bed feeling excited. In fact, it is usually the opposite, followed by a sense of dread when debating with your partner on what areas to cut back on. But when your budget includes revenues from the entire country and your re-election hopes, it is a rather exciting time. 
This government, for one, has no real interest in saving for a rainy day. Yes, they did have to have to navigate a pandemic and unprecedented times, but they also could have done it without maxing out Canadians' credit cards. According to Statistics Canada, the federal net debt rose by $253.4 billion in 2020 to reach $942.5 billion.
The Canadian Taxpayers Federation has calculated what each Canadian owes and it's a bit more manageable at just over $32,000. Given the Finance Ministers' recent comments, it is unlikely that number will decrease soon and the Canadian Taxpayers Federation may want to invest in a larger clock.
The department of finance recently closed their pre-budget submission portal and parliamentarians are meeting with stakeholders for feedback on the budget. The budget will likely address three main challenges Canadians are facing: economic growth, jobs, and housing. 
Since the Liberals were first elected over six years ago, they have been clear on one thing and that is the economy and the environment go hand in hand. They will link the economic growth that the government plans to map out in the budget to greening the economy.
Taking steps to be better stewards of the land, water, and air we occupy is commendable and one that should be explored. Canada has the potential to be a leader in green tech and move forward with many other initiatives to better the environment for generations to come. At the same time, taking into consideration the financial landscape for future generations is also important and one this government often forgets about. 
With that said, it is a breath of fresh air that the government is looking at housing and it will be a pillar in the budget. Many young people see a house as a dream that is far out of reach, given the current market. For others, it is their retirement fund that could not be in a better place given the seller's market that Canada has fostered. 
Even parents of young people understand that the current housing market is not sustainable. In a recent survey from Abacus Data, nearly 90 per cent of Ontario parents agree that it's more difficult to buy a home today compared to when they were younger. The poll also found that housing affordability is becoming a top issue for those in Ontario and people broadly support the government by introducing policies to help homebuyers. 
While support for housing is on the rise, those concerned about government spending are decreasing. This is not surprising, since it is hard to imagine what $942.5 billion in overspending looks like. Not to mention, Canadians are more focused on their daily spending than the spending on their governments. 
The federal budget will likely have some goodies in it for green tech and homebuyers, but it will miss a key part and that is responsible spending. Even as the number of people concerned about government spending declines, it remains an important topic to keep in mind. Good leadership should have an eye on the issues that the masses are not focused on to minimize the potential impact down the road. In this case, it means tackling the mountain of debt that has been racked up over the years to prevent future generations from having to carry it. 
The economy and the environment may go hand in hand, but it would be great if the other hand was not in Canadians' back pocket. 
Daniel Perry is a consultant with Summa Strategies Canada, one of the country's leading public affairs firms. During the recent federal election, he was a regular panelist on CBC's Power and Politics and CTV Morning Ottawa.