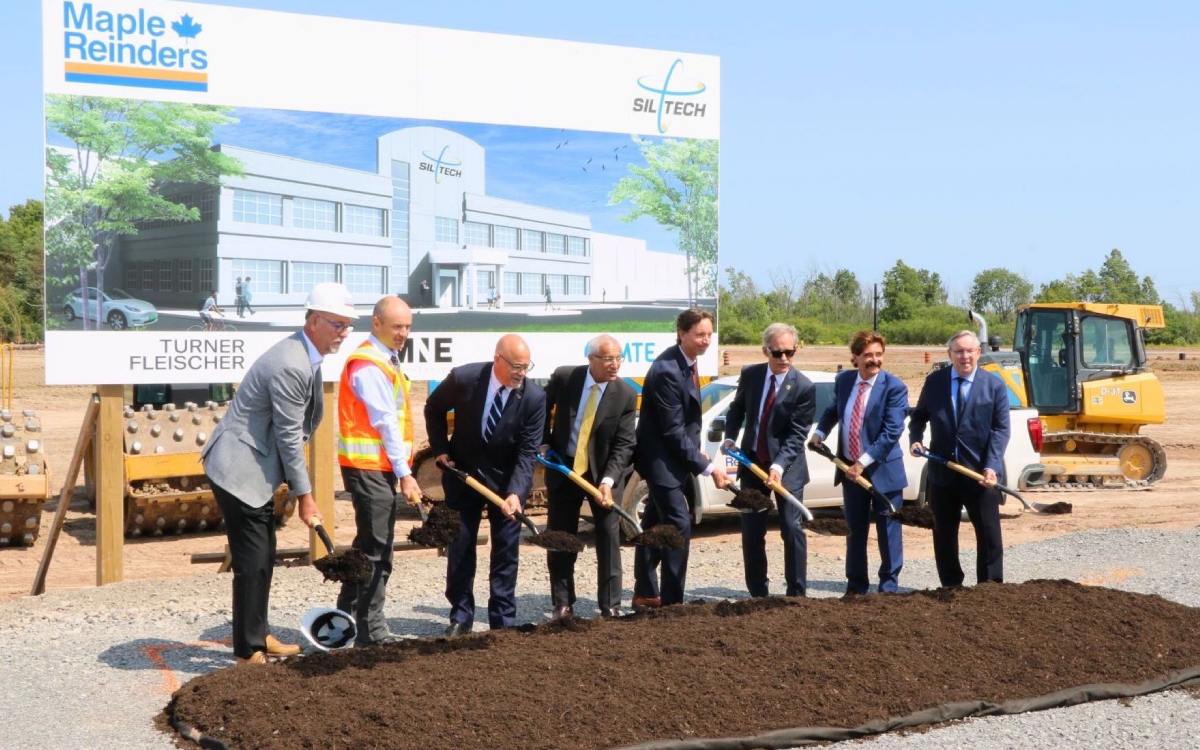 Officials take part in a ground-breaking ceremony at the future Siltech site at 1700 Pettit Rd. Pictured left to right are Maple Reinders president Harold Reinders, Siltech project engineer Mark Marynowicz, Niagara Falls MP Tony Baldinelli, Minister of Economic Development, Job Creation and Trade Vic Fedeli, Siltech CEO Rick Vrckovnik, Mayor of Fort Erie Wayne Redekop, Niagara Falls MPP Wayne Gates, and Regional Chair Jim Bradley. Photo credit: Facebook/Town of Fort Erie
Tuesday was an historic day for Niagara. 
Siltech Corporation, a large provincial manufacturer of silicone, hosted a ground-breaking ceremony for its brand-new cutting-edge manufacturing facility to be located in the Town of Fort Erie. The facility is projected to create 51 well-paying local jobs. Vic Fedeli, Ontario Minister of Economic Development, Job Creation and Trade, was in attendance.
"As we continue to grow the manufacturing sector in our province, we're thrilled to see Ontario companies like Siltech invest in their expansion," Fedeli shared in a recent press release. "We're creating the conditions for long-term economic growth that will create more good jobs and opportunities for workers and businesses across the province." 
The silicone that Siltech produces can be utilized in a wide range of multi-faceted industries, including automotive, agriculture, personal care, pulp and paper, as well as oil and gas. 
The 210,0000 square-foot factory, set to be built on 33 acres of land at 1700 Pettit Rd., will be the third that Siltech operates in the province. 
"Siltech is excited to be building in Fort Erie," company president Dag Enhorning said. "We are a proud Canadian company and look forward to many years of growth in this community." 
The Ontario government is providing $5 million from the Regional Development Program's Southwestern Ontario Development Fund to support the project. 
"Our government is building a strong Niagara and strengthening our local economy by supporting key investments in communities like Fort Erie," Niagara West MPP Sam Oosterhoff shared. "The local strategic investment by Siltech Corporation will grow manufacturing and create more good-paying jobs for workers and families right across Niagara."
Fort Erie Mayor Wayne Redekop was also on hand for the announcement.
"Congratulations to Siltech Corporation on this exciting project and for recognizing the immense potential that Fort Erie offers to businesses," Redekop said. "On behalf of Town Council, I extend our gratitude for their commitment to the continued economic growth of Fort Erie, Niagara, and Ontario."
"This investment sets a shining example for others and reinforces the bright future that lies ahead for our community," he added.
"Siltech is a highly valued and welcome addition to Fort Erie's established and diversified manufacturing sector," Caralee Grummett, Manager of Economic Development and Tourism Services for the Town of Fort Erie shared. "We would like to graciously thank Siltech for their investment and commitment to the Fort Erie community."
Siltech, which operates additional facilities in Mississauga and Toronto, is seeking to grow its presence in global markets and trade in the years to come. 
Those interested in learning more about Siltech, its products and objectives are invited to visit its website.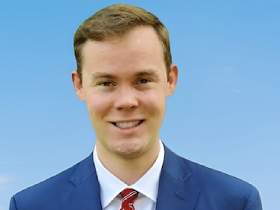 Nick Redekop completed his Honours Bachelor of Arts Degree in Labour Studies at Brock University. He has previously served in municipal and federal politics. In his free time, Nick enjoys following sports, taking part in outdoor activities, and reading biographies. Nick resides in Niagara Falls