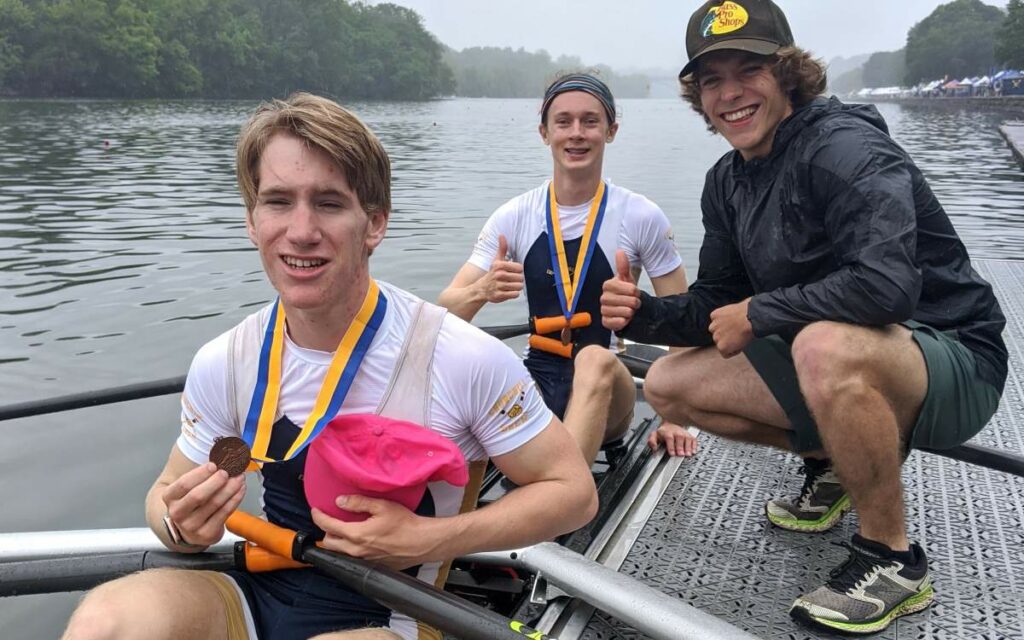 Pictured is Arden White (front) with his doubles partner Levi Patterson-Raby, alongside Arden's older brother and Bulldogs coach Austin. Photo credit: Steve Smith
When the 50-plus Sir Winston Churchill Bulldogs rowers take to the water later this week on Martindale Pond in Port Dalhousie for the Canadian Secondary Schools Rowing Association (CSSRA) Regatta they'll be doing it for more than medals.
And they've been doing that for weeks now. 
Back on April 29, SWC rowing coach Steve Smith was notified that the mother of one of his rowers had passed away.
Kellie White was a long-time rower herself who was diagnosed with cancer 13 years ago.
Her son Arden now row's for the Bulldogs, while older brother Austin now coaches with the team. 
"Just before our Early Bird Regatta, just before Mother's Day actually, Kellie passed away, I got a text on the Sunday morning right before our first regatta of the season letting me know that Kellie had passed away," Smith said on the Niagara Sports Report on Newstalk 610 CKTB. 
"I of course texted Austin, who I had previously coached here at Sir Winston, who is back coaching with me and is coaching Arden's crew.
I let him know how sorry we were, and of course don't worry about the regatta – I will find someone to take Arden's spot, and just let me know if you need anything. 
About five minutes later, this is about 5:30 in the morning, Austin texts me back and says thank you for the condolences but our mom would be furious if we didn't show up for race day. 
Sure enough, a couple of hours later, they're there and Arden's crew won their race, handily. It was a nice moment for them."
Seventeen-year-old Arden knew his mother was watching, and continues to use her inspiration on the water.
"Arden knows the ups and downs of Kellie battling cancer and the positive example she set for herself and the boys, and Dave her husband. 
He (Arden) really embodies that example. He's a very positive, very determined young man."
Kellie's boys also include two other brothers in Adam and Aaron.
Arden started the rowing season in the Senior Men's Quad, and then more recently he moved into the Senior Men's Double with Levi Patterson-Raby. where the pair not only qualified but medaled at the largest high school regatta in North America.
"They went to the Stotesbury Cup Regatta in Philadelphia, we have to earn a spot on the trailer from St. Catharines that's going – so the local crews compete for a spot on the trailer – and only 14 crews go – and Arden and Levi ended up winning the bronze medal.
His hard work and dedication is really paying off."
Smith admits Kellie's passing and Arden and Austin's everyday presence has brought the entire Bulldogs team closer.
"Yes, absolutely," explained Smith. 
"At the Mother's Day Regatta we wanted to pay tribute to Kellie, so the whole Sir Winston Churchill rowing program wore pink socks to honour Kellie's battle with cancer."
Good luck to the SWC Bulldogs and all local crews taking part in this week's CSSRA in Port Dalhousie.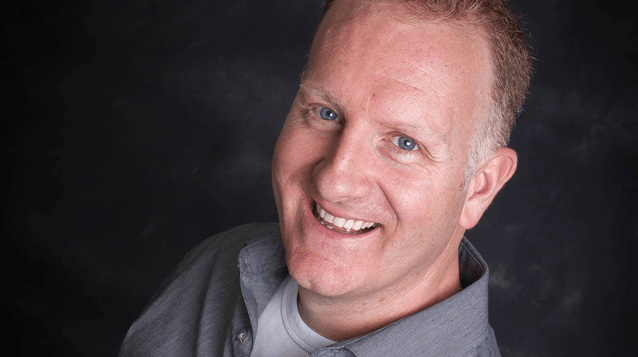 Rod Mawhood is a lifelong Niagara native who has had the pleasure of working in all three mediums – Radio, Print and TV – for over 20 years. His first announcing gig was with the then St. Catharines Stompers. Since then he's worked in radio and TV in Toronto, and currently is the announcer for the Niagara IceDogs and Niagara River Lions.
Rod also covers the Buffalo Bills for FOX Sports and the Buffalo Sabres for NBC Sports.