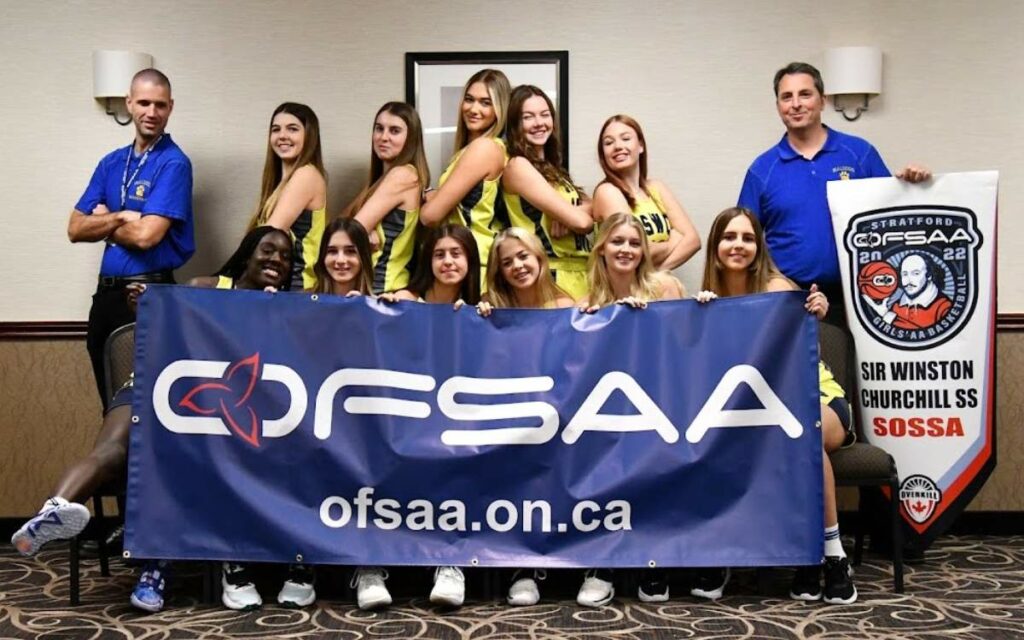 The Bulldogs took home OFSAA gold Saturday. Pictured is the team with their qualifying SOSSA banner. Photo credit: OFSAA
If you're looking for the best girls AA high school basketball team in Ontario, look no further than St. Catharines' Sir Winston Churchill Secondary School. 
At OFSAA's three-day, 18-team tournament at Stratford District Secondary School last week, the top-seeded Bulldogs took home provincial gold with five straight wins. 
Cruising to the finals, Sir Winston Churchill's senior girls team topped Patrick Fogarty 84-46, King City 75-29, East Elgin 76-27, and Arnprior 75-35.
The Centennial Cougars gave the Bulldogs a test in the gold medal game, but the eventual-champs weren't to be denied, scoring a 46-34 victory over their Belleville challengers.
Bulldogs' scoring leaders for the tournament included Brookelyn Keltos (81 points), Megan Barker (74 points), Yemi Oladipo (68 points), and Kate Smyth (56 points). 
The team was led by head coach Frank Keltos, father to top-scorer Brookelyn. A native of Buffalo, New York, Keltos has been coaching high school basketball for two decades. Frank's oldest daughter Sam is a prolific basketball player in her own right, having played collegiately for Brock University before moving onto a professional career in Australia this past March. 
The Bulldogs senior girls ended the year with an overall 28-3 record, with two of their losses coming by way of perennial powerhouse and OFSAA AAA champion Cathedral Gaels from Hamilton. 
This is the second OFSAA medal for the school's senior girls basketball in two years. The Bulldogs took home bronze as AAA tournament hosts last year.