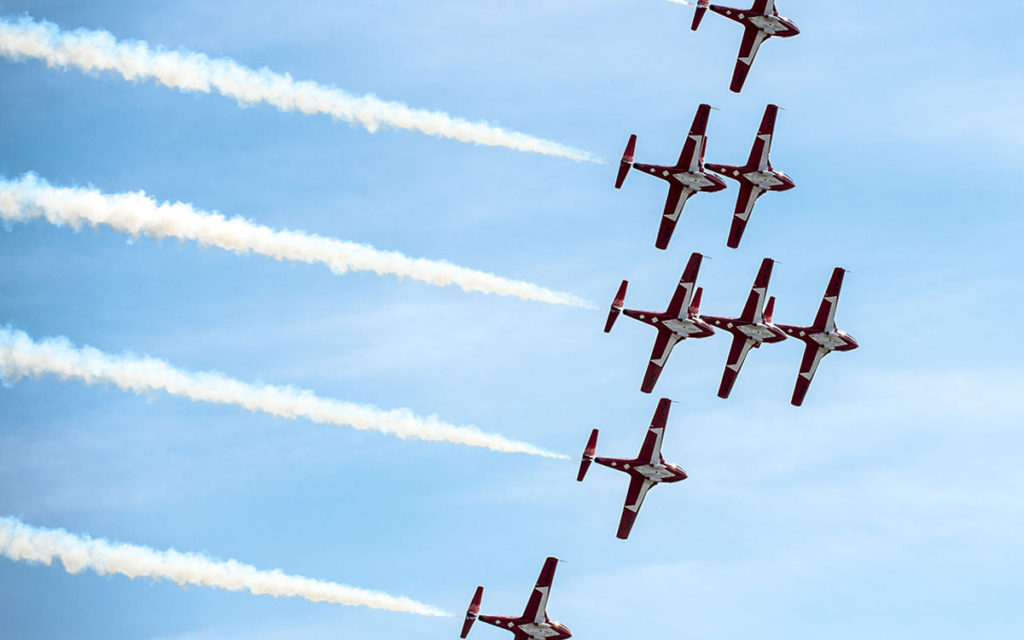 The distinguishing red and white underbellies and signature smoke trails of Canada's premier air show flight demonstration team will fill the skies over Fort Erie this Wednesday, September 19.
Travelling up to almost half the speed of sound whilst executing awe-inspiring aerobatics, the Royal Canadian Air Force's Snowbirds squadron is expected to draw large crowds as it performs its fifth-to-last public production of the year over Lake Erie.
The famed flight team was previously scheduled to showcase its talent above south Niagara in May last year. Unfortunately, the spring 2017 appearance was cancelled following a close-call incident and a subsequent need for "more practice".
As the Snowbirds make good on their promise to perform for Fort Erie residents, a Niagara native will be in the cockpit and counted amongst their number.
Aviation enthusiasts can feel a sense of Niagara pride when Captain Blake McNaughton of St. Catharines pilots one of the two coordinator planes.
At the tail-end of his final season as a Snowbird, McNaughton told 610 CKTB that having the opportunity to perform for the region he was raised in is a "bit of a swan song".
The air force captain joined the elite aerobatics team in 2015, after entering the Canadian Armed Forces in 2002 and graduating from Royal Military College in 2006.
The St. Catharines native earned his wings in 2008 and accumulated 2,800 hours of military flying experience prior to his tenure with the Snowbirds.
McNaughton will take to the skies over Niagara on Wednesday alongside 10 other experienced pilots from across the country.
Another Niagara connection, Fort Erie native Captain Paul Faulkner just recently finished his customary three-year term with the Snowbirds in 2017, no doubt disappointed that last year's performance, and a chance to fly in front of family and friends, was cancelled.
In a media release, Mayor Wayne Redekop said that the Town is "extremely thrilled" to have the Snowbirds come to the area.
"We've had our share of aerial shows in the past but never the Snowbirds. This is very exciting, not only for Fort Erie but also for all of Niagara", said Redekop.
The performance begins at 4:30pm. Attendees will best be able to watch the excitement from Lakeshore Road, between Central Avenue and Old Fort Erie.
The Wednesday show will be the Snowbirds' last Canadian date of 2018 open to the public.
Over the next three and a half weeks the team will travel around the United States, staging productions in Virginia, Oregon, California, and Texas.