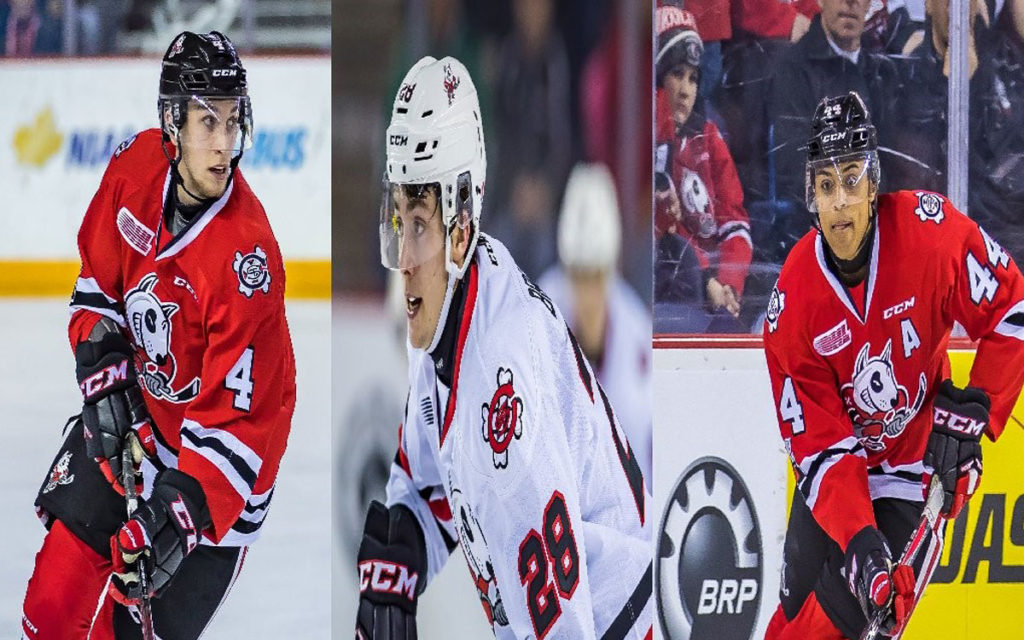 As the Niagara IceDogs cleaned out their lockers and reflected on their season that ended recently with a 4-2 loss to their k-9 rivals the Hamilton Bulldogs who won the hard-fought second round series four games to one, much is expected of the 2018-19 edition of the IceDogs.
This year's team had a successful year with 35 wins, 23 losses, seven overtime losses and three shootout losses for a season total of 80 points, good enough for a fourth place finish in the Eastern Conference.  Overager Sam Miletic who split his time between the London Knights and Niagara lead the team in scoring with 92 points in 63 games played (28 with Niagara). He finished sixth in OHL scoring. Second year centre and top rated NHL prospect Akil Thomas had an impressive sophomore season with 81 points in 68 games.
Stephen Dhillon was once again a workhorse for the 'Dogs in goal starting 52 games facing 1,660 shots and ending the season with a 3.34 goals against average.
The IceDogs lose three over-agers in Miletic, Adrian Carbonara and team captain Johnny Corneil.  They will look to add to their roster through the recent OHL draft, the upcoming European draft and possible free-agent signings over the summer.  The Dogs drafted two Niagara North Stars midget players recently, taking Ethan Sims in the fifth round (92nd overall) and Michael Craig in the ninth round (172 overall). Their top pick was Lleyton Moore from the Toronto Marlboros Minor Midget AAA team. The IceDogs made Moore their first round pick, 12th overall.
The OHL prides itself on developing players for the National Hockey League and Niagara and their coaching staff are no different. This year the IceDogs have three players, Thomas, Justin MacPherson and Andrew Bruder, ranked in the final NHL Central Scouting rankings.
Thomas, ranked 15th on NHL CSS' North American skaters' list, was named an assistant captain this season following a team record-breaking season in his rookie year. He finished this year ranked second in team scoring with 81 points (22 goals, 59 assists). Thomas' point totals also placed him amongst the top in the league in assists, and powerplay assists.
In his first appearance on NHL Central Scouting Services' draft rankings, Andrew Bruder comes in at 114th. The rookie finished the season with 11 points (4 goals, 7 assists) in 52 games. After making the jump from Junior C, having played with his hometown Woodstock Navy Vets, Bruder's rookie campaign poises him for a solid second year.
MacPherson, who has emerged as a staple on the 'Dogs blueline, is currently ranked 201st of all North American skaters. He finished the season playing top 4 pairing minutes and contributing offensively when the opportunity arose.
With the 2017-2018 season now behind them the IceDogs staff will quickly turn their attention to next season starting with a rookie orientation day in June and attending the NHL draft in July.