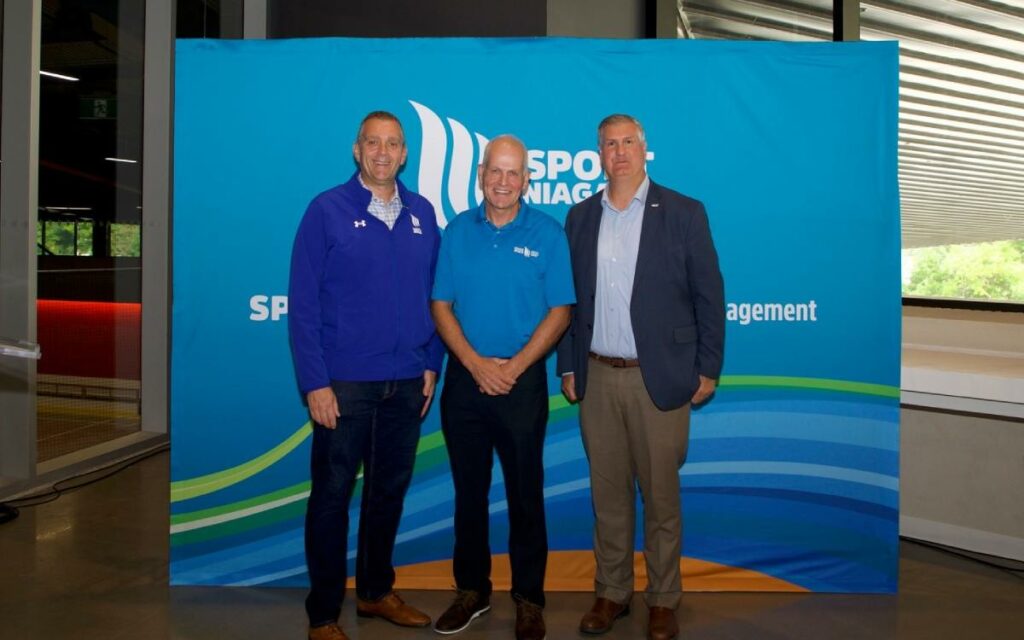 Legacy is the goal as Canada Games Host Society partners with Niagara Community Foundation. Pictured are Doug Hamilton (middle) and Bryan Rose (right). Photo credit: Sport Niagara
As was the hope, the Niagara Canada Summer Games will live on in legacy long past the 2022 celebration that brought thousands to the region.
In August of last year, Niagara welcomed more than 5,000 up-and-coming athletes and thousands more family, friends and volunteers for Canada's largest multi-sport event.
"For 16 days, Niagara celebrated the wonderful achievements of Canada's best young athletes," said Doug Hamilton, Board Chair of the Niagara 2022 Canada Games Host Society.
"Our vision for these Games was to host an event that would inspire, transform and unify Niagara, and that would also leave a lasting legacy for our community.
As described in the Niagara 2022 Canada Games Final Report, despite facing challenges such as the COVID pandemic, Niagara delivered on its vision. 
"We were able to achieve this success thanks to the generous support from our partners and sponsors, and the phenomenal contributions by our tremendous team of volunteers and staff."
Last week at Canada Games Park, celebrating the one-year anniversary of the Niagara 2022 Canada Games, the Canada Games Host Society proudly announced the official launch of 'Sport Niagara,' and the establishment of the 2022 Canada Games Legacy Fund, under the umbrella of the Niagara Community Foundation.  
Sport Niagara is a not-for-profit organization established to carry on the sport legacy from the Niagara 2022 Canada Games. Sport Niagara will focus on supporting the attraction and hosting of future sport events in Niagara – events that are critical to Niagara's continued economic development; and promote sport through various programs focused on advancing community and high-performance sport – programs that will not only improve the health and well-being of Niagara residents, but will also help develop Niagara's future generations of sport champions.
As a member of Community Sport Councils Ontario (CSCO), Sport Niagara joins a growing team of more than 40 community sport councils across Ontario.
As described by the CSCO, "Sport councils are mechanisms to encourage greater cooperation and collaboration among sports groups… to provide a collective voice for sport in a community. They are intended to break down barriers between sports, serve as a liaison on sport issues, and support joint advocacy regarding sport needs."
The activities of Sport Niagara will be funded in part by the 2022 Canada Games Legacy Fund – a Fund established by the Niagara 2022 Canada Games Host Society in partnership with the Niagara Community Foundation with the more than $3 million surplus generated from the Games.
The Niagara Community Foundation (NCF) has been operating for more than 22 years and is one of the 200 community foundations across Canada under the umbrella of Community Foundations of Canada. As a community foundation, NCF helps connect donors to causes, and charities to resources, through the creation of permanent endowment funds, like the 2022 Canada Games Legacy Fund.
"Importantly, this partnership with the NCF will ensure that the 2022 Canada Games Legacy Fund is well-positioned for continued growth through investment and future contributions. These contributions to the 2022 Canada Games Legacy Fund will be critical to the long-term success of Sport Niagara," Hamilton added.
"Sport Niagara is a natural continuation of the legacy of the 2022 Canada Games. When the Niagara 2022 Host Society reached out to us and talked about its intention to open an endowment fund after the completion of the Games, it was the natural fit," Bryan Rose, NCF Executive Director, said. 
"NCF is in the business of legacy building, helping to turn the intention of our donors into impact in the community. We are proud to take this next step with Sport Niagara to ensure that the athletes of our community are not only supported for today, but for generations to come."
For more information on Sport Niagara, visit: https://sportniagara.ca/
And for more information on the Niagara Community Foundation, visit here: https://niagaracommunityfoundation.org/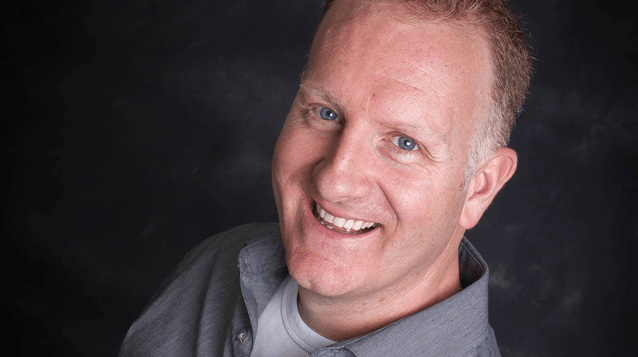 Rod Mawhood is a lifelong Niagara native who has had the pleasure of working in all three mediums – Radio, Print and TV – for over 20 years. His first announcing gig was with the then St. Catharines Stompers. Since then he's worked in radio and TV in Toronto, and currently is the announcer for the Niagara IceDogs and Niagara River Lions.
Rod also covers the Buffalo Bills for FOX Sports and the Buffalo Sabres for NBC Sports.