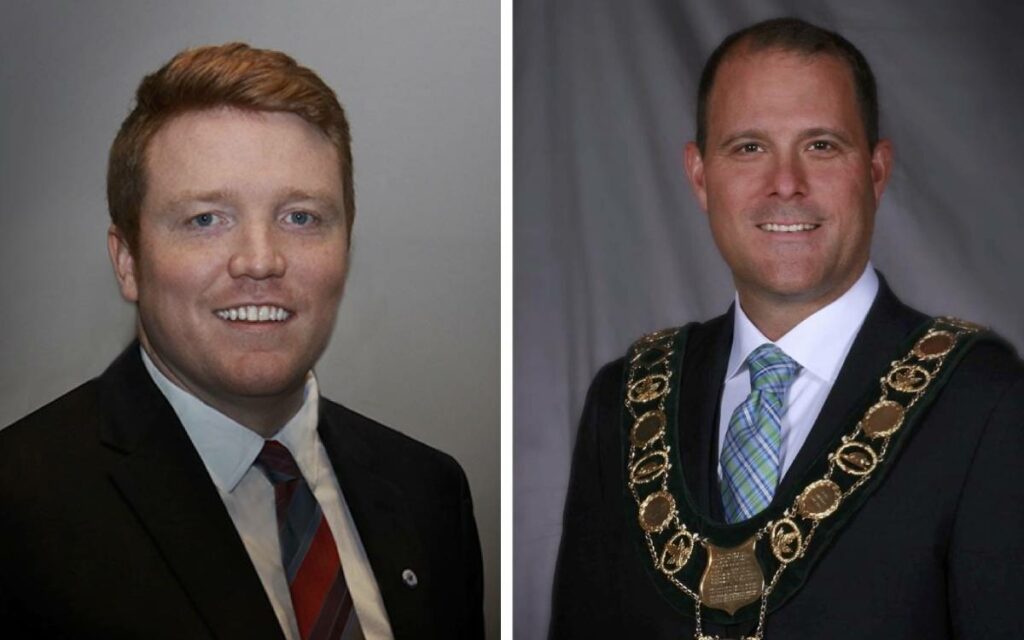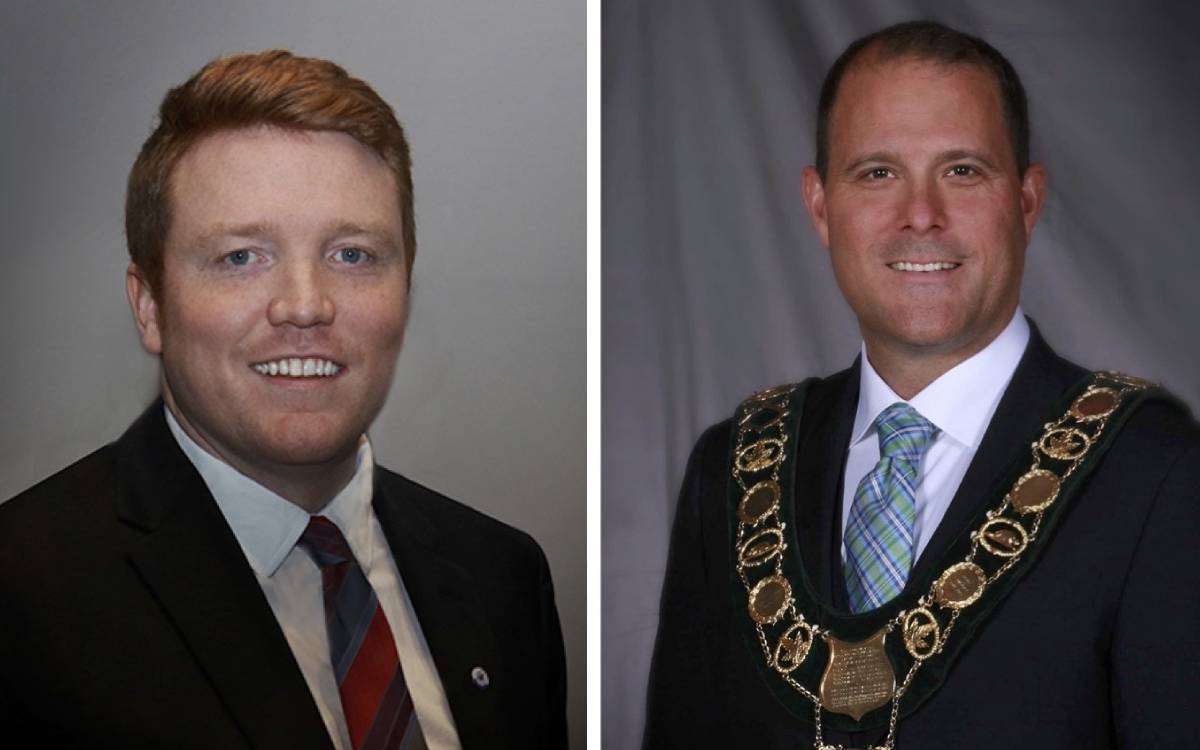 St. Catharines councillor Greg Miller (left) and city mayor Walter Sendzik (right). Photo credit: City of St. Catharines
At Monday evening's regular council meeting, St. Catharines council announced that, as a municipality, it would not commemorate the 154th anniversary of Canadian Confederation.
In his opening remarks to councillors, Mayor Walter Sendzik confirmed that the city would not host Canada Day events, nor celebrate the occasion in any formal capacity this year.
"[While] there will be no in-person events scheduled due to COVID-19, there will not be any messages or events of celebration on the city's websites," said Mayor Sendzik.
"As leaders across the country have said, there are many things about our country that we all can be proud of – but this not a moment to take pride. This is a moment for reflection, education, and reconciliation."
The move to halt any celebratory events or acknowledgements comes after first-term councillor Greg Miller from Merritton posted a message to social media calling for the cancellation of regular Canada Day celebrations.
"I hope any City programming around July 1 this year has been significantly altered away from 'celebration'," read Miller's message, which was sent to Mayor Sendzik and the city's CAO and deputy CAO late last week. "Canada Day as we know it should be cancelled and a day of mourning, reconciliation and understanding instituted in its place."
St. Catharines joins a handful of communities around the country to cancel all municipally-ran Canada Day celebrations this year, in light of the tragic discoveries of what are suspected to largely be the graves of Indigenous children near former residential schools in Saskatchewan and B.C.
Some 751 unmarked graves near the former site of Marieval Indian Residential School in Marieval, Saskatchewan were uncovered last week.
Another 182 unrecorded burials were discovered Wednesday near Cranbrook, B.C.
At the end of May, the remains of 215 children were found on the site of a former Indigenous residential school in B.C. The initial Kamloops discovery initiated several investigations – including the searches at Marieval and Cranbrook – at similar sites across the country, many of which are still underway.
There was no discussion nor any pushback from council regarding the mayor and staff's decision to quash any and all city-sanctioned celebrations.
On Tuesday, Thorold and Port Colborne joined St. Catharines in cancelling all municipally-ran Canada Day events for 2021.
"We take this opportunity to learn more about the history of our Indigenous peoples," said Thorold mayor Terry Ugulini.
"Education and understanding are important steps in reconciliation."
While acknowledging the tragic discoveries at various residential schools, most other communities around Niagara appear to still be celebrating Canada Day in some fashion: whether virtually or in-person.
Lincoln, Niagara Falls, and Pelham are all hosting live municipally-ran, community-specific events. While other communities, such as Grimsby and West Lincoln, are celebrating at a distance in some capacity.
Mayor of Lincoln Sandra Easton pointed out the value of civic engagement in the face of pandemic-induced mental strain.
"We are committed to fulfilling the planned drive-through community event on July 1 to support Lincoln residents, including families and children, as an important means of reducing feelings of social isolation as a result of the pandemic," Mayor Easton told The Niagara Independent.
"This will be the first physically distanced event offered in many months to the community, as the province re-opens and community members are looking for opportunities to get out and participate in civic life once again."
At the same time, the west Niagara mayor also acknowledged the need to mourn, reflect on, and learn from the tragic elements of the country's past this Canada Day.
"We must work to collectively understand and learn from the tragedy that was the residential school system in Canada—especially in light of the tragic recovery of unmarked graves at former residential schools—to make Canada and the Lincoln community a more inclusive space for everyone," said Mayor Easton.
"We encourage everyone in Lincoln and Niagara to reflect upon and learn about the residential school system and the recommendations from the Truth and Reconciliation Commission and the National Centre for Truth and Reconciliation."
Similarly, mayor of Pelham Marv Junkin said that while the town will proceed with celebrations as planned, the recent discoveries have provided an opportunity for Canadians to learn and grow.
"Pelham Council has decided to move ahead with the Town's Canada Day celebrations, but while doing so, have called on all flags at Town facilities to be flown at half-mast in a show of respect for our Indigenous neighbours," said Mayor Junkin.
"I personally feel that as a country Canada will learn from this tragic event, and through continued communication, we will move forward and mutually respect the differences between our [various] cultures."