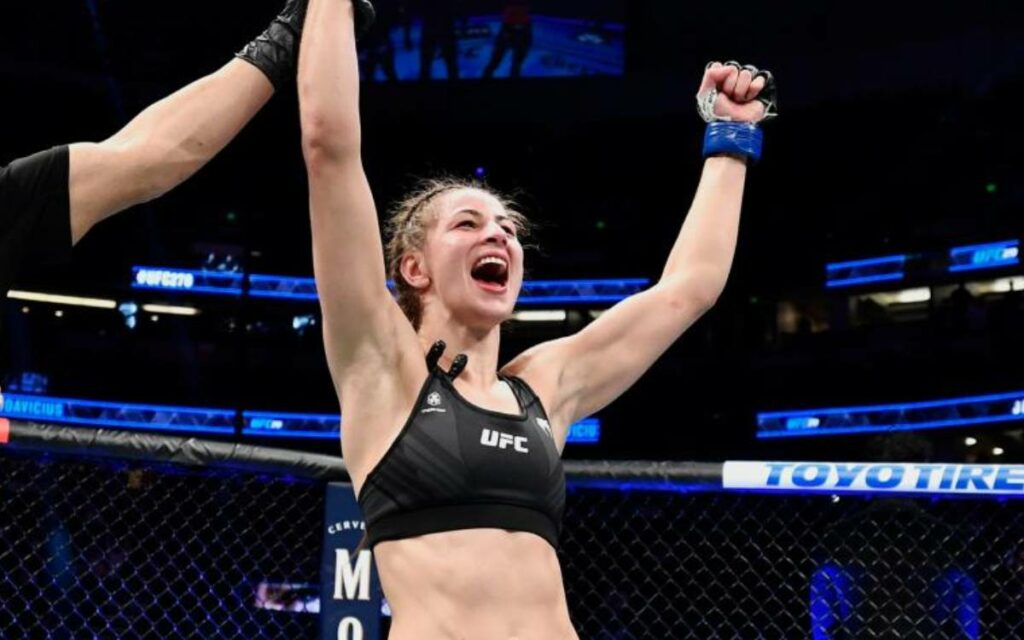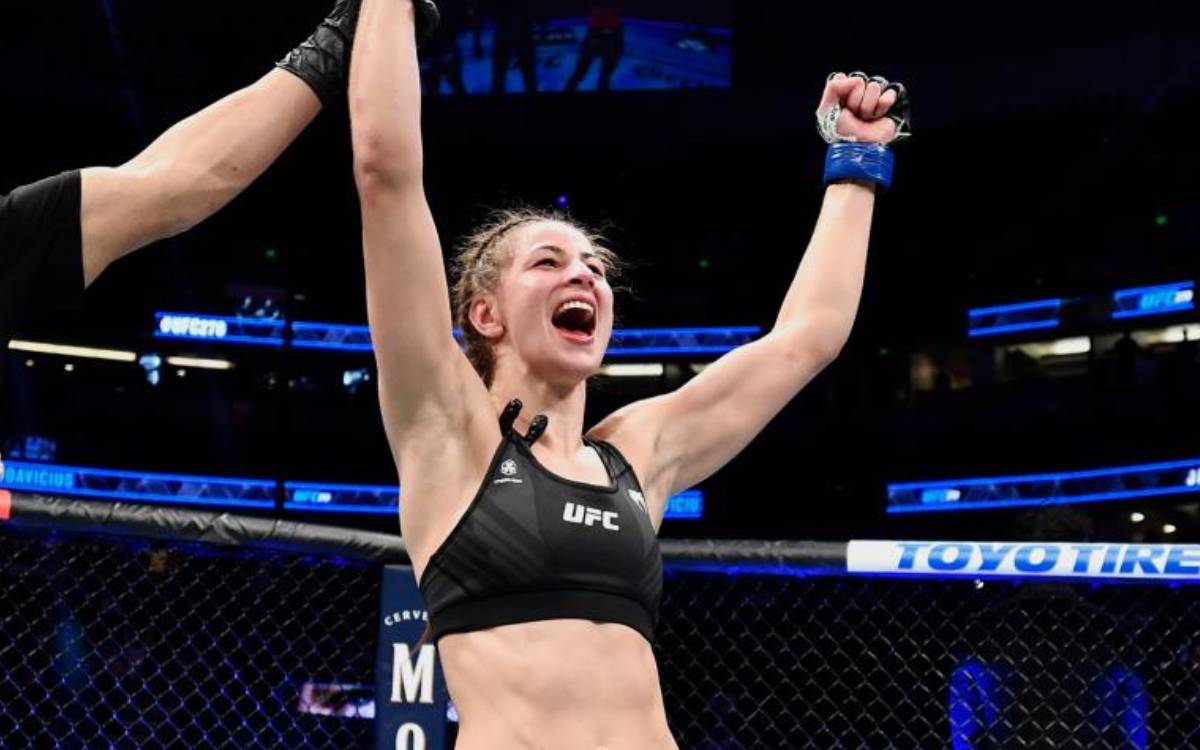 Jasmine Jasudavicius (pictured) making her presence felt in the octagon. Photo credit: UFC
Her last name might not be easy to say, but Jasmine Jasudavicius continues to impress in the mixed martial arts (MMA) world. 
After making her Ultimate Fighting Championship (UFC) debut, and winning via unanimous decision back in January, Jasudavicius (jazz-da-viss-ee-us is how it's pronounced) returns to the UFC octagon this Saturday night in Austin, Texas. 
Asked whether her newfound fame and attention of fighting in the premier MMA organization in the world has been daunting, Jasudavicius was candid with her answer. 
"I feel initially it was super nerve-wracking. You don't know what to say, you don't know what to do or anything," said the 33-year-old St. Catharines native recently on the Niagara Sports Report on Newstalk 610 CKTB. 
"But after a while you get used to it, and after a while you actually start to enjoy it. You can make it as fun as you want it to be, which is nice."
Jasudavicius earned her way into the organization via UFC president Dana White's Contender Series, which is known as the 'world's toughest job interview.' 
She was quick to point out what the sport has taught her outside the realm of fighting.
"Honestly, I think martial arts teaches you a lot. It teaches you everything. It teaches you discipline. And that is in regard to training but also the diet," Jasudavicius explained.
"Holding yourself accountable. Working hard, especially when you're tired. There's a lot of days I don't want to go to the gym, believe me it's the last thing I want to do, but I tell myself this is what I chose to do. It's tough some days."
Up next for the Niagara Top Team member is fighter Natalia Silva. 
"I don't know too much about her, except she is Brazilian, and that she hasn't fought in two years," said Jasudavicius.
"So, I'm just preparing for any style that comes forward, and I feel like I'm back on the regional scene again where you don't really know anything about your opponent."
Jasudavicius enters the fight with a professional record of (7-1) and has won three straight fights, while the 25-year-old Silva is (12-5-1) and carries a six-fight win streak into the lone star state event. 
Close to twenty members of the Niagara Top Team will be in Texas Saturday night, something Jasudavicius is very proud of.
"Most important in the world are my coaches and my training partners. I think we have the best gym in the world – Niagara Top Team – we've got a ton of talent coming out of that gym. It's going to be awesome to be there with them. 
I just want to thank them for all of the support and the hard work that we've put in this camp.
I think a nice Texas crowd will be on my side." 
For more information on the Ultimate Fighting Championship, and how to watch Jasmine fight Saturday night, visit ufc.com.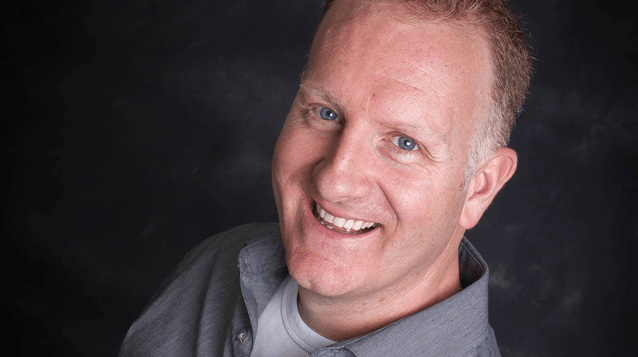 Rod Mawhood is a lifelong Niagara native who has had the pleasure of working in all three mediums – Radio, Print and TV – for over 20 years. His first announcing gig was with the then St. Catharines Stompers. Since then he's worked in radio and TV in Toronto, and currently is the announcer for the Niagara IceDogs and Niagara River Lions.
Rod also covers the Buffalo Bills for FOX Sports and the Buffalo Sabres for NBC Sports.