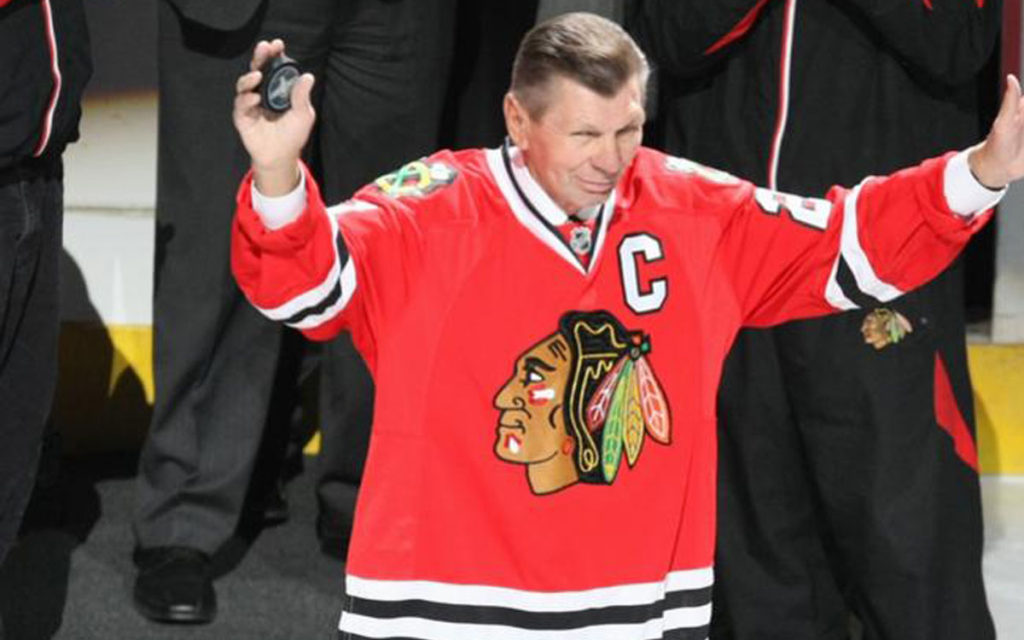 Former St. Catharines Teepee and NHL Hall of Famer, Stan Mikita passed away last week.
Chicago Black Hawks and St. Catharines Teepees legendary centreman Stan Mikita died last week, he was 78 years old.
Mikita was born in Sokolce, Czechoslovakia in 1940 but moved to St. Catharines as a young boy where he lived with his aunt and uncle and took on their last name of Mikita.  He was a star centre for the Teepees from 1956 to 1959.  At the end of the 1959 junior season he went up and played three NHL games with the Black Hawks.  He would play every season after that with the Hawks until his retirement in 1980.  Only three players have played more games while playing their whole careers with the same team.
Mikita was one of the most dominant players in the game in the 1960's.  He won a Stanley Cup with the Hawks in 1961 as well as winning the Art Ross Trophy as the NHL's leading scorer four times in the 60's.  He was the league's Most Valuable Player winning the Hart Memorial Trophy twice in a row 1966-67 and 1967-68.  In fact, with 35 goals and 62 assists in the 1966-67 season he was the first player to win the Art Ross, Hart and Lady Byng trophies in one season.  Amazingly, he repeated this feat in the 1967-68 season with 40 goals and 47 assists.  No other player in NHL history has matched this feat.
He is often credited with creating the curved stick.  He was a legendary face-off man.  A smart and skilled player, he made the NHL All-Star team every year between 1962 to 1975.  The Black Hawks immortalized Mikita in 2011 when they unveiled a statue of him outside the United Center in Chicago.
"That this immigrant from Slovakia should be honored for his hard work with this incredible statue is something I never thought would ever happen. I'm humbled and awed by this amazing honor," said Mikita at the time.
A long-time teammate of Mikita's with the Black Hawks and Team Canada, Pat Stapleton, said he remembers Mikita as always being prepared and a great competitor. But the one memory that stands out for Stapleton was the time he and Mikita were teammates with the 1972 Team Canada squad that played the legendary series with the Soviet Union. After the final game against the Russians, Team Canada went to play an exhibition game against Czechoslovakia in Prague. "It was an unbelievable outpouring of love for him," said Stapleton. "His mother and siblings were there, it was very emotional."
Another former Hawk, Niagara Falls' own Steve Ludzik, remembers Mikita well.  "My first year in a Hawks training camp was Stan's last."  "He was a spindly guy and at first glance one wondered how that body held up so well over a 21-year career in some of the toughest years in the NHL."  "He was beloved around the arena.  A prince of a man, he always took time to stop and talk at length with ushers and doormen around the arena.  A real class act," remembers Ludzik.
It's believed that Mikita was the first professional hockey player to receive a doctor of laws degree, which he received from Brock during its 12th Convocation on Oct. 15, 1973. Following the graduation ceremony, Mikita helped open what is now known as the Bob Davis Gymnasium. Mikita was 33 years old at the time.
Mikita still ranks 14th all-time in points with 1467; 18th in assists; 31st in goal; and 40th in games played.  He was the first Black Hawks player to have his number retired, was inducted into the Hockey Hall of Fame in 1983 and is routinely ranked as one of the top 100 players of all-time by the Hockey News.