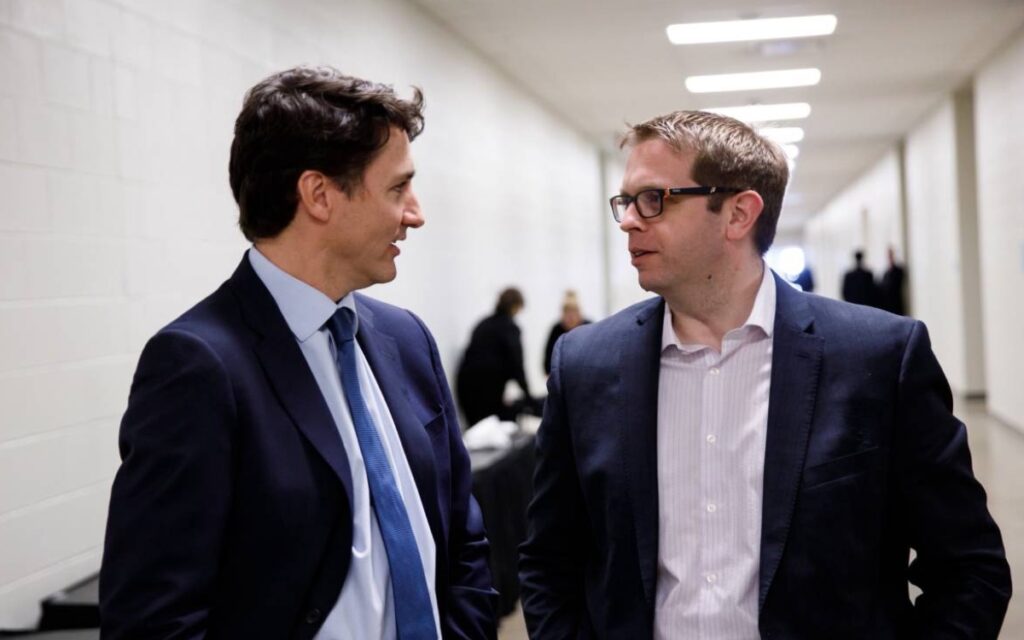 The local MP (right, pictured alongside Prime Minister Justin Trudeau) was roundly criticized for his reckless implication. Bittle has a history of exploiting social media to cast baseless aspersions. Photo credit: Wikimedia Commons
About two weeks ago, news broke that the Liberal government had hired a consulting firm to roll out an anti-racism initiative that was headed up by a radical activist with a long history of making "antisemitic and xenophobic comments."
Laith Marouf of Community Media Advocacy Centre was awarded a grant of $133,822 by Canadian Heritage last September to help Canadian broadcasters "address barriers preventing full and equitable access/participation among racialized communities, religious minorities and Indigenous peoples".  
The work involved planning a six-city tour of the country where Marouf would travel from Vancouver to Halifax lecturing media providers about critical race theory and the harms of settler colonialism, among other things.  
But while preparing for his cross-country trip to promote anti-racism, the government contractor was busy tweeting such things as, "You know all those loud mouthed bags of human feces, aka the Jewish White Supremacists… will return to being low voiced bitches of (their) Christian/Secular White Supremacist Masters" and, "Life is too short for shoes with laces, or for entertaining Jewish White Supremacists with anything but a bullet to the head." 
Though it remains unclear exactly how such an individual made it through the government vetting process to be awarded over $130,000 of taxpayer money, a few days after looking more "closely at the situation" the Trudeau Liberals appropriately cut funding to Marouf's consulting firm and suspended the program. 
In announcing the government's intentions to cut funding, Minister of Diversity and Inclusion Ahmed Hussen called Marouf's comments "reprehensible and vile" and assured Canadians his government "has and will continue to fight antisemitism and hate in all its forms."
While many applauded the Liberals' swift and decisive action, some questioned why Minister Hussen was making the announcement alone, as opposed to (or at least in addition to) Minister of Canadian Heritage Pablo Rodriguez. 
Rodriguez oversees the general organizational structure of the umbrella 'Canadian Heritage' department where the funding for Marouf's project ultimately derived. 
One of Canada's most influential lawyers and preeminent legal scholars Professor Michael Geist tweeted to Minister Rodriguez, accusing him of "an incredible abdication of accountability." Further pointing out, "When the government launched its anti-racism strategy in 2019, (Pablo Rodriguez) was the chief architect. He's still Canadian Heritage Minister but now insists it isn't his file so has nothing to say about the program being used to fund an anti-semite."
Geist's mild prodding for some kind of acknowledgement from the minister whose department directly funded Marouf's work led local Liberal MP for St. Catharines Chris Bittle, the parliamentary secretary to Minister Rodriguez, to lash out and accuse Geist of racism. 
"At this point you're now deliberately misleading your followers. So strange," Bittle said in a now-deleted tweet to Geist. "Is it because the Minister responsible looks like this", Bittle asked, with an emoji hand pointing down toward a story with a photo of diversity minister Hussen.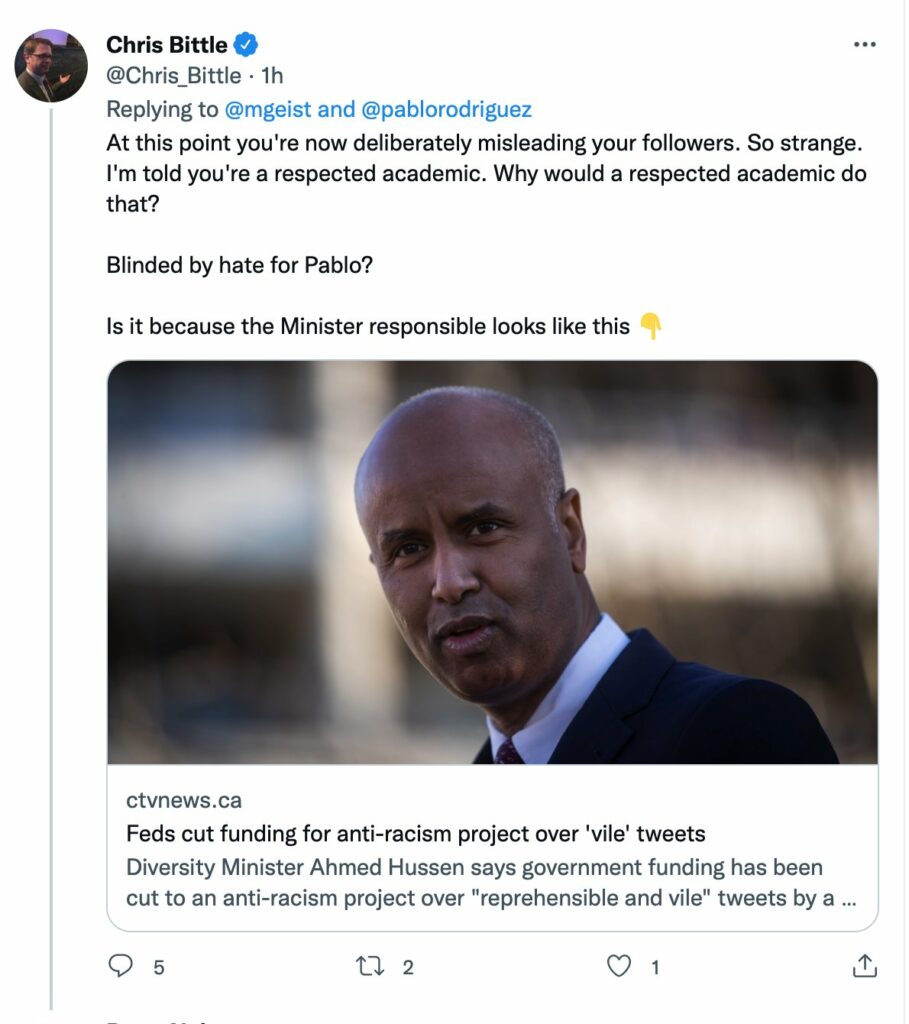 The offending tweet from St. Catharines MP Chris Bittle. 
Geist then screenshotted Bittle's insinuation and said, "I'm the grandson of holocaust survivors who thinks it shouldn't be too much to ask the Heritage Minister to say something – anything – about officials in his department funding an anti-semite despite multiple warnings. Instead, the Parliamentary Secretary (Bittle) suggests I'm racist." 
In a somewhat puzzling logical leap, Bittle was apparently implying that Geist chose to focus on his boss, Minister Rodriguez, instead of Minister Hussen because the latter is black. 
Bittle's baseless accusation was met by a torrent of online backlash. 
"Bittle isn't worthy of the office he holds, he's an embarrassment to his riding," tweeted Toronto Sun columnist Brian Lilley. 
"The (Chris Bittle/Michael Geist) episode underlines once again the Liberal impulse to always accuse anyone who disagrees with them about anything of being racist," said Saskatchewan MP Garnett Genuis. 
"Chris Bittle was my MP. He is frequently rude to his constituents, so I'm not surprised by his behaviour here," added Cornelius Christian, associate professor of economics at Brock University. 
The next day, Bittle admitted to wrongfully suggesting Geist was somehow discriminating against Minister Hussen because of what he "looks like". 
"Yesterday, in a moment of anger, I made an implication about (Michael Geist) that was unfounded and inappropriate," said Bittle. "I hold myself to a higher standard for the office that I hold and I apologize to Professor Geist. I have deleted the offending tweet."
But despite claiming he suggested Geist was racist "in a moment of anger", as if a unique occurrence, last week's episode was not the first time Bittle gratuitously implied an individual or organization was bigoted with reference to outward appearance. 
At the beginning of July, Club Italia had to cancel Eid al-Adha celebrations because the organization was having sewage issues at its Niagara Falls facility and couldn't accommodate the massive 1,500-plus crowd scheduled to attend.  
A few days after the cancellation, the club held the 40 Under Forty Business Achievement Awards, a much smaller, far briefer event. 
"Truly disappointing that Club Italia would cancel Eid celebrations for the Niagara Muslim community with very limited notice and no willingness to help find alternative arrangements. The callous disregard for a holy day and celebration is shocking," tweeted Bittle, before seeming to imply that the cultural club cancelled the Eid celebrations but went forward with the business awards because of a difference in appearance of the attendees. 
"The Club claims major sewage issues, but events are still being held at the Club… Can you spot the difference between these attendees and those who would attend Eid celebrations?", asked Bittle, posting an accompanying screenshot of the 40 Under Forty event and its largely white group of attendees.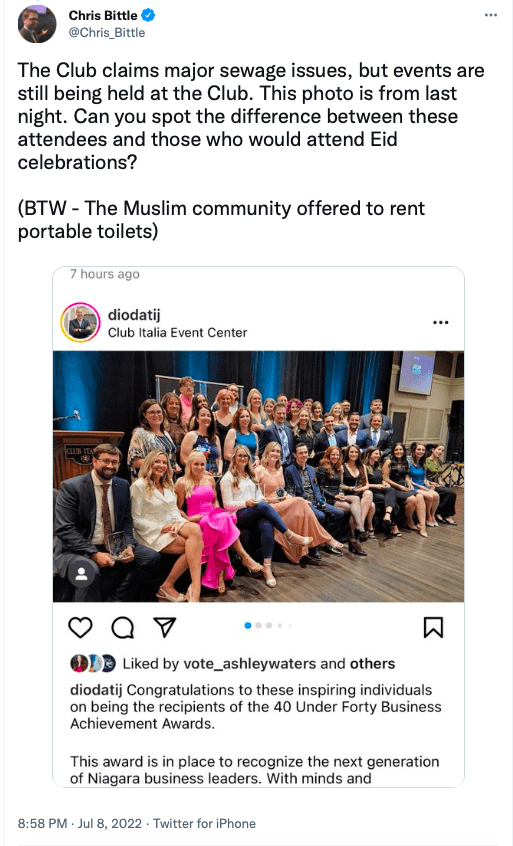 MP Bittle's suggestive tweet from July.