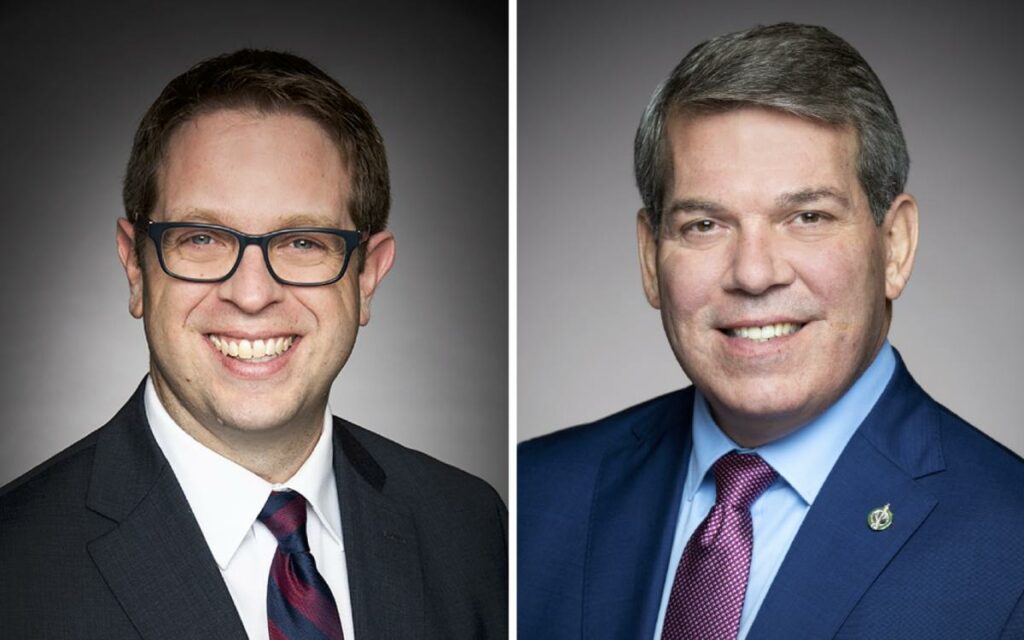 Chris Bittle (left) has been named Parliamentary Secretary to the Minister of Housing, Infrastructure and Communities. Niagara Centre MP Vance Badawey (right) given new secretarial role at Transport Canada. Photo credit: Government of Canada
Following what many deemed to be an ineffective cabinet shuffle earlier this summer, Prime Minister Justin Trudeau shook up his team of parliamentary secretaries over the weekend, just in time for the resumption of Parliament Monday. 
"This summer, we heard from Canadians about the issues that matter most to them," Trudeau said in a statement Saturday. "From putting more money back in the pockets of families, to building more homes, faster, and helping stabilize grocery prices, we are taking real and serious action."
"I know this team is ready to work hard to continue delivering real progress for Canadians." 
Both of Niagara's two Liberal MPs were given new secretarial roles in the shakeup. 
Niagara Centre MP Vance Badawey was moved from Indigenous Services to Transport. 
While St. Catharines MP Chris Bittle was shifted from Canadian Heritage to Housing, Infrastructure and Communities, where he'll split duties with another MP.
During his near-two-year stint at Canadian Heritage, Bittle, according to Minister Pascale St. Onge, played a "vital" role in pushing through the Liberal government's pair of controversial online "censorship" bills, Bill C-18 and Bill C-11.  
Bill C-18, the Online News Act, forces platforms like Google and Meta (Facebook) to pay news publishers for hosting their content. 
The government argues the Act is supposed to protect Canadian journalism. However, given that both Google and Meta have refused to play ball and discontinued news access on their respective platforms, the Act has significantly reduced the reach of many news outlets. Independent sites, which heavily rely on social media to promote and share their content, have been hit particularly hard. 
Bill C-11, the Online Streaming Act, grants the Canadian Radio-television and Telecommunications Commissions (CRTC) regulatory powers over streaming platforms such as Netflix, YouTube, and Spotify. Under the Act, streaming platforms must financially support "Canadian content" (ill-defined) and make it "discoverable," forcing certain movies, shows, and music onto users. 
Both pieces of legislation have drawn ire from a wide array of voices.
Celebrated Canadian author Margret Atwood, for example, likened Bill C-11 to Soviet-style censorship and referred to it as "creeping totalitarianism".
Leader of the Opposition and head of the Conversative Party Pierre Poilievre, for his part, said he would repeal "Trudeau's censorship laws" if elected prime minister.