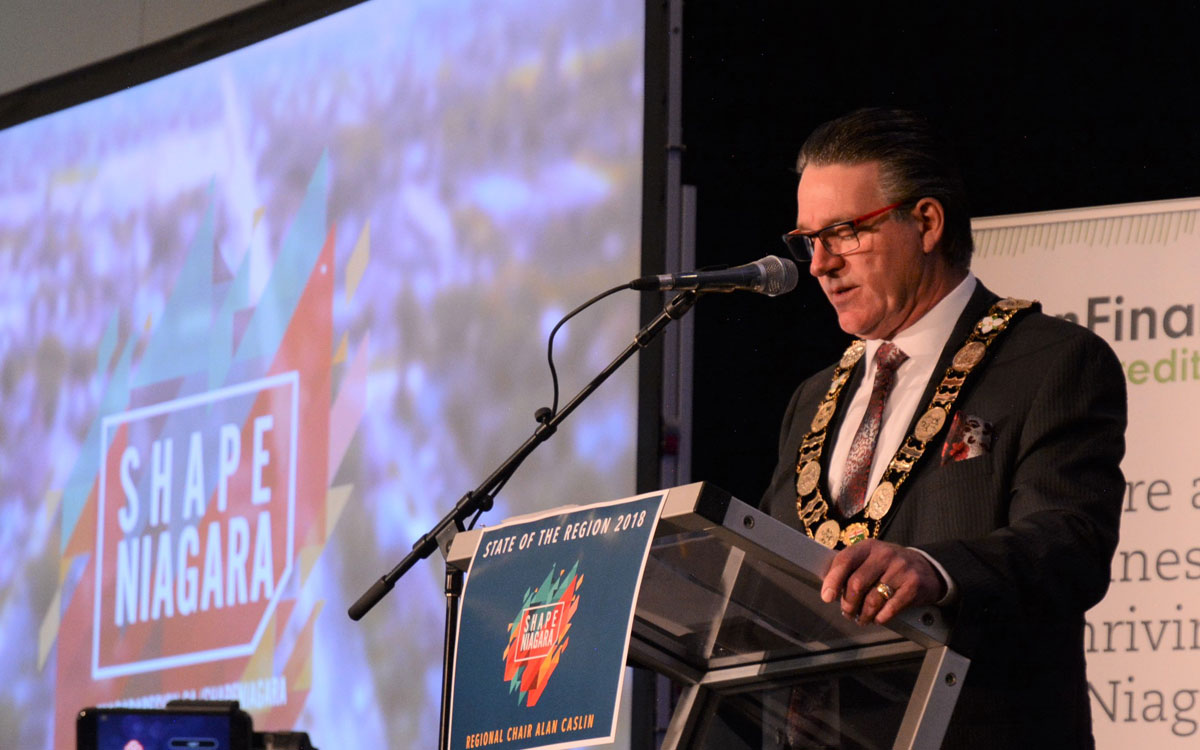 Significant job creation, an active construction industry and the largest community consultation process the Region has ever held were three highlights of the State-of-the-Region address this past Wednesday. Regional Chair Alan Caslin delivered updates on these and other topics in his annual speech to business and community leaders held at the Scotiabank Convention Centre in Niagara Falls.
Something new for this year was the addition of municipal leader colleagues Hamilton Mayor, Fred Eisenberger, and Waterloo Regional Chairman, Ken Seiling.  Eisenberger, Seiling and Caslin participated in a roundtable discussion moderated by Niagara Workforce Planning Board CEO, Mario De Divitiis.
While there are a number of positive initiatives and good news stories worth celebrating this past term of council, the Chair was probably most encouraged by two economic indicators – job growth and construction activity.
"There were 12,700 net new jobs created in Niagara this past year which is impressive for this region," said Caslin. He also pointed to the most recent Niagara unemployment numbers which, at 5.2 per cent, are the lowest since April of 2000. Some have cautioned against using monthly unemployment stats, but the Chair noted the trend has been going in the right direction for some time, and as a result he feels Niagara residents can be confident in those numbers. "In terms of unemployment and job creation, this trend has been happening for months. This is what we expected," he said.
Construction activity in Niagara was also a topic of positive discussion. There were 1.3 billion dollars in permits issued which is the highest the Region has ever seen. "That's a five per cent increase over 2016 levels," noted Caslin.
The Regional Chair said it took a concerted effort to support Niagara businesses to help them grow and to pursue new businesses.
While current economic numbers look positive, Regional Council and staff don't want to rest on their laurels. It was announced that the Region will be looking at developing their next strategic plan. To gather as much information and data as possible to help form the next strategic plan they have launched the 'Shape Niagara' Campaign niagararegion.ca/ShapeNiagara. Residents, businesses and community leaders are being asked to share how they would like to "Shape Niagara" by providing ideas and feedback. Additionally, staff will also be re-examining all the public engagement that took place over the last four years to identify recurring themes. Council's next strategic plan will run from 2019 until 2022.
It is anticipated that the final plan will be approved by council early next year.
"To achieve Niagara's true potential, we must forge the next phase of Niagara's path together. As Niagara Region launches "Shape Niagara", the largest strategic consultation effort in Niagara's history, we must be bold and we must focus on the people that make up Niagara's 12 communities," said Chair Caslin.