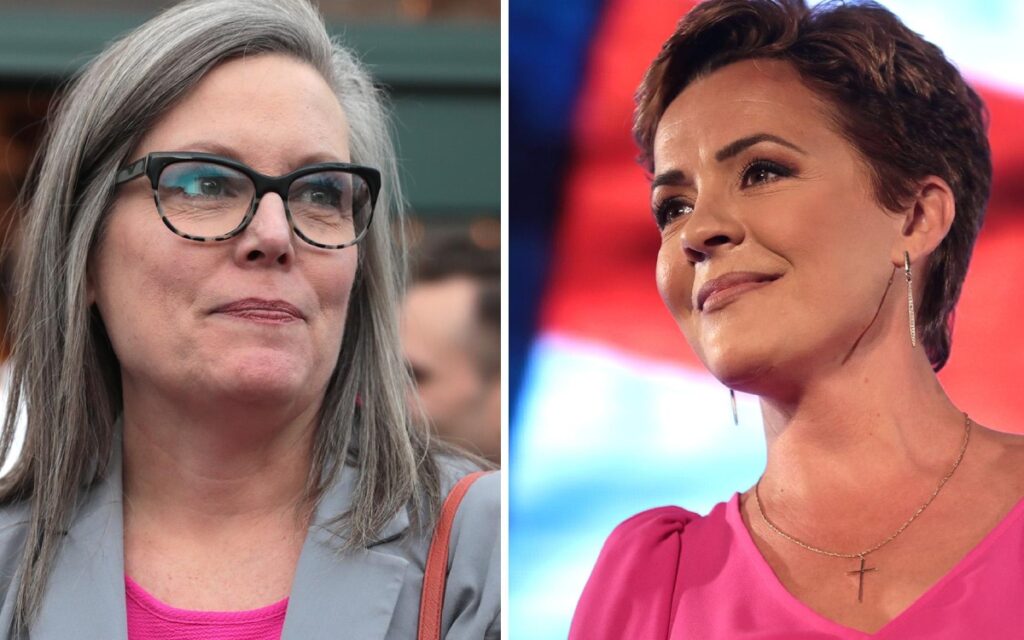 Pictured are Democratic and Republican candidates for Governor of Arizona Katie Hobbs (left) and Kari Lake (right). Polls designate the race as one of the closest midterm contests in the country. Photo credit: Creative Commons/Gage Skidmore
American voters are set to hit the polls for midterm elections in just a few weeks on November 8. All 435 House of Representatives seats are up for grabs, with 35 of the Senate's 100 seats on the ballot and several gubernatorial and other local elections set to be contested. 
These elections will decide which party the American people want in charge before the presidential election in 2024. For much of 2022, it looked like the GOP might overwhelm the Democrats in a tsunami-like election similar to the shellackings in 2010 or 2014. But suddenly in the summer, after the controversial Supreme Court abortion ruling in the Dobbs case, the Biden administration, hitherto seemingly inert, picked up some speed. They won a couple of legislative battles, sent the Department of Justice off to Mar-a-Lago to investigate Donald Trump and saw their polls improve markedly. 
Though as we reach the mid-way point of October, less than a month before the November 8 elections, where do the key races stand?
Control of the Senate rests on just a few of the contests, but the House appears destined to shift to the GOP. Various news entities taking polls for a generic preference between the Democrats and Republicans indicate a rather close race, but once the accounting is made for the huge discrepancies in races like those surrounding San Francisco, where Democrats may hold 40 or 50 per cent advantages, the GOP seem poised to win somewhere between 20 and 30 House seats. 
Battleground polls which focus more closely on the races in the swing states like Pennsylvania, Wisconsin, Michigan, Georgia and Arizona reveal a slight tilt in favour of the Republicans. This translates into seats the GOP need to replace Speaker Nancy Pelosi with their own leader and begin the new headaches President Biden will face in passing legislation, getting nominees confirmed, or facing increasing scrutiny for what appears to be questionable actions in conjunction with his son Hunter's activities. 
Worth watching will be the transition of House Speaker, which normally occurs smoothly. Presently, Kevin McCarthy holds the post of Minority Leader and would ascend to Speaker in most instances. But this is not necessarily going to happen because McCarthy faces some opposition in his own party and former President Trump may yet weigh in on his chosen candidate. If Trump gets behind someone other than McCarthy, all bets are off.  
The Senate races come down to eight key states. Let's examine each one briefly and make a comment about the impact of the governors' races. 
Arizona 
Democrat Mark Kelly appears to have almost put his opponent, Trump-endorsed Blake Masters, on ice. Masters' rhetoric has improved in recent weeks, but not in time to save him. Score this one a hold for the Dems. 
As for the governor's race, it couldn't be tighter. Another Trump-favoured candidate, Kari Lake, and Democrat Katie Hobbs continue to battle in a dead heat, likely to take days to decide. The Republicans have held the governor's seat in Arizona for most of the last 30 years, but the state has been moving into the Democratic column of late. Along with this being one of the states Trump targeted for election fraud in 2020, the results deserve a deep dive, especially for 2024. 
Georgia
Republican Herschel Walker and incumbent Democrat Senator Rafael Warnock remain in a deadlocked race. Democrats and Joe Biden claimed Georgia would be ground zero for voter suppression. Early voting begins in two weeks. Expect more claims of voter suppression if Stacey Abrams loses her second bid for governor. There are more Republicans in Georgia than Democrats and the polls give Governor Brian Kemp (R) a solid lead over Abrams (D), despite Abrams unfounded claim that the polls reflect a Republican bias (a new charge in the ever-escalating Democratic fear mongering about threats to democracy). 
Kemp's strength should push Walker over the finish line, but recent stories in the liberal press suggest Walker may have paid a woman to have an abortion. How that all plays out in light of Trump's endorsement of the former football star remains to be seen. The decisive event in the campaign may be the upcoming debate between the two, provided no more unpleasant surprises arise from Walker's checkered past. Give the Dems a hold even though Kemp's ability to push Walker over the finish line may prevail. 
Nevada
Adam Laxalt may be the best GOP challenger in the nation, yet the race remains close. If Senator Cortez Masto pulls this one out the Dems likely hold the Senate. Laxalt possesses a reputable family lineage, being the son of former New Mexico Senator, Pete Domenici, and grandson of former Nevada governor and senator, Paul Laxalt. As one of the most purple states in the union, Nevada routinely elects representatives from both parties. 
Democratic Governor Steve Sisolak appears to be in a dead heat with challenger Joe Lombardo. Both races will go down to the wire. Give this one to the GOP in a squeaker. GOP +1. 
New Hampshire
Brian Bolduc, the GOP nominee, lacks the appeal needed in a very purple state to pull out the win. If NH governor Chris Sununu were the nominee, Sen Hassan would face a steep climb. As things stand, Hassan appears to enjoy the edge, giving the Dems an important hold while Sununu has a large lead in the polls for Governor. Bolduc is unlikely to benefit from Sununu's popularity, and his past association with Trump's claim of election theft hurts him more than helps. Overtaking Hassan seems like a long shot.  
North Carolina
This race is very close, but Republicans historically manage to pull them out in North Carolina in the end. Whether or not Ted Budd can hold on to this open seat for the GOP remains in question. If the Democrats can sneak this one away from the GOP they would be in great shape, but Budd holds a slim 1.6 per cent lead in recent polls and probably has the edge. He has yet to close the deal. The next scheduled North Carolina gubernatorial election falls in November of 2024.
Ohio
President Trump won Ohio easily in 2020. It should be a slam dunk for the GOP. Governor DeWine, running for re-election, holds about a 15-point lead over his opponent. Yet, novice politician and famous author of Hillbilly Elegy J.D. Vance faces a struggle against Congressman Tim Ryan. Vance should win, maintaining the seat for the GOP. 
Pennsylvania
Republican Pat Toomey announced his retirement last year. In a surprising turn of events, Dr. Mehmet Oz, of TV doctor fame, won the nomination and now faces John Fetterman. Unfortunately, Fetterman suffered a stroke on the day he won the nomination. This has led to a lot of wrangling over debates because the stroke negatively affected Fetterman's speech and communication skills. Fetterman opened up an early lead, but the race has tightened and will likely come down to a debate to be held in the closing days of the campaign. Looks like a Democratic pick up for now. 
In the governor's race, another Trump candidate, Doug Mastriano trails his Democratic opponent Josh Shapiro badly, likely bolstering Fetterman's chances. Dems +1. 
Wisconsin
Senator Ron Johnson (R) looked beatable throughout the summer. Now he appears to have righted the ship and should be favoured over his progressive opponent, Mandela Barnes, whose stances on crime and progressive economic policy may come back to haunt him.
Democratic Governor Tony Evers and Republican challenger, Tim Michels, remain locked in a close race, probably reflective of how tight most races are in Wisconsin every election. Score this a Republican hold. 
Races in Utah, Washington, Colorado, and Florida may look close, but the infrastructure in those states favour the incumbent party, though if issues like crime, inflation, and immigration bite hard, a couple of surprise GOP pick-ups would not be out of the question. 
If keeping track, right now it looks like there may be no change in the present alignment, meaning Dems would hold the Senate by virtue of Vice-President Kamala Harris' tie-breaking vote. Nonetheless, Larry Kudlow, former Reagan and Trump advisor, recently wrote about the bad news in the polls for the Democrats. Battleground states favour the GOP 55-34. The polls indicate a Republican advantage in three of the four major voter concerns: education, the economy, inflation, and crime. If that holds, Republicans can begin assigning committee posts and Anthony Fauci, Hunter Biden, and even the Big Guy himself may face Congressional investigations. 
One other factor to consider: the Hispanic vote. While Hispanics still favour Democrats, polls show the gap closing. Former President Trump displayed surprising strength in the Latin community in 2016 and increased his support in 2020. States like Texas and Florida, previously thought to trend Democratic as the Latino population grew, now appear to be retrenching as Red states, thanks to a vigorous Hispanic vote for GOP candidates. 
These trends concern Democrats and if the Party continues to embrace progressive stances on immigration, transgender pronoun enforcement at schools, and legislation written to undermine the traditional family, they will likely continue to watch Latino votes flee. 
Finally, the presence of former President Trump creates uncertainty for candidates as news events surrounding the former president seem to affect the outcomes depending on the amount of attention his affairs draw. Many believe his intrusion into different primaries produced less-appealing candidates, something that will be borne out in the state elections.
Before the November 8 election I will visit this one more time and make some hard projections.
Dave is a retired elementary resource teacher who now works part-time at the St. Catharines Courthouse as a Registrar. He has worked on political campaigns since high school and attended university in South Carolina for five years, where he earned a Master's in American History with a specialization in Civil Rights. Dave loves reading biographies.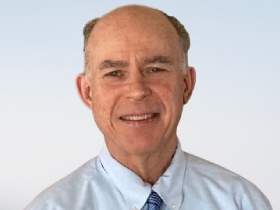 Dave Redekop is a retired elementary resource teacher who now works part-time at the St. Catharines Courthouse as a Registrar. He has worked on political campaigns since high school and attended university in South Carolina for five years, where he earned a Master's in American History with a specialization in Civil Rights. Dave loves reading biographies.