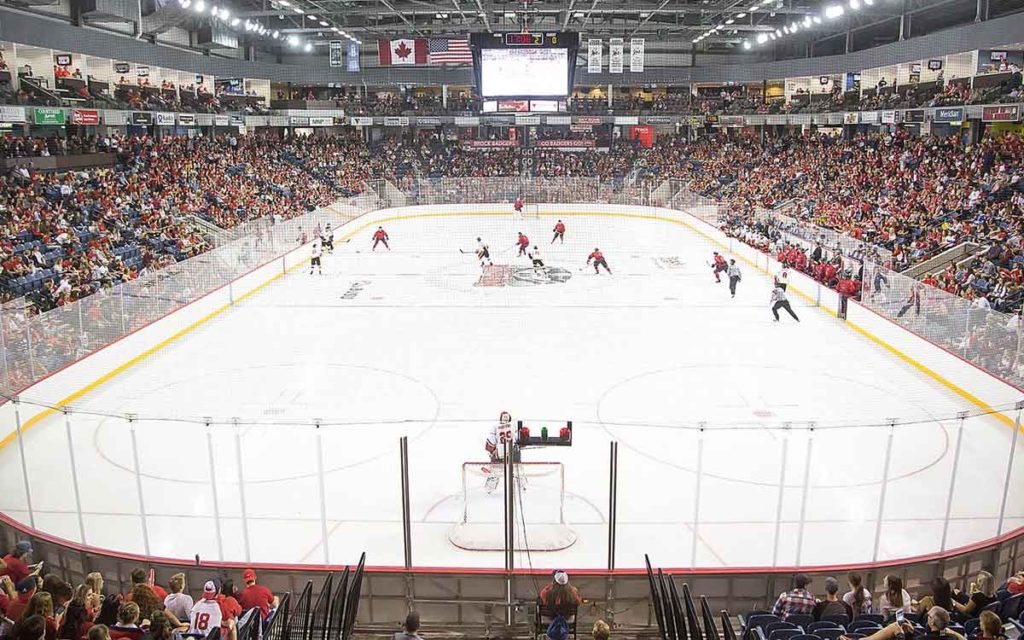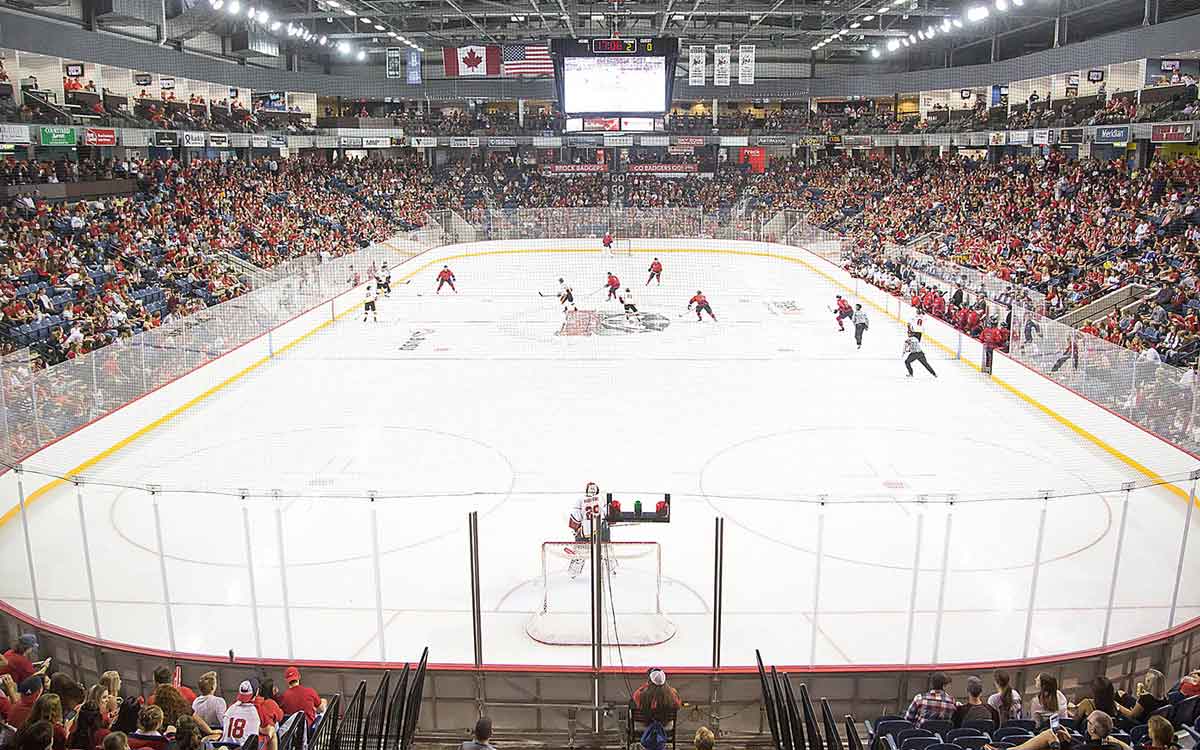 Hockey fans filled the Meridian Centre last year for the annual Steel Blade Classic.
The Brock Badgers are once again set to hit the ice for the legendary Steel Blade Classic in downtown St. Catharines Friday, Sept. 13.
The 21st annual event returns to the Meridian Centre as the Badgers men's hockey team takes on the Guelph Gryphons in a 7 p.m. start.
One of the most celebrated and anticipated events of the year for Brock University students, the Steel Blade Classic, which typically sells out annually, brought together more than 5,000 fans for an exceptional experience last year.
"The Steel Blade hockey game is an electric event and should not be missed," said Associate Director of Brock Sports Emily Allan. "Our fans continue to show why they are the most dedicated fans in the province, arriving to the arena decked out in amazing Brock spirit. For our student-athletes, playing in front of a home crowd like this is an experience they'll never forget. We owe it to our coaches, athletes, staff and fans for helping to create such an amazing show."
The Brock men's hockey team is shaping up to be a force in the OUA this season. The team has a robust 2019-20 recruiting class of former major junior hockey players bringing their elite talent to the Badgers. Brock's lineup features unprecedented depth, as leading scorers Ryan Burton and Ayden MacDonald return, alongside a productive sophomore core of Tyler Rollo and all-star defenceman Connor Walters.
"The atmosphere with the students is incredible," said head coach Marty Williamson. "It's loudest I've ever heard the Meridian Centre. It feels like a playoff game with that kind of crowd, which is great for the players and also good for the coaches to evaluate their players."
Non-student tickets for the Steel Blade Classic go on sale Monday, Aug. 26 at 10 a.m. on ticketmaster.ca. New this year, these tickets allow the community and alumni to watch the game from the upper Club Level of the Meridian Centre. Prices are $30 for adults and $10 for children 12 and under.
Pre-sale tickets for students are now on sale as part of the $45 Experience Package, a bundle created in partnership with the Marilyn I. Walker School of Fine and Performing Arts and other on-campus partners. General admission student tickets without the Experience Package will go on sale Sept. 3 for $25. For each ticket sold, $1 will be donated to the Brock University Students' Union (BUSU) Food First program.