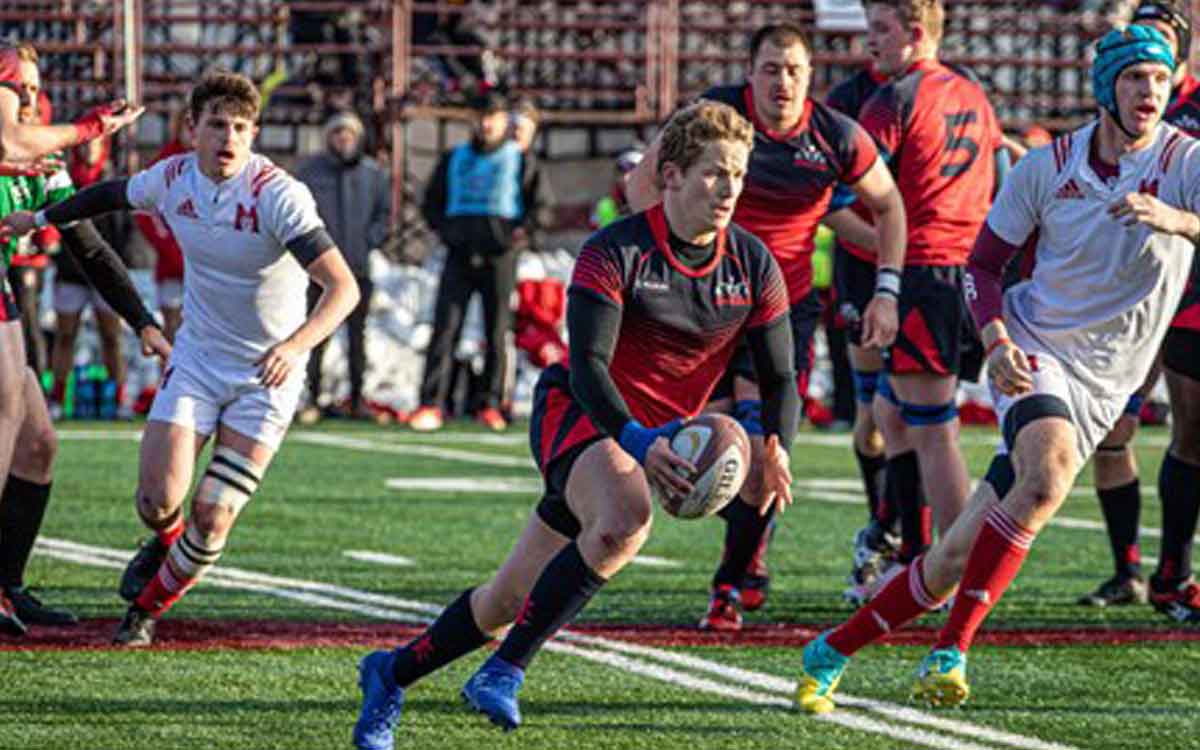 The Brock Badgers scored a game-winning try in the dying minutes to capture the Canadian University Men's Rugby consolation final in Montreal. Photo: Kyran Thicke.
On paper the Brock Badgers men's rugby team were the No. 8 seed coming into the national finals tournament but they played like a much higher ranked team on the field. After dropping the first game to No. 1 ranked UBC, the Badgers powered their way past Guelph in the consolation semifinals and then flexed their durability against McGill.
"This win means a lot to us, we play as a family, we are brothers win or lose," said senior Victory Eichie, about the McGill victory. Eichie was named the Man of the Match. "Coming from one of our worst seasons last year to one of our best this year is surreal, we owe it all the coaching staff, the athletic therapists holding us together and the strength and conditioning staff. We play a game with 15 players on the field, but our success this year took more than 50 individuals."
Brock carried a 5-0 lead into halftime on a try by Devon Ollson and, despite repeated lead changes, continued to dominant the lineout, which head coach Phil Sullivan credited as being the difference maker.
"Our lineout is one of the strengths of our play," said Sullivan. "This is our ability to move the ball and attack from sideline to sideline. Both were very important today."
McGill took a 7-5 lead in the second half, but Carter Bondy replied with a try to restore Brock's lead.
The lead would change once again, however a game-breaking play materialized at the 56th minute.
Bondy pulled off a highlight-reel drive to cut through the McGill defence and outrace a pair of defenders to the ball. He booted it into the end zone and Steven Commerford pounced on the ball for the game-winning try late in the game.
"It was a great play and tremendous effort by Carter," said Sullivan. "The only way they could defend it was by committing a penalty, so technically a penalty try isn't awarded to anyone."
Eichie punched in a try shortly after to seal the deal. Commerford finished with a pair of converts.
The victory caps off an incredible season by the Badgers, who turned their program around after posting a record of 1-7 and missing the playoffs in 2018.
This year, Brock placed third in their division with a record of 3-3 and an OUA bronze medal to win their third medal since 2007.
"There's talent, a lot of rugby knowledge and the experience that we gained from a rough year last season," said Sullivan. "They're a really tight bunch."
Sullivan gave kudos to Brock Sports Performance and the influence their training has had over his program during the last couple of seasons.
"It's an example of a transition. You don't just throw a switch and everyone buys in, it takes a little time," he said. "The coaching staff could see the change of culture coming. This was the year that everyone was in on all of the asks that we had. It started with the guys in the room. They knew they had to put in the work to get better, and they were happy to do it."