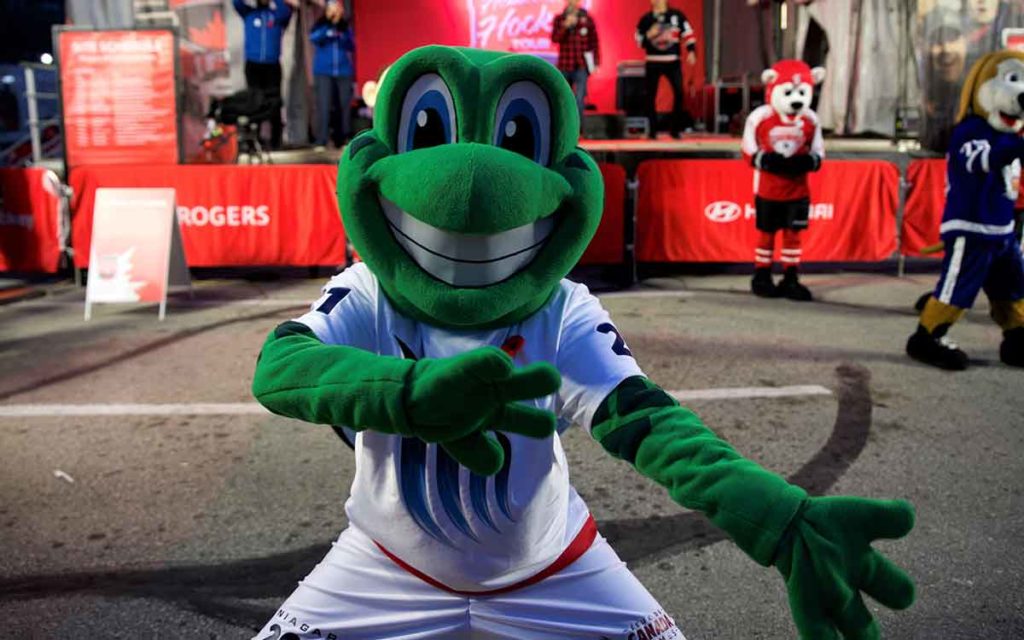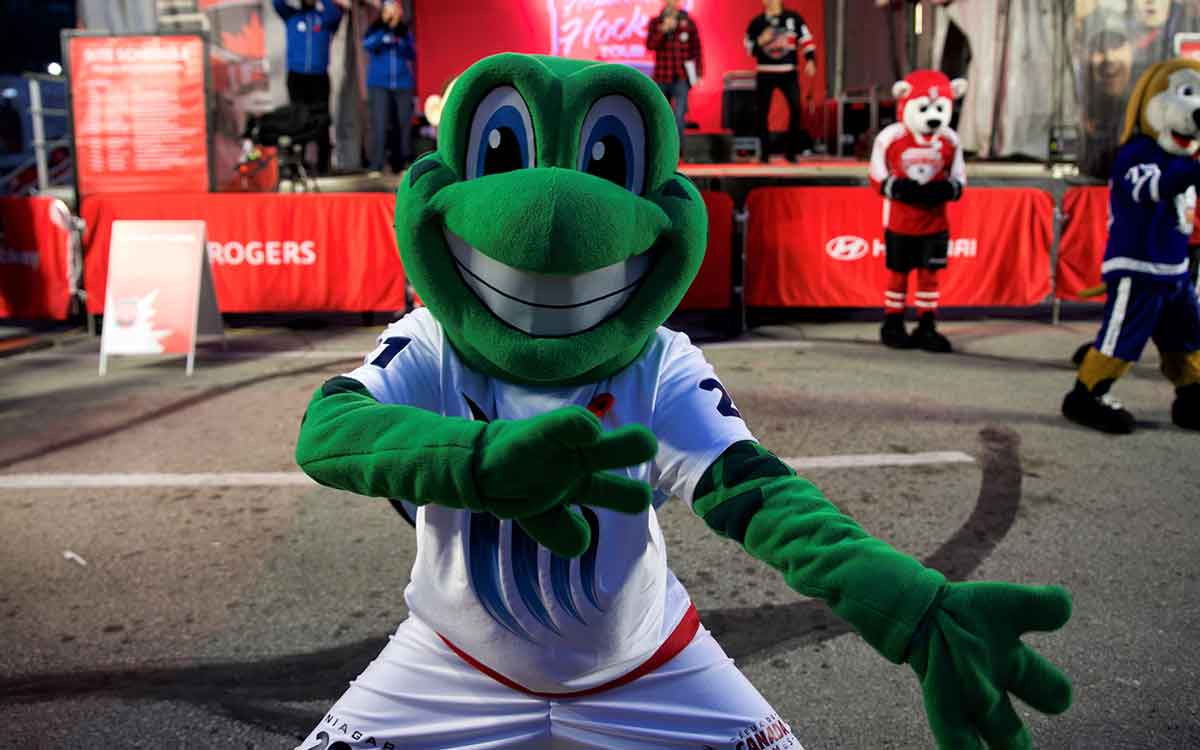 Shelly, the Niagara 2021 Canada Summer Games mascot was unveiled on Sunday. Supplied photo.
With any national or international sporting event one of the highlights leading up to the opening ceremonies and competition is the unveiling of the event's mascot. This past Sunday the Niagara 2021 Canada Summer Games had a national stage to show the country who will be the fun face of the Games. Meet Shelly.
Shelly took the stage of Rogers Hometown Hockey with boundless energy and was greeted by smiles and thunderous applause. The giant green turtle decked out in white Games athletic wear immediately began to energize the crowd.
Shelly was introduced by Cari MacLean (wife of Rogers Hometown Hockey co-host Ron MacLean) who was also joined by two local students, Juan Josè Arbelaez and  Naturelle Gerrard, both of whom combined their talents to help create Shelly.
Juan Josè and Naturelle were winners of the Mascot Challenge, which kicked off across all four Niagara Region School Boards back in May on World Turtle Day. Juan Josè, the design winner, and Naturelle, the name winner, were recognized on stage by Cari and Ron during the mascot reveal for their contributions towards Shelly's creation.
At the time of his submission, Juan Josè attended École élémentaire Sainte-Marguerite-Bourgeoys from the Conseil Scolaire Mon Avenir. He drew inspiration from his favourite Toronto Raptor Kawhi Leonard, a Ninja Turtle and Franklin to create a turtle that was fun, friendly and athletic looking. Currently, Juan Josè is in grade nine at École Secondaire Catholique Jean Vanier.
Naturelle, a fifth grader from Quaker Road Public School from the District School Board of Niagara, chose the name Shelly for two reasons: turtle shells are the perfect protector of the Games because they are strong, and the name Shelly is gender-neutral.
"We were very pleased to see the level of participation of students from across Niagara, and are incredibly proud to now celebrate the launch of our mascot Shelly on the national stage with Ron and Cari MacLean, Tara Slone, and Rogers Hometown Hockey," said Steve Katzman, Chief Revenue and Marketing Officer of the Niagara 2021 Canada Summer Games Host Society.
"The Niagara 2021 Canada Summer Games will transform and unify our Region like never before," said Doug Hamilton, Board Chair of the Niagara 2021 Canada Summer Games Host Society. "We hope that our mascot Shelly will inspire communities throughout Niagara to celebrate, participate, and embrace the Games."
"From the athletic sneakers to the vibrant smile, we want Shelly to inspire kids to be part of the Games," said Asif Saherwala, President of Loonie Times Custom Mascot Shelly the company that made Shelly come to life. Loonie Times is the official mascot and plush supplier for the Niagara 2021 Canada Summer Games. "We are proud to have given life to Shelly, and are excited to see Shelly bring the Niagara Region together to celebrate such a great event."
Niagara 2021 Canada Summer Games staff said Shelly is now available to attend events. To request Shelly at your community event, interested parties can email info@2021canadagames.ca.