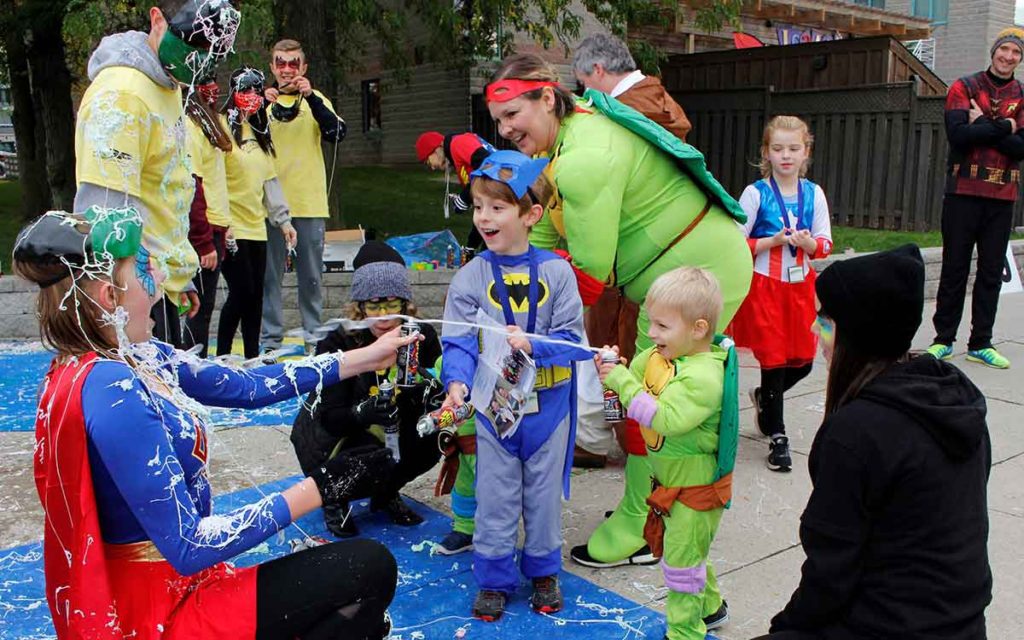 Superheroes of all sizes gathered to support Niagara Children's Centre as part of the fourth annual Superhero Run. Photo courtesy of Niagara Children's Centre.
Niagara's superheroes of ages gathered at Brock University's campus on Sunday to raise money for the Niagara Children's Centre. Hundreds of supporters arrived wearing their favourite superhero costume and ready to walk or run either a one or five kilometre route.
The Niagara Children's Centre, located across the street from Brock, is Niagara's provider of rehabilitation and support services to children and youth with physical, developmental and communicative delays and disabilities.   Core services offered at the centre include physiotherapy, occupational therapy, speech and language services, augmentative and alternative communication, family services and therapeutic recreation.
The fourth annual Superhero Run raised $70,000, the most in its short history. The goal for this year's run was $60,000. The Centre's Director of Development, Marla Smith credited the success to a great cross section of support including service clubs, individuals, corporations and volunteers. The event's title sponsor, Viola-Salter as well as Pen Financial were key contributors. There were 21 corporate sponsors in total as well as support from the Rotary Clubs of both St. Catharines and Welland.
In total, nearly 300 volunteers were out to lend a hand and almost 500 superheroes participated.
Smith pointed out one group of volunteers in particular that brought a lot of energy and enthusiasm. "The Brock women's rugby team came out this year to volunteer and were a great help. They know the campus and were just hard workers and really contributed a lot."
The event's emcee and a Children's Centre Board Member, Matt Siscoe, said: "I'm proud of the effort put forth by all of the staff and volunteers. It's awesome to see the Niagara community step up for such a worthwhile cause."
Smith said that overall, fundraising for the Centre has been going extremely well and they are in a position to exceed their targets. "We have had wonderful support from people from all across Niagara. Third party events have been very helpful and have contributed a lot to the success of our fundraising efforts," she said.