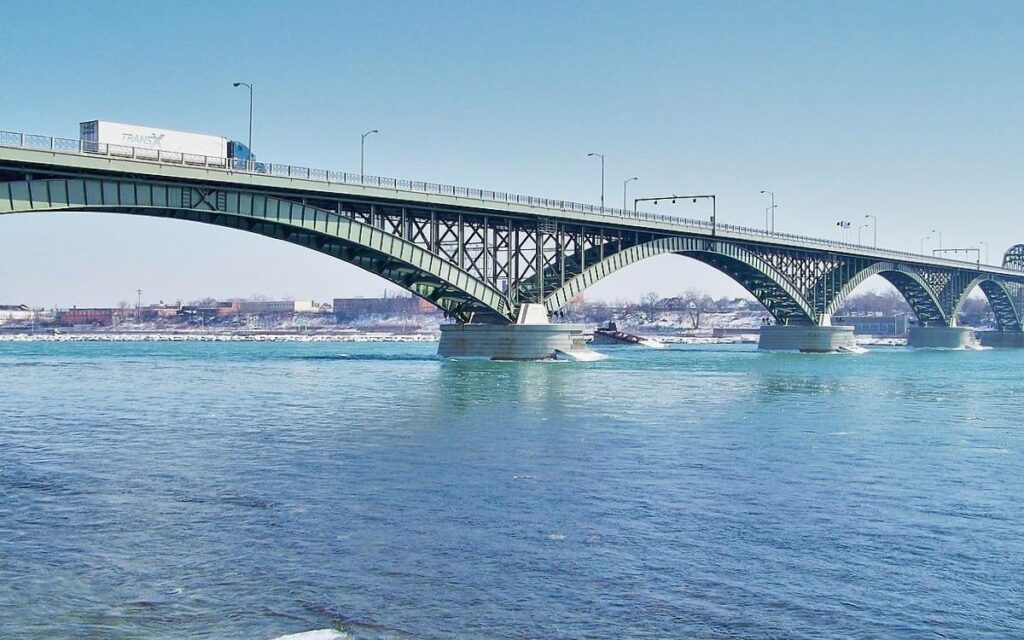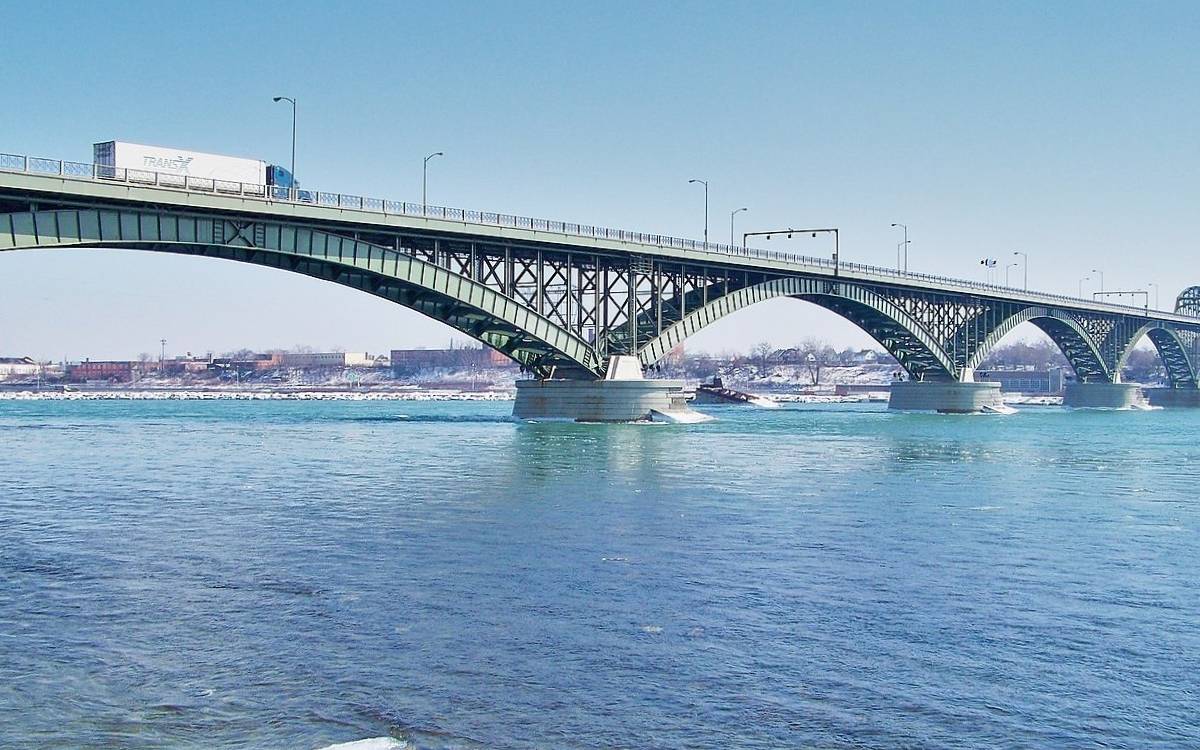 The international crossing that connects Fort Erie to Buffalo is the third busiest commercial bridge in North America. Photo credit: Wikimedia Commons
A bi-national contingent of anti-mandate truck drivers and their supporters are expected to crowd both sides of the Peace Bridge this weekend. 
Departing from New York City and Tennessee, the 'Convoy to Save America' intends to pick up participants from across New York, Pennsylvania, Kentucky, and Ohio on route to Buffalo Saturday.
The American convoy will be joined by at least two Canadian groups departing from Costco in Stoney Creek and the Husky truck stop in Niagara-on-the-Lake. 
It's unclear whether participants will try to halt the flow of traffic travelling over the bridge. 
According to a press release sent out by the organizers of the Convoy to Save America on Wednesday, the group formed to "peacefully support the official Freedom Convoy 2022 in Ottawa". 
Group founder and Tennessee native Denby Melisha Morgan said that the Canadian trucker convoy has been an "inspiration" that's "galvanized everyone I know to get on board." 
Mayor of Fort Erie Wayne Redekop told CHCH on Thursday that the "objective [of officials and law enforcement] will be to make sure that traffic will continue to flow across the Peace Bridge and the community isn't obstructed, in particular for emergency vehicles." 
The OPP will monitor the QEW leading up to the Peace Bridge, while NRP and by-law officers will be responsible for watching the off-ramps and municipal roads. 
Per CHCH, Mayor Redekop isn't ruling out roadblocks and fines in areas where the municipality has authority. 
While acknowledging the inevitability of spillover from Fort Erie, the agency responsible for administering Niagara Falls' three international bridges said it does not expect large demonstrations Saturday.
North America's third busiest commercial port of entry, a blockade at the Peace Bridge would spell disaster for an already struggling supply chain. On Monday, a group of protestors set-up a blockade at the foot of the Ambassador Bridge connecting Windsor to Detroit, closing North America's busiest commercial crossing to all transportation.
Shipping delays caused by the Ambassador Bridge blockade have forced companies across a variety of industries to scale back or stop production. 
Locally, Fort Erie's Rich Products of Canada has reportedly shut down one of its lines and may need to scale back even further if disruptions continue.
Dolores Fabiano, executive director of the South Niagara Chambers of Commerce, co-signed a joint letter earlier this week calling for an end to the Ambassador Bridge blockade. 
When asked about the possibility of a similar demonstration taking place at Niagara's ports of entry, Fabiano said, "While we support everyone's democratic right to protest, we sincerely hope that any demonstrations here in Niagara are peaceful and do not impede on the rights of others." 
Requests for comment from the Peace Bridge Authority went unanswered.