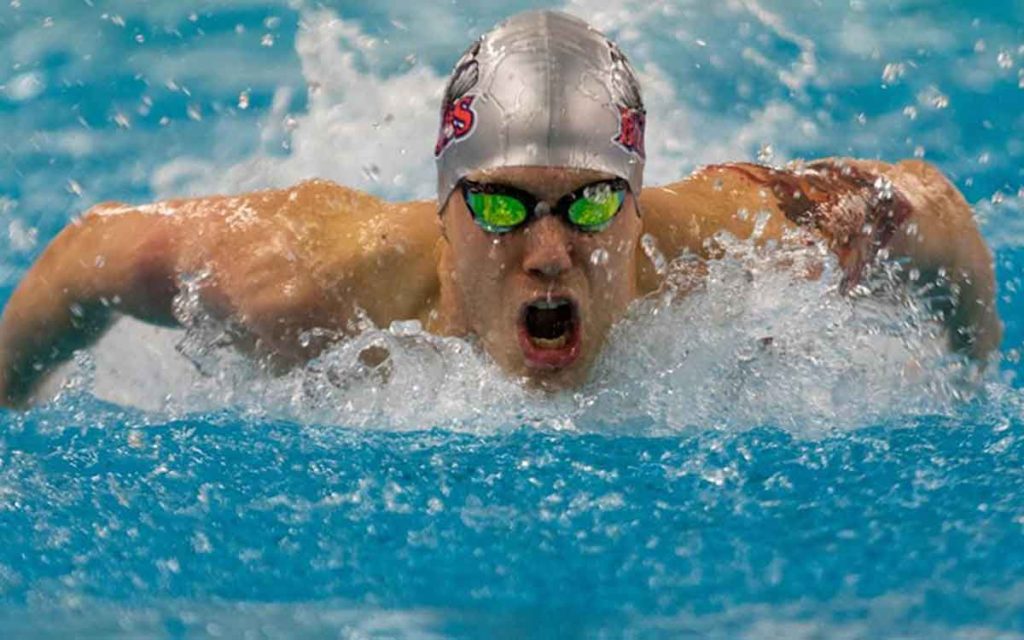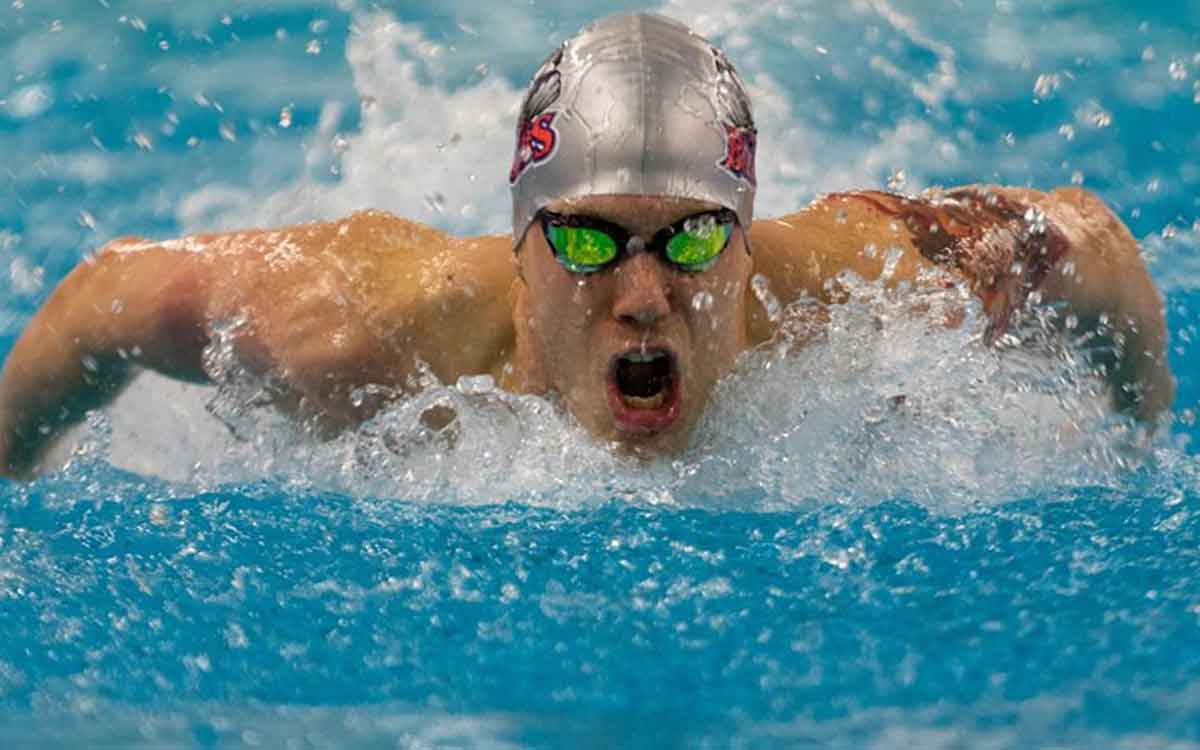 Brock swimmer Gokhan Bozyigit recently competed in the national championships this past weekend.
Swimming isn't just what Gokhan Bozyigit does for fun, or for the thrill of competing. It's who he is.
Swimming is what brought Bozyigit to Canada, and specifically to Brock University, from his native Turkey. The sport is also what has given him clear career goals, both as an athlete and as a coach.
"Without swimming I am pretty sure I would have never thought about coming to Canada," he said. "All I can say is swimming is my whole life. It is a part of who I am and without it I would be lost."
Bozyigit headed west last week to compete in two events at the U SPORTS National Swimming Championships at the University of British Columbia. On Thursday he competed in the 400-metere freestyle and finished 15th with a time of 4:06.50. He followed that up with another 15th place finish on Saturday in the men's 1,500-metre freestyle with a time of 16 minutes, 21.11 seconds.
In order to qualify for nationals Bozyigit had to turn in impressive performances at the Ontario university championships held at Brock and he did just that, winning a silver medal in the men's 1,500-metre freestyle with a time of 15 minutes, 42.32 seconds and a bronze medal in the men's 400m freestyle with a time of 3:57.55. He was one of three Badgers in B.C. this past week to compete at Nationals. Joining Bozyigit were teammates, Anthonie Korstanje (Niagara Falls) and Maggie Smith (Severn, Ont.).
"Competing at OUAs is always a fun and stressful experience for me. I've been chasing the podium for the last three years and I really wanted to medal and show my real performance," said Bozyigit. "With the support of my teammates, I was able to enjoy OUAs too."
Like his teammates, Bozyigit's training schedule is a brutal grind: eight sessions a week, 11 months of the year.
Yet he's never missed a practice.
"Gokhan is very focused and hard working," said head coach Peter Bradstreet. "He comes from an eastern European culture where hard work equals success, and that has brought him success in swimming. He does not question anything asked of him. He just tries to do it to the best of his abilities and never gives up."
Bozyigit started competitive swimming while growing up in Istanbul, Turkey.
The reason he fell into swimming is kind of amusing, he said.
"I was always ambitious about playing sports for my whole life," he said. "During elementary school, I was more interested in basketball and tried out for my school's team."
After tryouts, the coach approached Bozyigit and told him he was too much of a gentleman to play basketball and that he should try a sport like swimming.
"After this recommendation I tried out for the swim team and those coaches told me that I had a natural talent," he said.
From 2011-15, Bozyigit racked up a shelf full of medals in his home country's national swim meets.
It was during this time that he transitioned to long course races and used his natural ability for endurance to compete in the 400m, 800m and 1,500m freestyle events.
"I had a difficult time in reaching good scores and getting a place in the top five until 2012," said Bozyigit. "The breaking point in my swimming career was having the professional help of a sports dietitian. They uncovered that I needed a different diet to cover the gap caused by my metabolism. I re-organized my nutrition according to my training load and quickly started to improve my results."
During Bozyigit's first visit to Canada in Grade 10, he toured Brock's facilities and chatted with a couple of the swimmers. He returned the next year and trained with the Badgers for a week.
In Grade 12, Bozyigit's family moved to Canada, and he attended Sir Winston Churchill Secondary in St. Catharines before coming to Brock.
"Without swimming, my life would be a mess," he said. "It helped me keep my mental health and sort out my problems in life. It also helped me get scholarships from my high school and Brock University, which gave me an opportunity to have a better education. And most importantly, it helped me to come to Canada."
Whatever team or group Bozyigit is a part of, he's all in, according to Bradstreet. He's first in line when Brock Sports is looking for event volunteers.
"Gokhan has an extreme thankfulness for the opportunities that Canada, and specifically Brock, have given him. He is a consummate team guy, always looking for ways to help younger and less-skilled teammates and swimmers," said Bradstreet. "He is involved with coaching some of our younger novice swimmers and they love him, as do their parents, because he genuinely cares about them."
When Bozyigit won the Ontario Open Water Championships last July, he almost missed the medal ceremony because one of the young swimmers he coached was competing in her first open water race.
"He wanted to be there to congratulate her," said Bradstreet. "I think that demonstrates everything you need to know about his character."
Bozyigit, a third-year Physical Education student, is hoping to compete in the 2020 Olympic Summer Games and to coach a new generation of athletes.
"As a career goal, I would like to work with professional and varsity athletes. My ambition is to identify young talent and train them to be worldwide athletes, and to be proud of them."