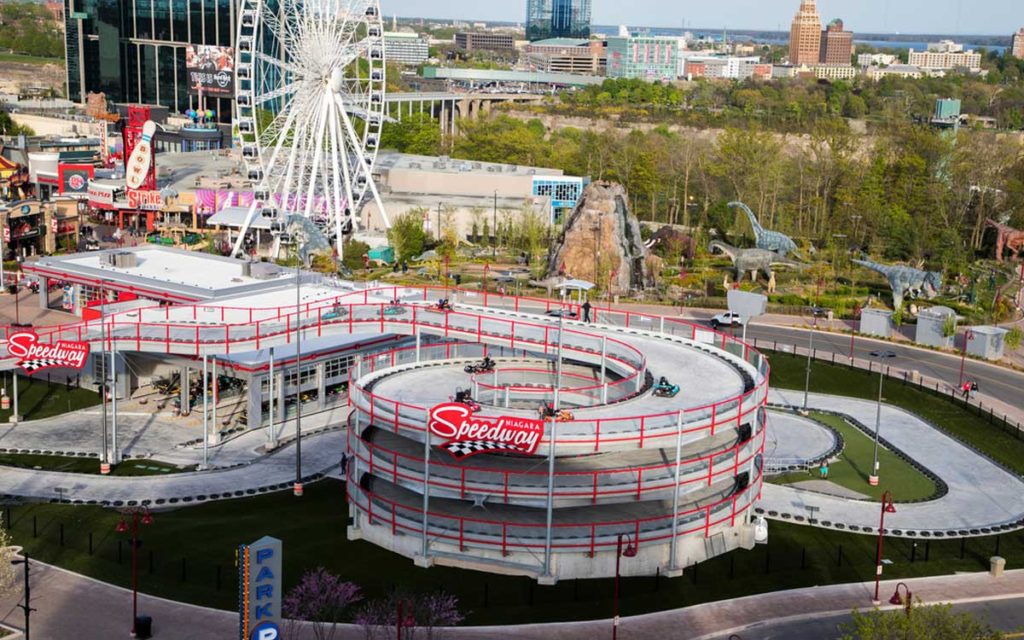 The Niagara Speedway located in Niagara Falls.
Clifton Hill's world famous street of fun has a new attraction that has tourists all revved up and racing to get in line.
Canada's first ever elevated go-kart race course is now open. Towering over forty-two feet high, the Niagara Speedway is the latest and most exciting addition to Clifton Hill's Street of Fun in Niagara Falls.
The Speedway is a world-class attraction that combines the adrenaline inducing thrill of kart racing with the remarkable experience of a roller coaster ride. The course is spread out over four acres with over 2,000 linear feet of concrete racing surface, running through a four-story helical spiral followed by a two tiered coaster style ramp that runs into another spiral. Though riders may feel like they are flying over a cliff at certain points during the ride, extensive safety features were built into the Speedway attraction.
Joel Noden, Director of Marketing and Business Development for HOCO Entertainment and Resorts, said the response has been "amazing" from customers.  "The smiles on kids' faces at the start and finish of the race are ear to ear. Those that are tall enough to drive are in many cases getting behind the wheel of a go-kart for the first time. The post race discussions in the courtyard sound like epic battles between foes," said Noden.
To sum it up in a few words, Harry Oakes, President of HOCO Limited states: "it's like go-karts on steroids. You drive on a road course for a portion of the race and then spiral up … to about 40 feet, and then come down a long hill … kind of like the way a wooden coaster would be."
Throughout North America, go-karting has seen a major resurgence, leading to advances in modern track design from multi-level high rises to super competitive long-range courses. Many of these karting trends were built into the Niagara Speedway's unique design, establishing it as the "first of its kind" elevated go-kart track in North America.
Noden said the coverage on social media and through traditional media has really taken the company by surprise. "We have had an unbelievable amount of coverage around the globe on social media and news websites. From the CBC and Motor magazine to the likes of Daily hive and Narcity, the views have been massive in the 10's of millions," Noden explained.
The track development was led by a Canadian and American consortium including: HOCO Limited, J&J Amusements of Salem OR, architects; Brent Butler and Roberto Narduzzo; and structural design by VanBoxmeer, Stranges & Antonio of London, Ontario. As well, many local companies were involved in the construction and included: E.S. Fox Ltd., Niagara Concrete Canada, Cotton Inc., Niagara Rigging and Erecting Company Ltd., among others. The karts were provided by J&J Amusements and feature large 4 stroke Honda motors, boasting 9 HP with a maximum track speed of 32 km/hour as well as colourful, low profile bodies with advanced lighting systems and open leg areas for ease of loading.
The Niagara Speedway will be open for three seasons: spring, summer and fall; weather permitting.
Daily operating hours are 10:00 am to 12:00 am. Tickets are $12 for drivers and $4 for riders. Tickets can
be purchased on site or call 905-358-4793. For package information, visit www.cliftonhill.com/packages.