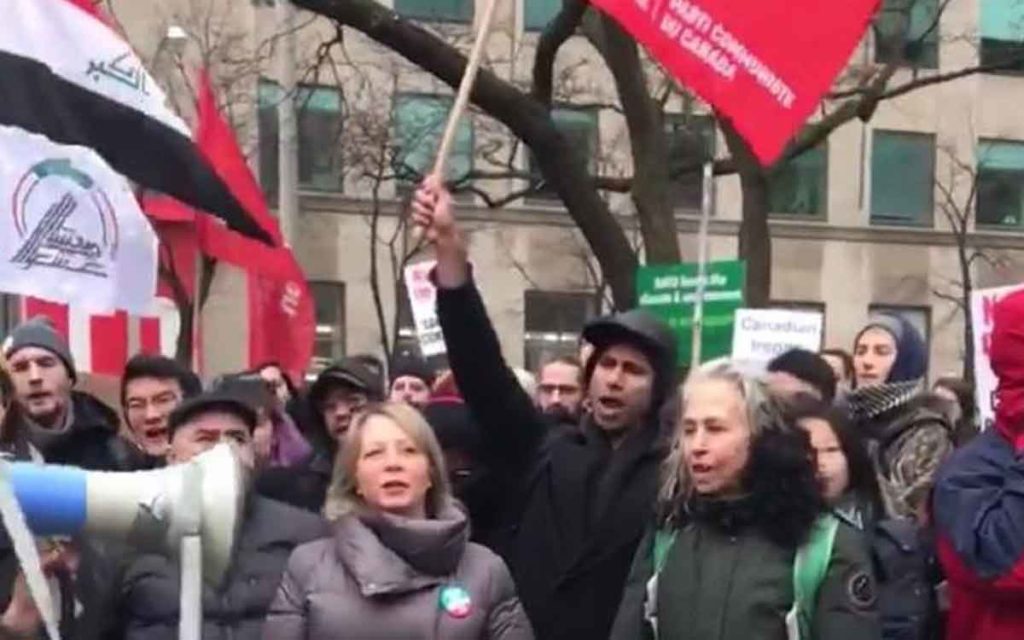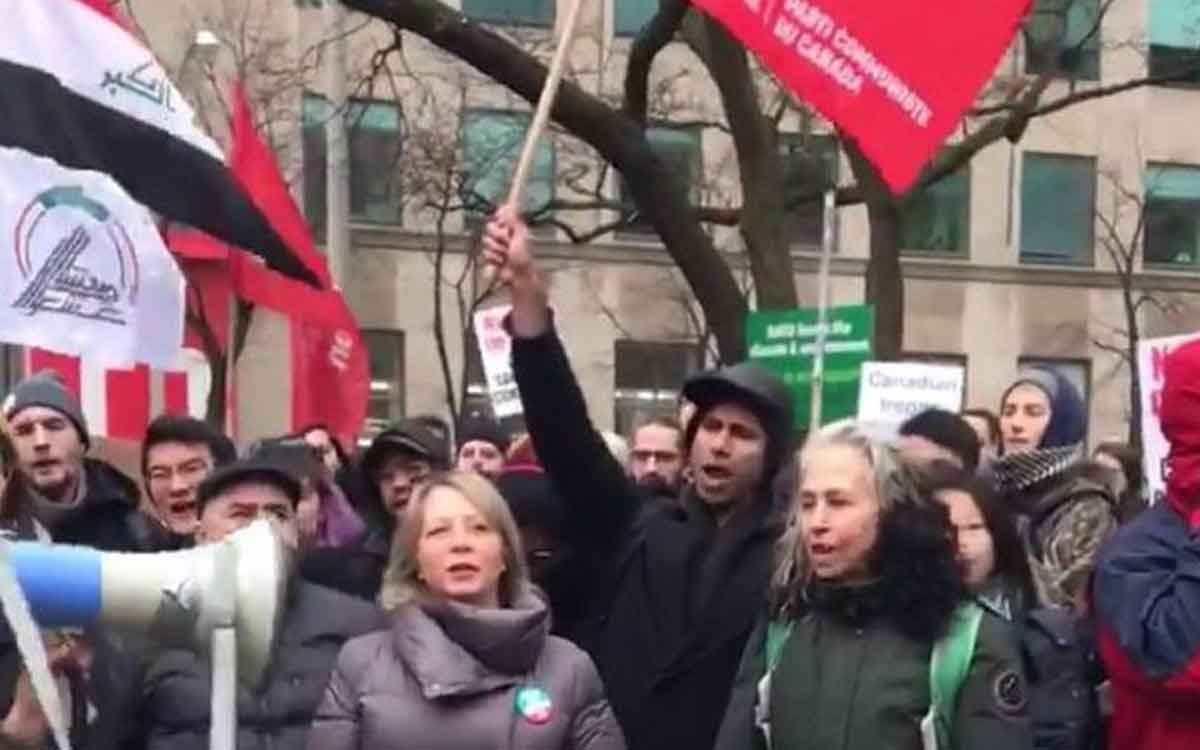 NDP MPPs Marit Stiles and Rima Berns-McGown at a rally outside the U.S. Consulate where dead Iranian terrorist Qasem Soleimani was celebrated. 
While news of the killing of Iranian Commander Qasem Soleimani and other senior Iranian officials was capturing the attention of many people around the world over the past few days, a strange Ontario angle to the story unfolded.  Two NDP MPPs – Rima Berns-McGown and Marit Styles – attended an anti-American rally supportive of Soleimani in Toronto.  In case there was any doubt as to who was behind the rally to show support for Soleimani and denounce the US, the flags of the terrorist group Hezbollah and the Iraqi paramilitary organization Popular Mobilization Forces (PMF) were prominent at the event.  There are many differing opinions on exactly what the US attack on senior Iranian figures will mean for the world and whether it was justified or not, but the notion of elected representatives in Ontario publicly supporting groups that have been classified as terrorist organizations by the Canadian government and many others is difficult to fathom or justify.  When questioned, NDP officials claimed that the two MPPs were merely attending the rally as a gesture "in support of peace". That's quite a stretch.
Unfortunately, this type of action is nothing new for many on the left, who have a history of supporting causes sympathetic to terrorism and/or anti-Semitism.  There are also right wing groups that come out in support of these appalling points of view, but they tend to be located on the extreme fringe, not elected members of a Canadian legislature that are paid by taxpayers and supposed to be representing their constituents.  As well, a number of mainstream Canadian labour unions have been sympathetic to terrorist causes in recent years.  For example, the Canadian Union of Postal Workers (CUPW), a union supported by Canadian taxpayers, has backed the so-called BDS (Boycott, Divest, Sanction) movement which supports the Palestinians against Israel, despite the reality that the oft-stated goal of the Palestinians and Hamas, the jihadist group than runs Gaza, is not peace but rather to wipe Israel off the map. The largely private sector union, Unifor, has also supported BDS.  Even Prime Minister Justin Trudeau opted to use the ridiculous euphemism of "foreign travelers" when referring to Canadian citizens who chose to leave Canada to join terrorist groups like ISIS instead of referring to them correctly as terrorists, and claimed that bringing these individuals back to Canada was a good thing as they would supposedly have "an extraordinarily powerful voice" to speak against terrorism.
The ongoing support or tacit approval of so many on the left for terrorist organizations and regimes like the current Iranian government that promote and fund terrorism around the world, especially in Western democracies such as Canada, lends credibility to a movement that deserves none and impedes progress on stamping out these destructive forces. Weak justifications such as those put forward by the Ontario NDP that the MPPs were merely supporting "peace" while they appear at an event with terrorist organization's flags flying over their heads is pretty tough to believe.  There is also an anti-Trump element to these protests, as when Democrat Barack Obama was US President and oversaw the killing of Osama bin Laden, there was no comparable outcry from Canadian leftists denouncing that equally deliberate and planned act.
In the recent election in the United Kingdom, voters rejected British Labour leader Jeremy Corbyn, a well-known anti-Semite who regularly supported convicted, jailed terrorists being released before they had served their full term, and who blamed British foreign policy for provoking "militants", not the militants themselves for committing heinous crimes.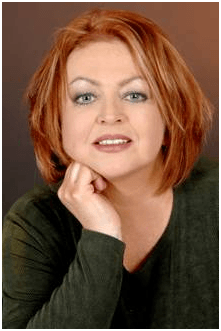 Catherine Swift is currently President and CEO of Working Canadians (www.workingcanadians.ca.  Prior to that, Catherine Swift had been with the Canadian Federation of Independent Business since September 1987, initially as Chief Economist. She became Chair in June 1999 after being named Chief Executive Officer in July 1997 and President in May of 1995.  Her various responsibilities included coordinating policy issues at federal, provincial and municipal levels of government, representing CFIB with politicians, government, business, media and other groups.
Ms. Swift has worked with the federal government in Ottawa holding several positions with the Departments of Consumer and Corporate Affairs, Industry and Communications. Her areas of specialization included corporate and industrial analysis and international trade. Catherine Swift has a MA in Economics.
She has published numerous articles in journals, magazines and other media on such small business issues as free trade, finance, entrepreneurship and women small business owners. Ms. Swift is a Past President of the Empire Club of Canada, a former Director of the C.D. Howe Institute and past President of the International Small Business Congress. She was cited in 2003 and again in 2012 as one of the top 100 most powerful women in Canada by the Women's Executive Network.