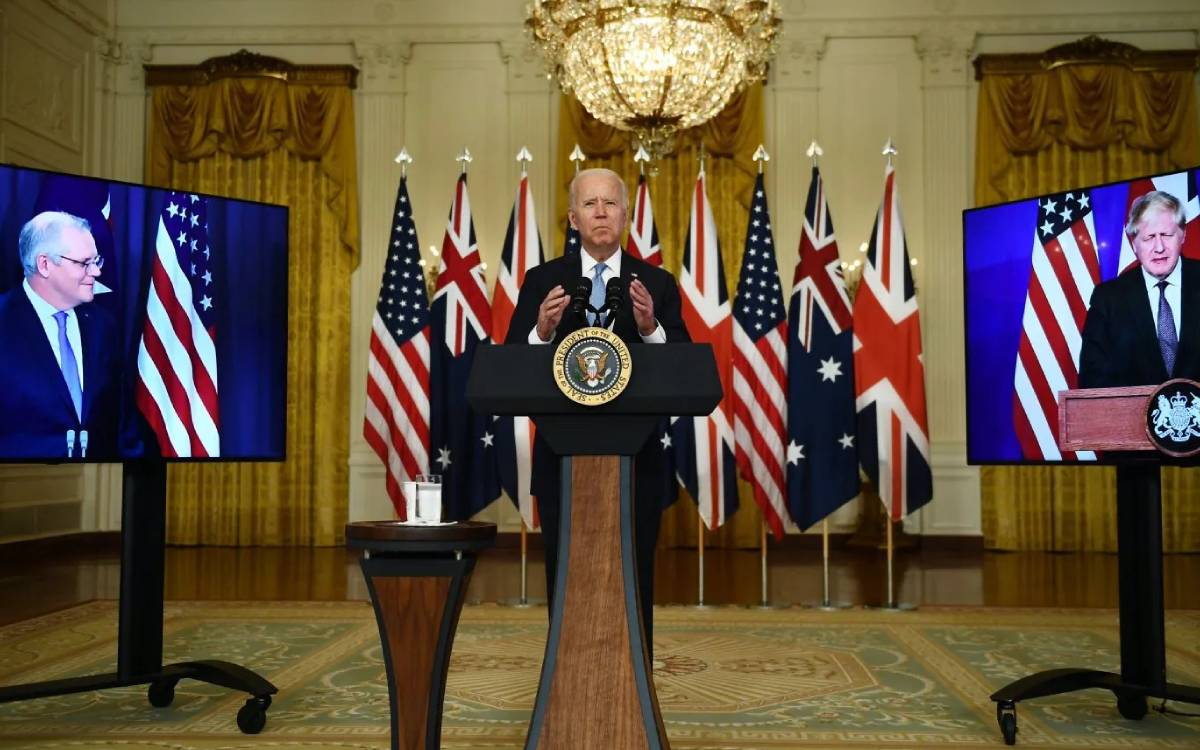 U.S. President Joe Biden holds a virtual press conference on the AUKUS pact with Australian Prime Minister Scott Morrison (left) and British Prime Minister Boris Johnson (right) at the White House in Washington, D.C., Sept. 15, 2021. Photo credit: AFP/Brendan Smialowski
A significant new global alliance – involving our country's traditionally closest allies – was announced mid-September and nobody in the Canadian Government knew anything about it. From the initial reactions by PM Justin Trudeau and Canadian officials to the new alliance, it appears that Canada is deliberately choosing to not pick sides between the United States and its allies and China. 
The U.S., U.K. and Australia signed what is billed as a "landmark security partnership" which has bound the three countries together to counter Chinese aggression in the Indo-Pacific region. With the moniker "AUKUS," this partnership will support the countries' defence and security interests to further peace and stability in the South China Sea and greater Pacific Ocean. The unsaid mission is to defend western values and democratic societies in the face of an increasingly aggressive Communist China Government.  
In a joint statement, U.S. President Joe Biden, Australia Prime Minister Scott Morrison and U.K. Prime Minister Boris Johnson stated: "AUKUS will bring together our sailors, our scientists, and our industries to maintain and expand our edge in military capabilities and critical technologies, such as cyber, artificial intelligence, quantum technologies, and undersea domains."
AUKUS is a military defence pact, but it is also much more than that. It is an alliance to develop intelligence and technological equipment and expertise. It will develop joint cyber capabilities that will defend against espionage and sabotage. As was announced with the development of the nuclear-powered submarines, this pact will also lead to inclusive trade agreements. 
Sam Kessler, a geopolitical expert at the multinational firm North Star Support Group, observed in an interview with the Epoch Times, "What we are seeing is that redrawing the lines and going outside the box can create a new scenario and range of opportunities that previously didn't exist – which is why multilateralism and traditional established alliance structures in the West can potentially find new life and meaning in this new strategic reality."
AUKUS could provide the template for future security alliances among democratic countries; perhaps it will serve as a model for the natural evolution of The Quad – an existing forum among India, Japan, Australia, and U.S. that was created to promote a free and safe Indo–Pacific region.
As a catalyst for future global alliances, the AUKUS pact is significant – and it is remarkable that Canada was overlooked. 
At the time of the announcement, the Globe and Mail interviewed officials representing Canada's foreign affairs, intelligence, and defence departments and the paper reported that the most senior government officials, including Canadian cabinet ministers, were "not consulted about the pact, and had no idea of the trilateral security announcement." One official surmised that Canada is now recognized by its allies as a "weak sister" when it comes to China relations and speaking out against Communist China aggressions.
Former Canadian ambassador to China David Mulroney was active on Twitter the day of the announcement, stating that Canada's exclusion from AUKUS is a "monumental snub" and "feedback on our virtue-signalling foreign policy." Mulroney tweeted: "Countries that have become vulnerable by neglecting their own defence are most likely to need alliances and least likely to be included in them." 
When PM Trudeau attempted to play down the obvious embarrassment of being caught unaware, retired Vice-Admiral Mark Norman commented to media, "He doesn't understand what is going on internationally and he doesn't understand what the significance of an arrangement like this is as it relates to international security."
Norman, who was a decorated commander of the Canadian Navy, stated that AUKUS is an "unprecedented" trilateral arrangement. He assessed, "This is about accessing both current and emerging technologies, from cyber and artificial intelligence to acoustics and underwater warfare – a whole range of very important strategic capabilities."
The retired Vice-Admiral went on to say that he suspects Canada is no longer considered by its traditional allies as a contributing partner, "I don't think our allies think we are serious when it comes to defence. I think they have concerns not just about our defence expenditures, but also the extent to which our [international] commitments are both lasting and meaningful."
Canada's spending on defense as measured by percentage of GDP has dropped steadily from 4.2 percent in 1960 to less than one percent (0.99) in 2014. It has climbed to 1.4 percent in 2020, however there remains a laundry list of military items that require immediate action: NORAD radar, submarines, aircraft, icebreakers, military pistols, to name a few. To actively participate in our alliances, Canada must begin to substantively contribute to them. (In the joint international military air and naval exercise off the coast of Japan last week, Canada sent a single frigate.)
Canada is also suspect when it comes to the security of the Five Eyes pact, an intelligence-sharing alliance that can be traced back to our nation's contributions to Allies' efforts in World War II. Today, Canada is the only country in this long-standing partnership that has not limited or banned China's Huawei technology company from developing its 5G infrastructure. By permitting Huawei, Canada allows the real possibility that China Communists will be able to access sensitive networks and data that would undermine Five Eyes security.
The AUKUS pact effectively negates that security threat by excluding Canada from any intelligence-sharing activities. In fact, in the beforementioned Globe and Mail article, one of the government officials made reference to AUKUS as the new "Three Eyes." 
At a media briefing on AUKUS in Washington D.C., a senior U.S. government official revealed America's current thinking on their trusted partners when he said, "I just want to underscore, just generally: Obviously, there are no better allies than the United Kingdom and Australia." 
There was no mention of Canada. No mention of America's largest trading partner, (still by nature of NORAD and NATO) closest defence cooperative partner, and neighbouring country that happens to share the longest undefended border in the world.
Evidently, AUKUS has dealt us out. With the Trudeau Government's on-going posturing on Canada-China relations, it now suggests we will not be invited to the table.
More next week: Canada-China relations is hurting the country's international standing.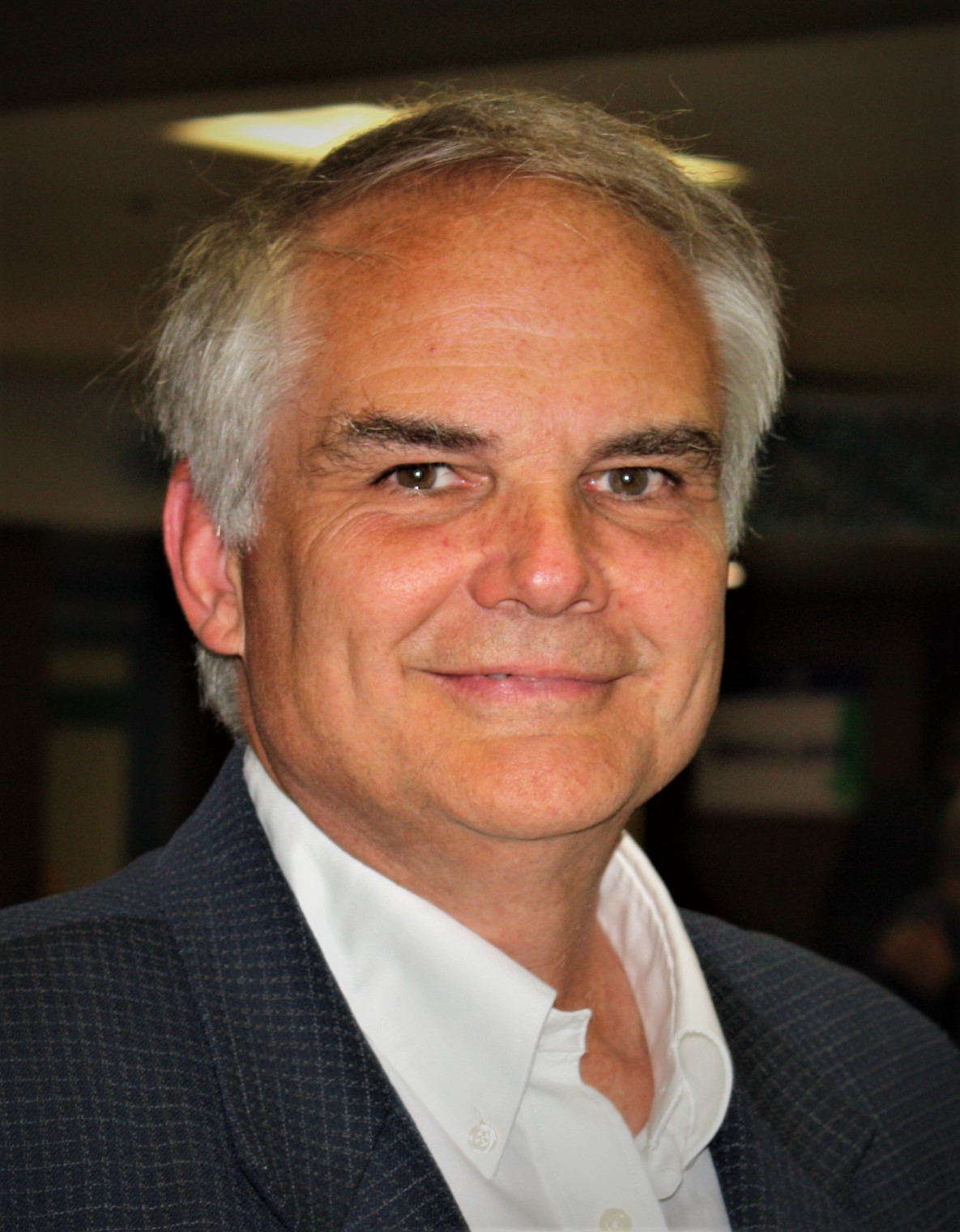 Chris George is an advocate, government relations advisor, and writer/copy editor. As president of a public relations firm established in 1994, Chris provides discreet counsel, tactical advice and management skills to CEOs/Presidents, Boards of Directors and senior executive teams in executing public and government relations campaigns and managing issues. Prior to this PR/GR career, Chris spent seven years on Parliament Hill on staffs of Cabinet Ministers and MPs. He has served in senior campaign positions for electoral and advocacy campaigns at every level of government. Today, Chris resides in Almonte, Ontario where he and his wife manage www.cgacommunications.com. Contact Chris at chrisg.george@gmail.com.