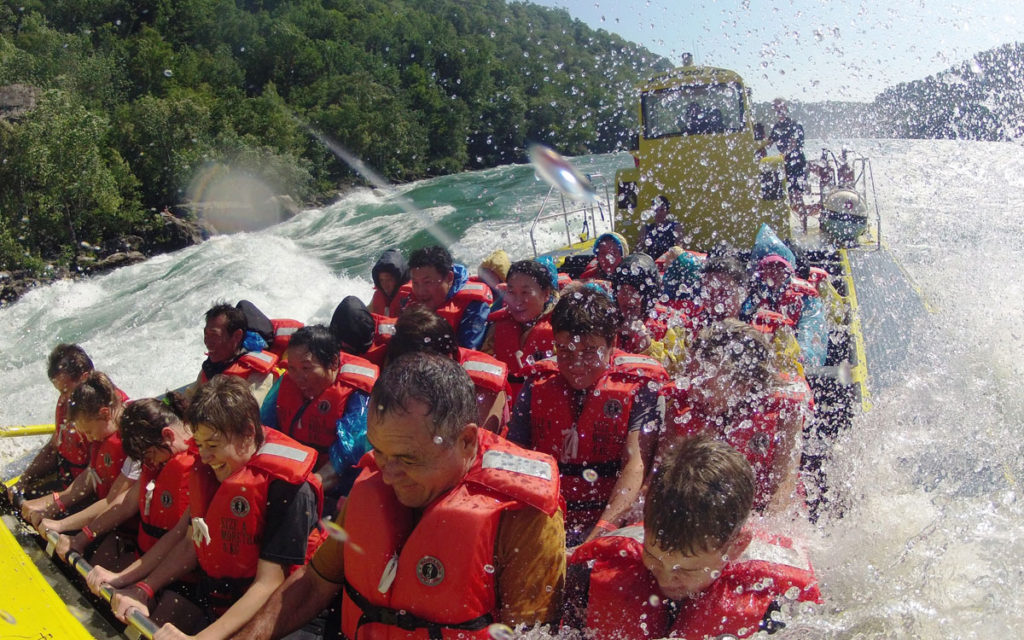 As another tourism season approaches the Niagara businesses that rely on the influx of visitors eagerly anticipate the busy months and cross their fingers for good weather. The Niagara tourism sector has evolved over the years with some amazing success stories but like any industry there are always challenges looming around the corner.
One of the big players in Niagara's tourism sector is Whirlpool Jet Boat Tours. Heading into their twenty-sixth season of operation their owner John Kinney can't help but smile with some degree of satisfaction when he remembers people saying the business wouldn't last long.
"When we first told people what we wanted to do they rolled their eyes and said it wouldn't last three or four months," said Kinney. "One boat became two, which became four which became eight."
They now employ about 125 people during peak season and as Kinney points out they aren't all just university or high school students. "We hire welders, mechanics, sales and marketing people too," he explained.
Kinney shares the credit for the success of his businesses with two other tourism sectors in particular; the hoteliers and wine industry. "Twenty-five years ago neither of those industries are where they are today and that is a testament to hardworking business people seizing opportunities," said Kinney.
While good weather plays a key role in a successful tourism season there is a lot of hard work that goes into planning for a profitable year. Tourism operators across the region travel the world to sell Niagara. Kinney said the tourism sector in Niagara works well together to sell Niagara as a whole and not just a specific attraction. "It used to be that a tourist bus would roll into Niagara Falls and the tourists would hop off go on the Maid of the Mist and up the Skylon Tower then get back on the bus and head to Toronto. Clearly that has changed," explained Kinney.
Anthony Annunziata, President, Tourism Partnership of Niagara agrees that the region has become a multi-attraction experience. "Not only do we have great attractions and accommodations, Niagara is a popular leisure destination too that provides something real for urban escapism," he said. "In Niagara you can meet the winemaker, the chef, the owner of the attraction. It's an authentic experience with bike paths and green spaces," Annunziata explained.
Kinney chalks up the change to better attractions and much better accommodations. He also said Mother Nature plays a key role. "Great weather makes me look like a marketing genius and bad weather makes me look like a buffoon," he said with a laugh.
Last year for example was a very rainy season particularly over the three long weekends in July, August and September.
Kinney has noticed an increase in visitors to Niagara from the deep south. Visitors from places like Texas and Alabama are coming to the region to escape the sweltering heat. He said temperatures in the mid-80s make for a very attractive destination climate.
The onset of online booking has made things a little less predictable too. Kinney said 15 to 20 years ago people would book their vacations at least six weeks in advance and therefore would make the trip no matter what the weather was going to be like. Now, with online booking tourists will wait until the day of or the day before in many cases.
When asked about the influence of a strong or weak Canadian dollar, Kinney has an opinion that may surprise people. "People use to say that 50 miles from the border people don't understand the exchange rate but I would say it's more like 50 feet."
Kinney says most people aren't coming to Niagara because of the exchange rate. "It's not a determining factor," he said.
The outlier to that is European tour operators because they will book their tours to Niagara up to 18 months in advance and so a fluctuating exchange rate can have an impact on costs.
Kinney thinks the Niagara tourism sector needs to get back to its roots because the gaming industry isn't going to be the big attraction it once was. "Casinos in the mid-90s were the shiny new penny and they did great things for the region and helped to create new infrastructure but they won't carry Niagara tourism on their own for the next 25 years," Kinney predicts. "There is gaming everywhere now and if a casino opens in Toronto it will makes things even more challenging."
Kinney said he was very pleased to see Niagara Parks and Hornblower partner to invest $15 million into venues and parks.
The demographics of the Niagara tourists, particularly to Niagara-on-the-Lake has changed over the years as well. "It used to be mainly seniors going to the Shaw and staying at bed and breakfasts. Now visitors are younger and wanting to do more and that shift has clearly been driven by the wine industry."