From overtly spiteful opponents to his ongoing legal problems, there are several reasons Donald Trump may choose to sit out the first Republican presidential debate later this month. Photo credit: AP/Julio Cortez
Less than two weeks before the first Republican presidential debate in Milwaukee on August 23, also the site of the party's 2024 nominating convention, no one knows if the candidate leading the pack, the erstwhile President of the United States, will even participate. 
Why should he? His substantial lead makes him the prohibitive favourite to win the nomination and take on Joe Biden. Debating against a group of lesser-known candidates could yield unpleasant results. Here are the dangers the Trump team sees or fears:
Former Trump aide Governor Chris Christie has stated that he wants to take down the former president. In a July 12, 2023 article in the

Washington Post

, Kara Voght reported on Christie's entry as one aimed at exposing Trump's lies. She called Christie's dream campaign one where, "Christie tells 'the truth' about Trump. About how the former president is willing to 'lie to the American people to preserve his ego.' About how Trump 'has been a loser, now three times in a row: '18, '20, '22.'"  Trump can fend this off, but it does remind people that Trump has not overseen a series of election successes since his improbable win in 2016, despite claiming that whoever he endorses wins. 

Former Trump vice president Mike Pence barely qualifying for the debate and then turning state's evidence during the proceedings says that Trump told him to ignore the 12th Amendment, refuse to accept the electors from certain states, and replace them with a slate Trump provided. That is a headache Trump does not need and would likely try to avoid. Of course, it will not prevent Pence from saying it even if Trump chooses to skip the debate. 

Governor Ron DeSantis comes out energetic and ready to present facts about economic and foreign policy matters that unsteady the former president. Trump endures a troubling relationship with the truth. He is best when he confronts, name-calls, and riles his supporters with the usual MAGA rhetoric. If forced to explain his record on COVID, budgetary matters, or his clever ideas about the Ukrainian War, he could look less confident than usual and appear vulnerable. 

One of Nikki Haley, Tim Scott, or Vivek Ramaswamy having a moment. These so-called "moments" can raise a candidate's profile, drive fundraising, and suddenly spotlight the positive characteristics of those running who are legitimate alternatives to another Trump run. 

Trump faces about 80-90 counts that could lead to a conviction. Anything he says may be used against him. Watching Donald Trump read from notes or a teleprompter takes away all the fun for his supporters. They want a free-wheeling Trump. And it strips Trump of his joy. He loves to be able to riff while he campaigns or debates. Anything that would reduce his ability to be himself would be a risky proposition. 
These are five strong reasons for Donald Trump to hold a rally somewhere else on August 23 and try to draw attention away from his party's debate. The safe course of action for the Trump campaign rests in staying away from the spectacle. But Donald Trump often likes to take risks. He loves rolling the dice, and confounding the political class remains his best quality and most consistent trait. 
I don't know what Trump will do, but he loves the spotlight. Trump generates attention wherever he goes, but with the built-in coverage at the first debate, it would be hard to imagine him not wanting to go, suck the air out of the room, squash his opponents, and act like a titan daring anyone to bother messing with the champ. The decision, as of press time, awaits. 
There are other reasons for Trump to consider his debate options. The race between Trump and Biden could not be closer. With the two former foes holding unassailable leads, preparations for their eventual rematch play into Trump's debating decision. As a former president, he may only want to be on a stage with another person of similar rank. To be seen with less important political characters could diminish his stature. But the more salient point may be that the 2024 election will come down to a referendum on the two men. If the Democrats and their friends in the press can keep people talking about Trump's legal problems, his lack of character, and his threat to democracy, the swing voters in the eight states that will decide this election will not focus on the Biden Family corruption, his physical frailty, or his weakness on several issues. 
In other words, this election will be about whether uncommitted voters think about Donald Trump or Joe Biden when they fill in their ballot. Because both bring so many negatives to the table the choice will be about who these folks would most like to avoid – a frail old man with character problems whose family and himself appear to have benefitted from his many years of government service, or a volatile old man with character and legal problems who reserves the right to act outside the constitution if he deems it necessary.
Round one of the Republican race hangs on the decision Donald Trump has yet to announce. It will be the first gamble of his latest campaign. If this race's trajectory has any chance of changing, his decision will speak to it. His safest bet is to remain in the harbour. His Republican opponents will be awaiting his verdict with anticipation. Interestingly, Joe Biden will also be watching. The two are still sharpening their knives and gathering their weapons, but both know that these upcoming intra-party activities just serve as the undercard for what will be the main event.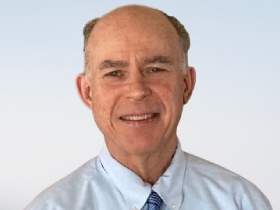 Dave Redekop is a retired elementary resource teacher who now works part-time at the St. Catharines Courthouse as a Registrar. He has worked on political campaigns since high school and attended university in South Carolina for five years, where he earned a Master's in American History with a specialization in Civil Rights. Dave loves reading biographies.