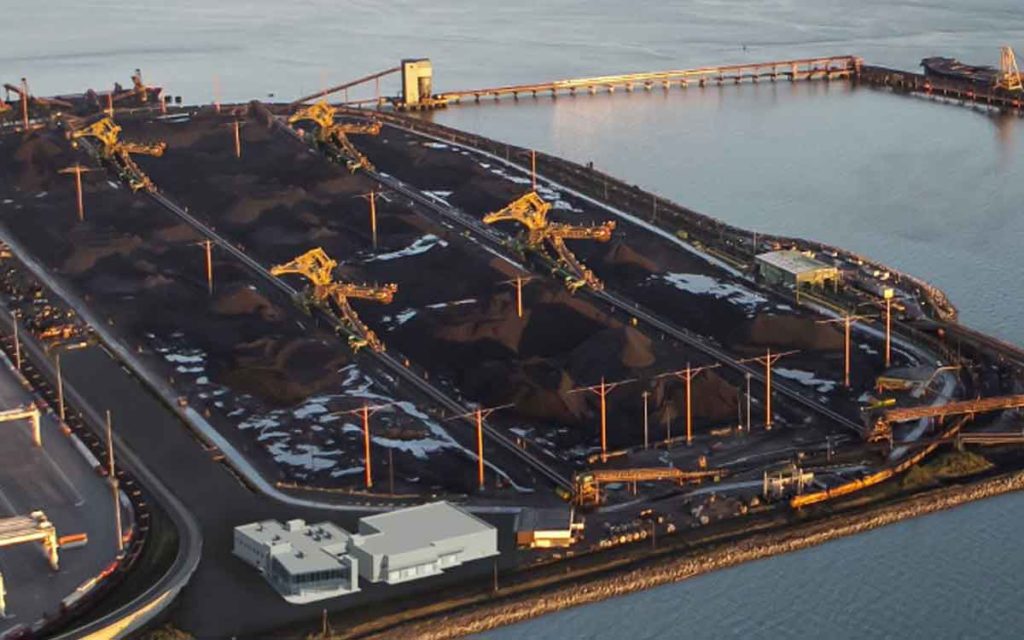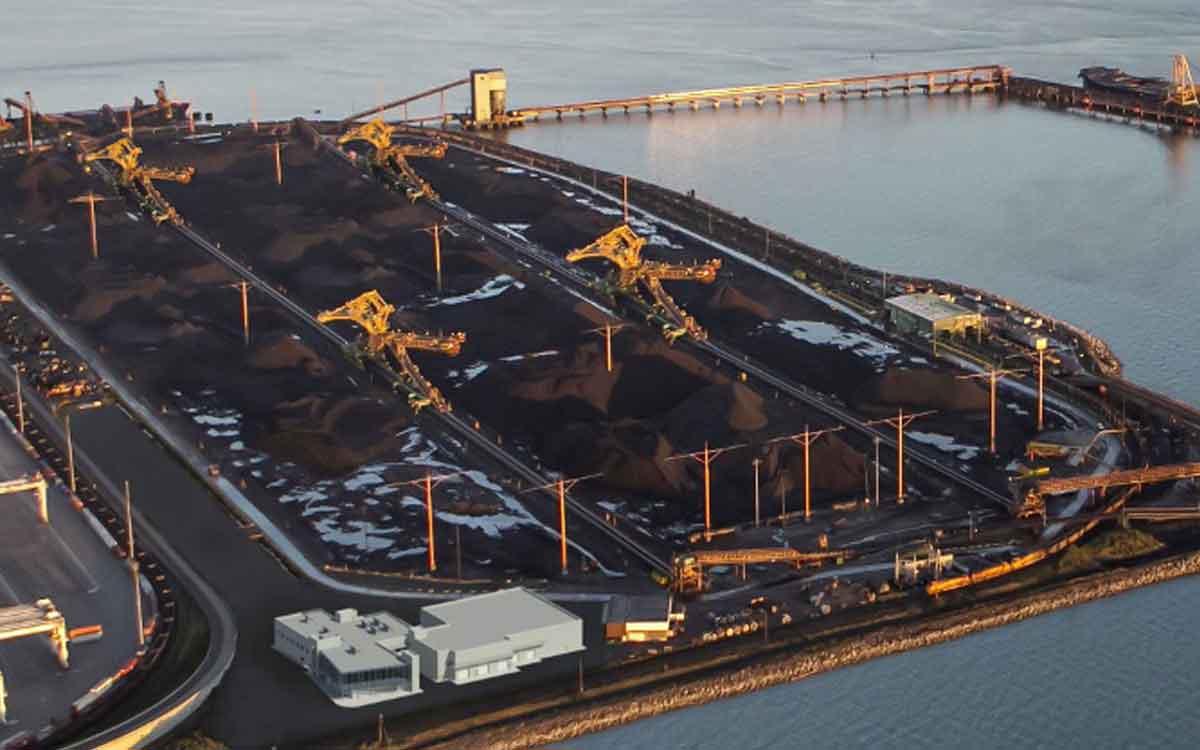 Coal exporting facilities near Vancouver, BC
It is perhaps our country's dirtiest secret – the export of Canadian and American coal through the Port of Vancouver.
Operating in the very heartland of Canada's green movement, what is occurring at this B.C. coast port is criminal by any environmental standard. And what is so startling about this secret, getting dirtier year-over-year, is that it is being supported by both the federal Liberal and provincial NDP Governments. Given the vilification of the prairies' oil and gas industry by these same self-proclaimed environmental stewards, the silence surrounding the Port of Vancouver's coal exports shouts out Canadians' very own definition of hypocrisy.
The Port of Vancouver operates Roberts Bank Super-Port, which is located on the mainland coastline of the Strait of Georgia in Delta, B.C.  Roberts Bank is referred to as Vancouver's Outer Harbour of Canada's busiest port and it hosts a single business enterprise – the Westshore Terminals. The terminals have become a major hub for container trucking companies as they feature a marine container loading facility and are serviced by rail and tugboat. What is most noteworthy about Westshore Terminals is that the operation is the busiest coal export terminal in North America.
In 2017 the Port of Vancouver exported more than 36 million tonnes of coal. To put this into perspective, this port ships more coal than the legendary American coal centre Norfolk, Virginia, which exported 31.5 million tonnes that same year. The Port of Vancouver also handles more than double the amount that is produced in all of the coal mines in Mexico in a single year.
As big as this is, Roberts Bank and Westport Terminals keeps getting bigger in every way. Originally created as a 49-acre pod of reclaimed land for a major coal port, it is now physically four times that size. In the last ten years, the terminals completed a $49-million equipment upgrade, upping its annual coal exporting capacity by 20 percent. Westshore Terminals is in the midst of another $275 million upgrade over the next five years which will boost shipping efficiencies – likely increasing exporting capacities yet again.
For British Columbians coal is king. According to Natural Resources Canada, the Province accounts for nearly half of all Canadian coal production – much of it metallurgical coal exported to Asia for the making of steel. Coal is B.C.'s number one export commodity, accounting for $3.32 billion of economic activity in 2016. This is big business for the province and for the country: Canada is the world's third largest exporter of metallurgical coal, after Australia and the U.S. (However, to put the country's less than 40 million tonnes of exports into the context of the world's largest coal producing and consuming country, on an annual basis China produces 3.1 billion tonnes and imports 271 million tonnes.)
The metallurgical coal exports bound for foundries in Asian are not the full story of the Port of Vancouver's success and this is where the secret becomes ugly. Consider that in 2008, there were 4.4 million tonnes of coal exports called "non-metallurgical" (a.k.a. thermal coal which is a dirtier burning coal). By 2017, this had more than doubled to 11.3 million tonnes. Then in the year 2017, exports shot up a remarkable 15 percent. What accounts for the marked increase? Roberts Bank is receiving and exporting more thermal coal from mines located in Wyoming and Montana.
James Kerr, a retired Environment Canada senior research scientist, explains what is occurring between U.S. and Canada. "It appears that weak Canadian environmental laws are rigged to favour economic benefits for a handful of people, in this case mostly in the U.S. coal industry, over the health and well-being of the environment and citizens…U.S. coal is not purchased or owned by Canadians and is not consumed in Canada so it is not subject to import tariffs, carbon tax or other levies. It is just a product in transit, passing through and contaminating the suburban, agricultural and Indigenous land corridor between the Canada/U.S. border and Roberts Bank. Thus the Westshore Terminals facility has become a nearly tax-free bypass conduit, allowing the U.S. coal industry to export its product overseas."
The U.S. "non-metallurgical" / thermal coal now accounts for 29 percent of coal shipped from Vancouver. James Kerr has factored that this U.S. coal exported from Vancouver approximately equals the tonnage of metallurgical coal shipped from all U.S. West Coast ports.
Two other facts that should alarm all environmentally-concerned Canadians. First point is the Sierra Club has factored an emissions formula based on 2017 numbers that reveal Vancouver's annual coal exports will produce 99.8 million tonnes of CO2 over their lifetime. The NDP BC Government would be interested to note that this is significantly higher than B.C.'s entire carbon footprint, estimated to annual produce 64.5 million tonnes of CO2 equivalent. It is just marginally better than the annual emissions of the Trans Mountain expansion, which depending on the diluted bitumen exported will emit an estimated 129 million tonnes of CO2 over its lifecycle.
Second point is the federally legislated ban on oil tankers off the B.C. coast (Bill C-48) might well be extended to ban coal tankers. James Kerr again explains the expanded coal trade through the Port of Vancouver has led to a significant increase in shipping traffic of foreign owned and operated freighters, tankers and cargo ships. Tankers that had been anchoring in English Bay near the Port of Vancouver are now encroaching on the pristine waters of the Gulf Islands while waiting to dock — they run generators 24/7 without regulation and without monitoring, pollute the air and disrupt marine life, and often drag their anchors along the sea bottom, destroying marine habitats.
Kerr punctuates his frustrations by stating, "From a global perspective, the appalling hypocrisy of Canada's policy regarding coal is a national embarrassment." Indeed, as the facts of the Roberts Bank secret are exposed, can the federal Liberal and provincial NDP Governments find any justification to permit the coal exporting activities to continue at the Port of Vancouver?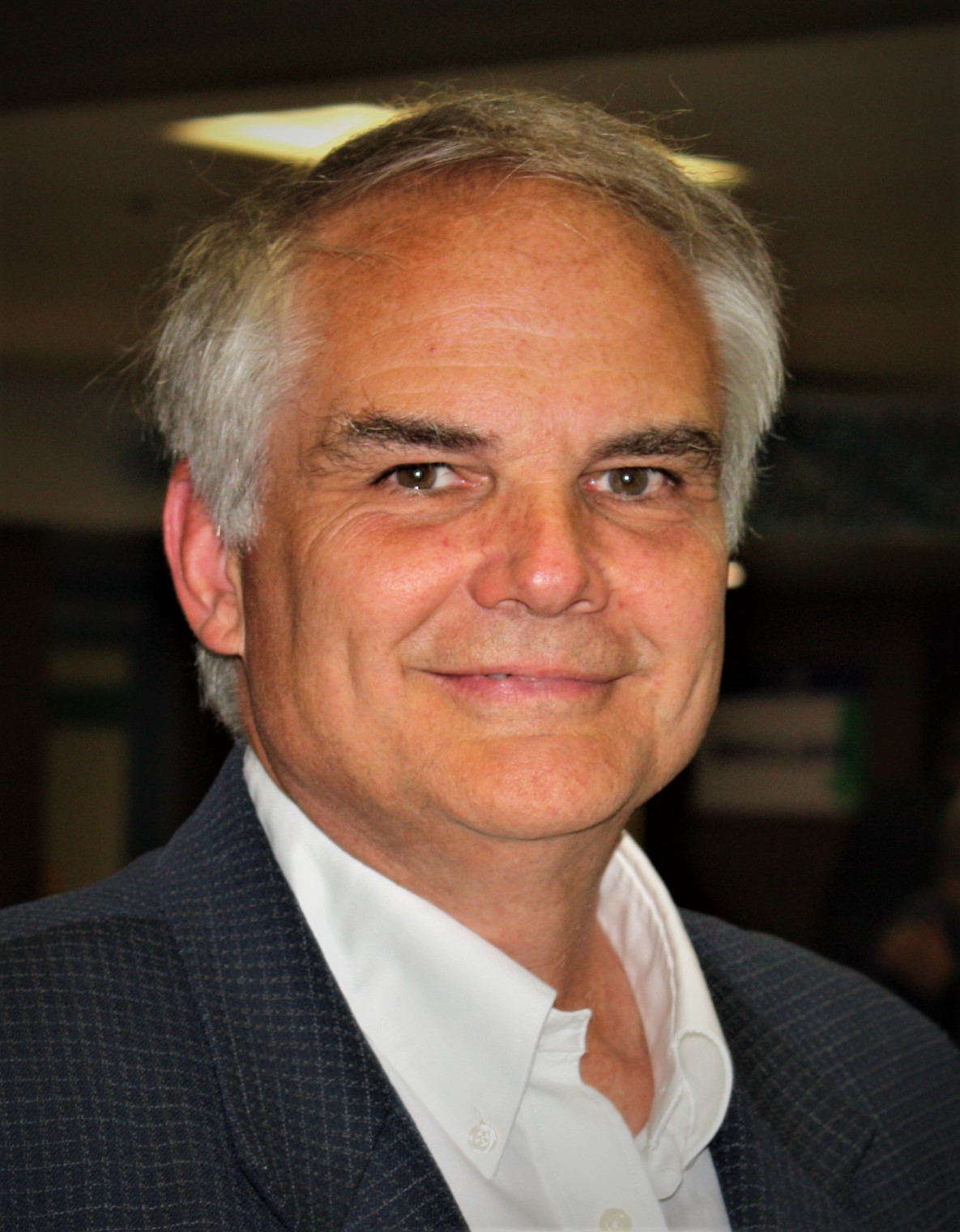 Chris George is an advocate, government relations advisor, and writer/copy editor. As president of a public relations firm established in 1994, Chris provides discreet counsel, tactical advice and management skills to CEOs/Presidents, Boards of Directors and senior executive teams in executing public and government relations campaigns and managing issues. Prior to this PR/GR career, Chris spent seven years on Parliament Hill on staffs of Cabinet Ministers and MPs. He has served in senior campaign positions for electoral and advocacy campaigns at every level of government. Today, Chris resides in Almonte, Ontario where he and his wife manage www.cgacommunications.com. Contact Chris at chrisg.george@gmail.com.