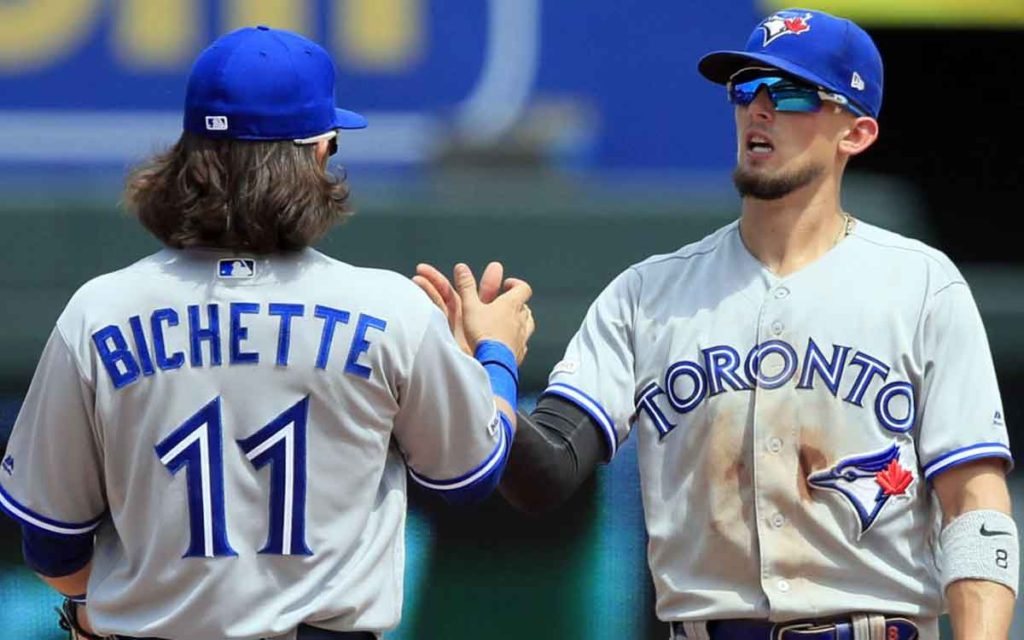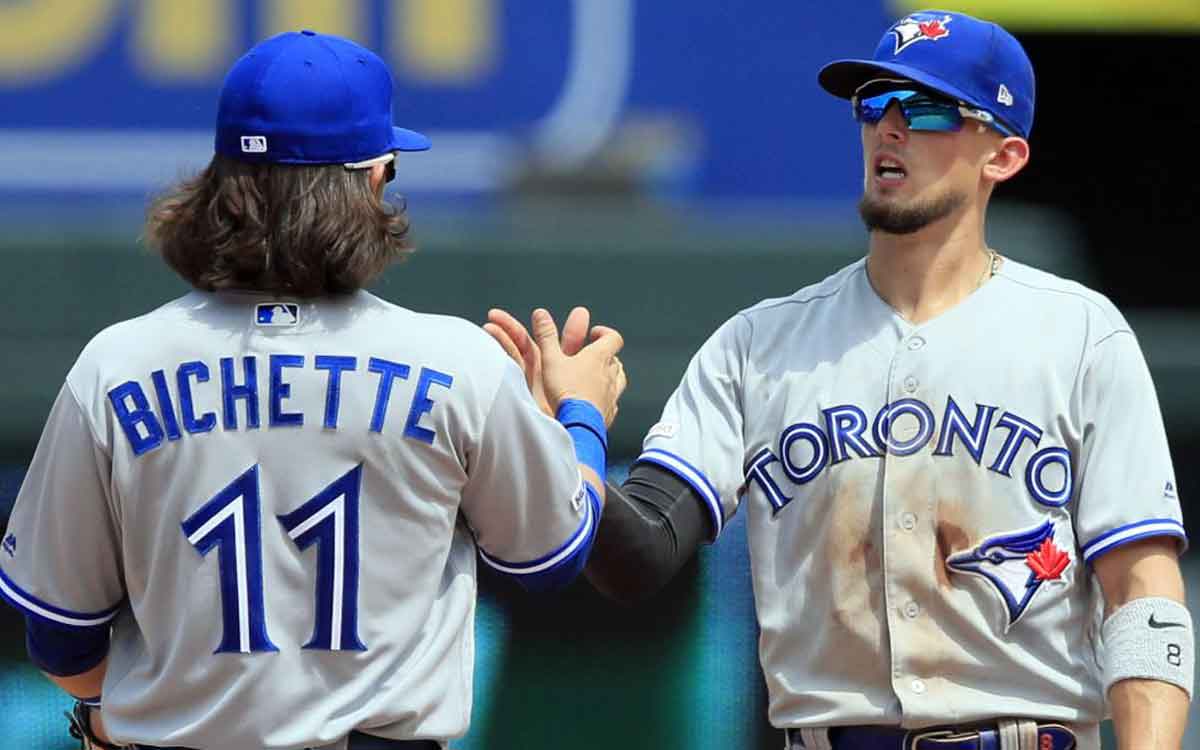 Blue Jays shortstop Bo Bichette shakes hands with second baseman Cavan Biggio. (Orlin Wagner/AP)
The Toronto Blue jays have a long history of exciting young talent coming up to the big leagues amidst a ton of fanfare. From Tony Fernandez, to Lloyd Moseby, to Jesse Barfield, Carlos Delgado, Shannon Stewart, and on and on.
But nothing seems to compare with the combined hype for this new group of kids now taking the city by storm. Their performances, at least early on, suggest that the expectations heaped upon them seems warranted, and in some cases, might even have been low.
The fact that there is a baseball lineage angle to this makes it all the more intriguing. The fathers of Cavan Biggio, Bo Bichette, and Vladdy Guerrero Jr were all forces in their own major league careers, and their sons have shown flashes so far that they are intent in carving out their own all-star careers. Add to that the promise of Danny Janssen, Lourdes Gurriel Jr and Teoscar Hernandez, and Blue Jay fans really have something to get excited about.
The onus will be on management to augment this offensive group with pitching. Aside from a few names like Nate Pearson, much work is needed in that department to ensure that the Jays will be ready for prime time as a well-rounded group, and not having to win every game 10-9.
The other aspect that can't be overlooked is defense. Even in the high point years of 2015 and 2016, the Jays weren't a great defensive team, but they were so strong offensively that they could overcome their deficiencies in the field. This group-as gifted as they appear to be with the bats-will need to learn how to pick up the ball on a consistent basis if they plan on contending. Especially if you are going to rely on a young, inexperienced pitching staff. So far there are indications that this team has a lot of work to do in that area. Jays' management seems intent on fielding players with multiple position capabilities, but it's entirely possible that it comes at the expense of fielding a defensively sound team. Quite possibly there needs to be some changes on where certain players will end up on the diamond. Think Vladdy and first base/DH.
One thing to always remember-fans don't watch baseball-or any sport for that matter-simply because the team will win a championship. For every winner each year, there are 29 losers. There is more to appreciate and enjoy than just winning it all. This Jays team offers more enjoyment than most, with the added benefit of hope. The matchup on Sunday between Guerrero and Yankees pitcher Aroldis Chapman was worth the price of admission alone.
One last thing to contemplate: How many fan bases around MLB wouldn't trade their entire teams for what Toronto has on the field right now? Let's enjoy the ride, fans!