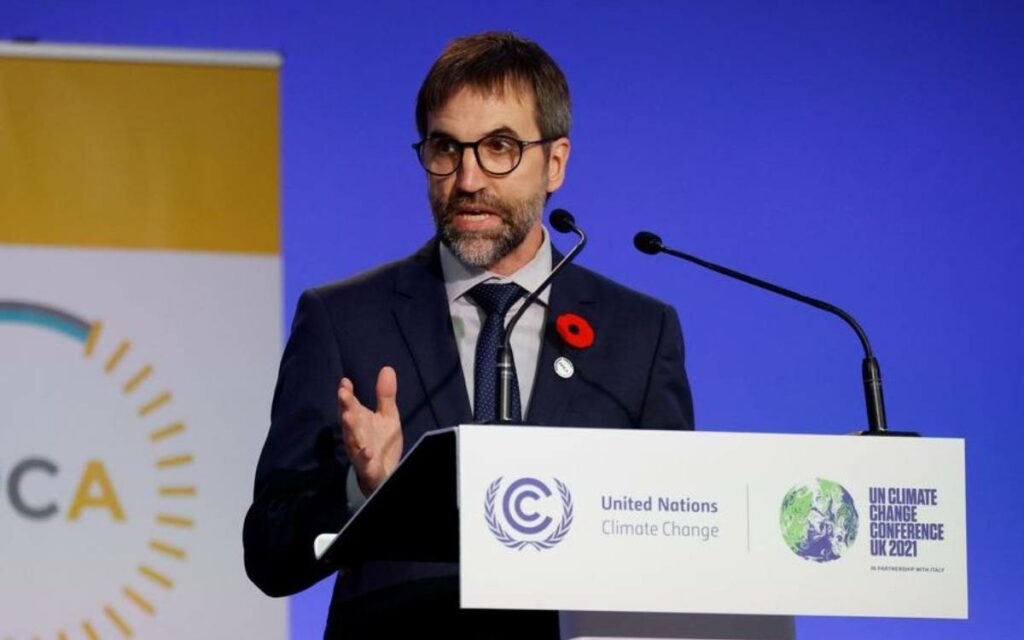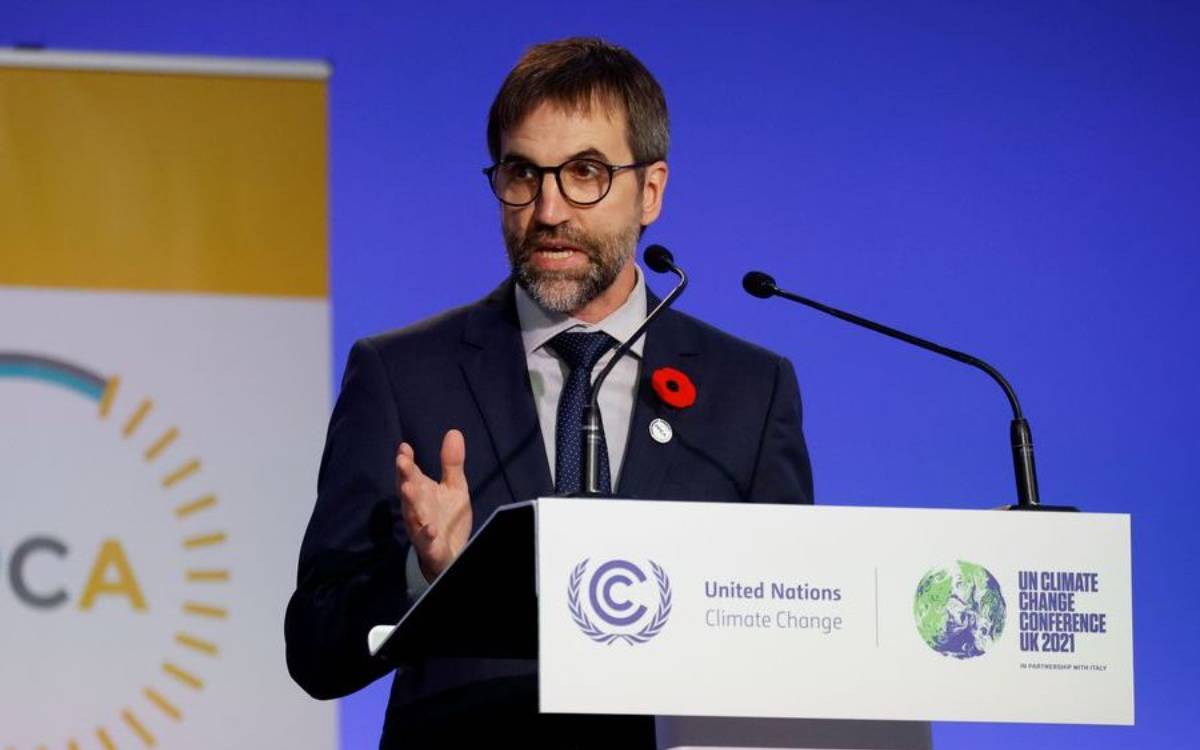 Minister of Environment and Climate Change Steven Guilbeault speaks at the UN Climate Change Conference (COP26) in Glasgow, Scotland, Nov. 4, 2021. Photo credit: Reuters/Phil Noble
Anyone who was a fan of British comedy in the last century will no doubt recall "Monty Python and the Flying Circus" which aired from 1969 to 1974, and they may even recall one of the funny sketches called "Ministry of Silly Walks".
The memory associated with the foregoing sketch came roaring back after reading the Toronto Sun's editorial titled: "Electric car sales quotas are a bad idea". 
"The federal government wants half of all new passenger cars sold in Canada to be zero-emission vehicles by 2030, and reach 100% by 2035". The article also claimed: "Environment and Climate Change Minister Steven Guilbeault is now saying the country needs a national mandate to force auto dealers to sell a certain number of electric vehicles."
A visit to the Natural Resources Canada website reveals: "The transportation sector is responsible for 27 percent of greenhouse gas (GHG) emissions in Canada. Light-duty vehicles – the cars, vans and light-duty trucks we drive – are responsible for almost half of that total." If Minister Guilbeault had math skills and bothered to work out Canada's emissions from ICE vehicles he would discover they represent 0.056 per cent of global emissions, which is less than China emits in one day!  
It is also humorous to find out Guilbeault doesn't ride his bicycle back and forth from his Montreal riding to Ottawa and instead is apparently chauffeured in an EV. This was disclosed when he was granting $9.5 million to Quebec to add fast-charging stations on a summer day when he was Minister of Canadian Heritage. The short video in which he appears has him saying: "My ministerial vehicle is 100% electrical and I can tell you we need to charge when we're between Montreal and Ottawa." 
The distance between Montreal and Ottawa is only 198.2 km. The foregoing is an indication of what is worrying about replacing ICE vehicles with EVs, particularly with Canada's cold winters when EVs lose much of their range. The winter's affect on EVs was highlighted in a consumer report recommending, when purchasing an EV you should "Double Down on Range"! The article went on to say, "EV buyers who drive in colder climates should strongly consider getting a car with a range about double what their daily driving needs are, so they're not left stranded in a cold snap."
Guilbeault should note: "The record for coldest day in Ottawa history is minus 33.1C, set back in 1996". So, perhaps he should consider dumping the EV and get chauffeured in a reliable ICE for those trips back and forth between Montreal and Ottawa or at some point he may find himself stranded.
Minister Guilbeault should also realize the costs associated with how much more will need to be spent on the charging infrastructure for EVs. A U.S. based study indicated what Canada's expected costs would be, noting: "this country's equivalent required total investment in charging infrastructure works out to about $10.5 billion." The present budget for Canada's "Zero Emissions Vehicle Infrastructure Program" is a miserly $280 million spread over 5 years, so it represents only 2.7 per cent of the requirement.
The facts noted above will hopefully spur Minister Guilbeault to drop his concept to mandate the push for EV sales!
Should he refuse to drop the proposed mandate, we should all sincerely hope the ministry be retitled 'The Ministry of Silly Wokeism'!
Parker Gallant is a retired banker. His work has been featured numerous times in the Financial Post. This piece originally appeared on his blog Parker Gallant Energy Perspectives. Reprinted here with permission.