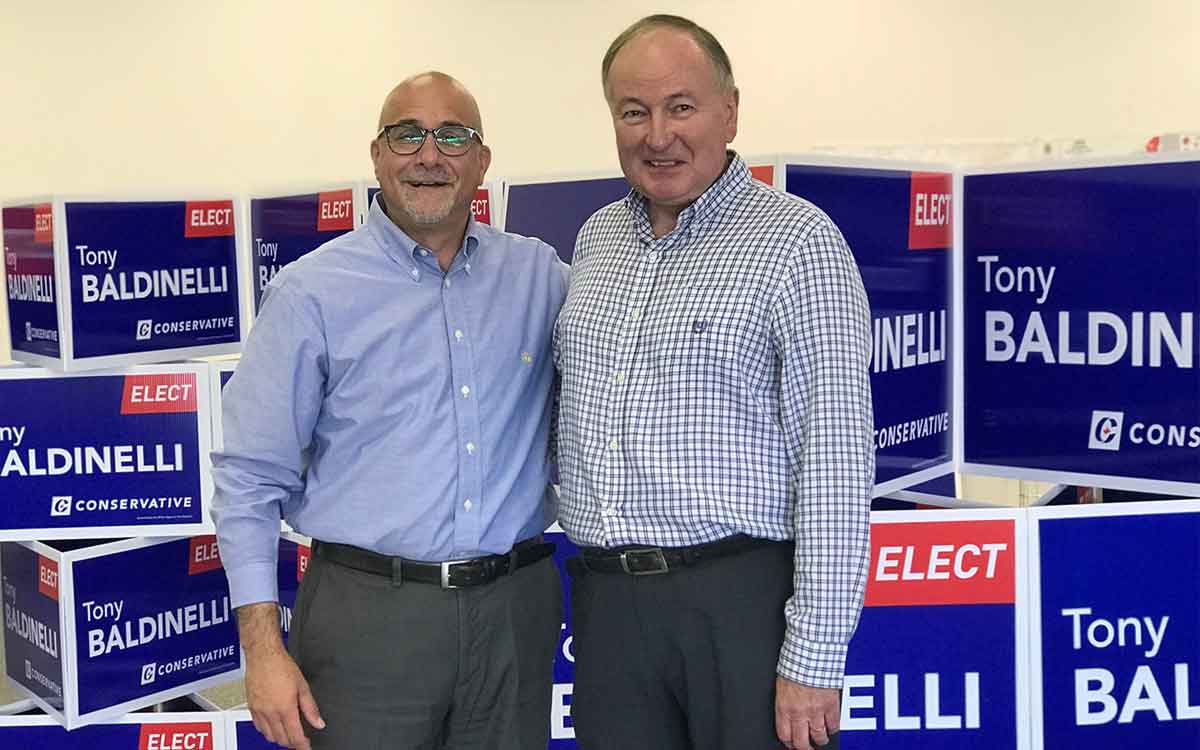 Niagara Falls Riding newly elected Conservative Tony Baldinelli with former MP Rob Nicholson.
There were some shocking upsets of long-time MPs in last night's federal election, like Conservative Lisa Raitt and Liberal Ralph Goodale but here in Niagara nothing changed.
While there is a new face in the riding of Niagara Falls (includes Niagara-on-the-Lake and Fort Erie) in Conservative Tony Baldinelli who ran and won in place of retired MP Rob Nicholson, the rest of the federal faces stayed the same. Liberals Chris Bittle and Vance Badawey will return to Ottawa along with Conservative Dean Allison. For those keeping score Niagara is split with two Liberals and two Conservatives representing the region on parliament hill.
Badawey held off a strong showing by Conservative candidate April Jeffs who captured 31% (17,895) of the vote just slightly behind Badawey's 35% (20,109). Finishing third in the Niagara Centre riding was veteran NDP politician Malcolm Allen who got 27% (15,358) of the votes. The three-way split ended up being one of the most interesting and exciting races to watch unfold on election night.
While the nail biter of a race in Niagara Centre was taking place, another close race was happening right next door in the Niagara Falls riding. There was little separation between Baldinelli and Liberal candidate Andrea Kaiser through most of the night. In the end, the onetime Conservative staffer Baldinelli escaped with a close victory securing 35 per cent (24,266) of the vote to Kaiser's 32 per cent (22,079). NDP candidate Brian Barker finished a distant third.
The newly elected MP in Niagara Falls was quick to thank his mentor and friend Rob Nicholson during his victory speech. "Rob, thank you for all you have done for our community and all that you will continue to do. Enjoy your well earned retirement."
Baldinelli said, "A better future for our families is what this election was all about."
Meanwhile in St. Catharines all eyes were on Conservative candidate Krystina Waler who looked to knock off incumbent Chris Bittle and become that riding's first female MP. Many had this race pegged as a dead heat heading into the final days of campaigning. In the end though, Waler and her team came up short getting 32 per cent (18,850) of the vote to Bittle's 40 per cent (23,817).  Dennis Van Meer of the NDP finished third with just over 12,000 votes.
Not surprisingly the biggest margin of victory came in west Niagara where incumbent Dean Allison carried the Conservative flag to victory capturing nearly half 46 per cent (23,973) of the votes cast. Finishing well back in second place was Liberal Ian Bingham with 32 per cent (16,986).
While the Liberals won a minority capturing 157 seats to the Conservatives 121 it was the Conservatives who actually won the popular vote getting 6,153,521 total votes or 34 per cent while the Liberals received 5,911,879 or 33 per cent.
The Bloc Quebecois had a solid night knocking the NDP to fourth place.  Despite all the hype on climate change and leader Elizabeth May's so-called strong performance in debates, the Green Party only managed to win three seats. Maxime Bernier couldn't manage to hold onto his own seat leaving his People's Party of Canada shut out at the end of the night.