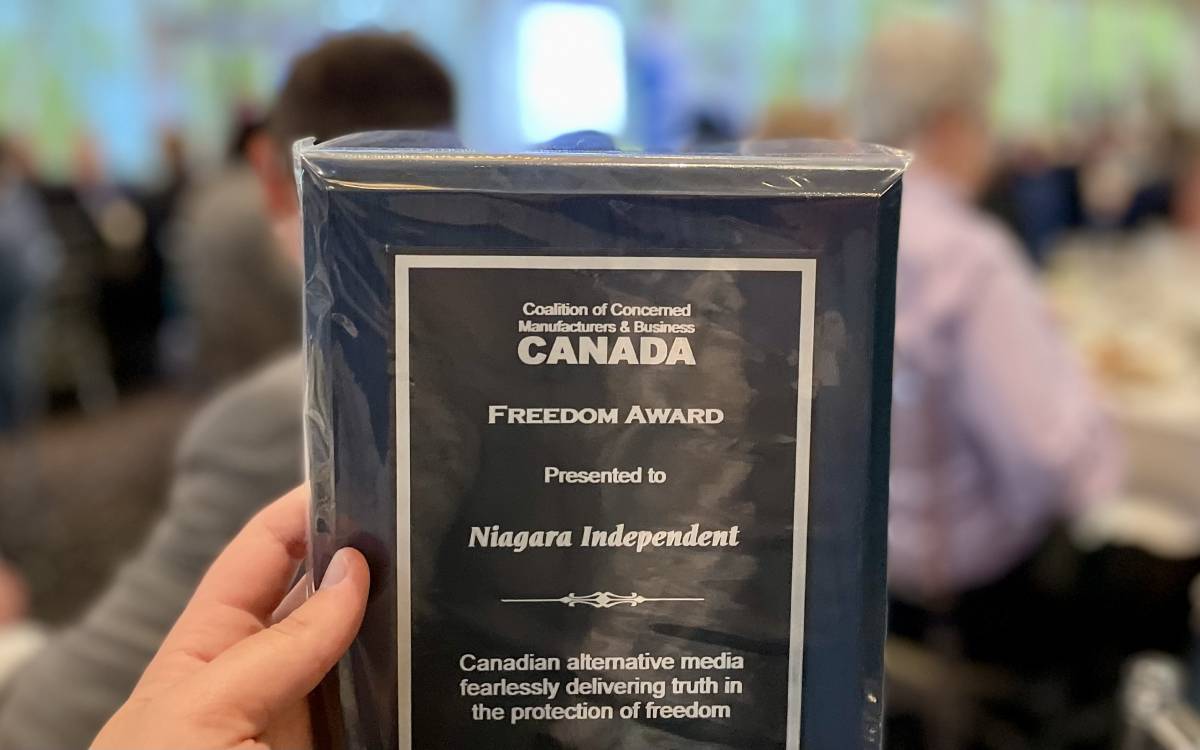 The publication was recognized alongside a short list of other non-mainstream media outlets from around Canada at a Toronto gala Wednesday. 
The Coalition of Concerned Manufacturers and Businesses of Canada (CCMBC) held its first post-COVID 'Game Changer of the Year' gala at the Guild Inn Estate in Scarborough on Wednesday. 
The event brought together a number of notable media personalities, business leaders, and politicos. 
Guests were treated to a bevy of brilliant speakers, highlighted by the eternally hilarious and ever-on the mark Canadian icon Rex Murphy and the evening's star of the show Pierre Poilievre, who took home the 2022 Game Changer of the Year honour.
The Niagara Independent had the privilege of attending the gala as a special guest and was presented with the CCMBC's Freedom Award for "fearlessly delivering truth in the protection of freedom" as an alternative media source.
The honour was shared with a short list of fellow independent media outlets from around the country, including True North Centre, Western Standard, and the News Forum, among others. 
At just over four years young, The Niagara Independent was founded by St. Catharines native Kevin Vallier in March 2018. A public relations professional by trade, Vallier grew tired of the daily commute to and from Toronto and saw an opportunity, and indeed a need, for an alternative voice in the region outside of the mainstream media monopoly. 
Ferociously pro-business, often political but not narrowly partisan, The Niagara Independent offers its tens of thousands of weekly readers a blend of local news and thoughtful commentary about issues that stretch well beyond the peninsula. 
As it has been since day one, the publication remains entirely self-funded and is a member in good standing of the National NewsMedia Council. 
Thank you to the CCMBC for the honour. More importantly, thank you to all of our readers, writers, and advertisers. 
This is only the beginning.