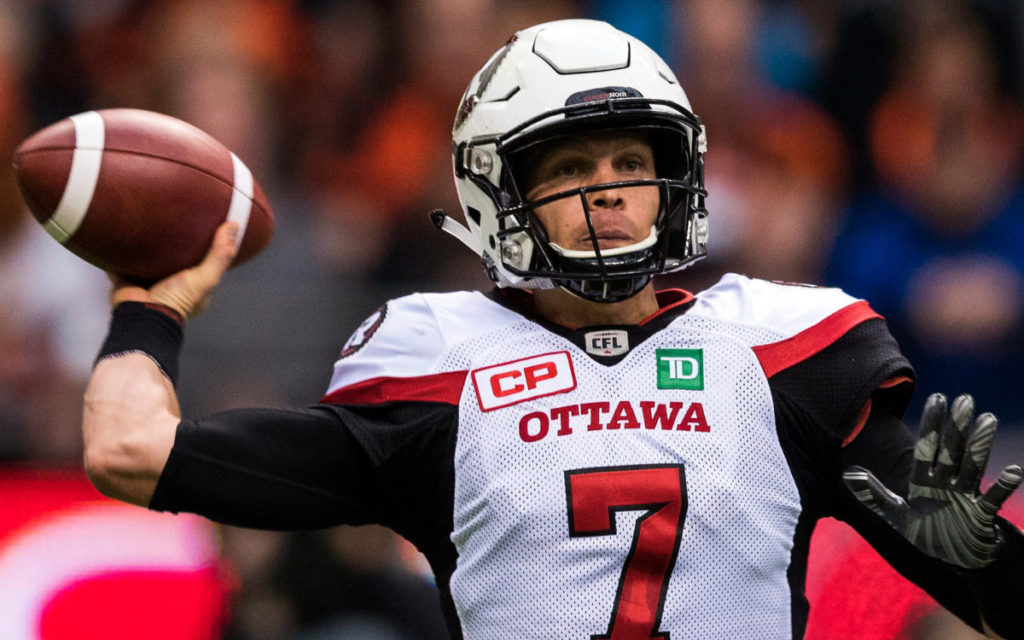 Trevor Harris of the Ottawa Redblacks
"The late great Sports writer, Jim 'Shaky' Hunt, had a great line that perfectly summed up the appearance of apathy and disinterest when it came to Canadian Football. "The CFL is a lot like porn; everyone watches it, but no one will admit to it". This past November, an average audience of 4.3 million Canadians tuned in to TSN (4.1 million) and RDS (220,000) to watch the Toronto Argonauts defeat the Calgary Stampeders in the championship game. Overall, nearly 10 million unique viewers, or almost 30 per cent of Canadians, watched some or all of the Argo's dramatic 27-24 victory. One in three Canadians watching television across Canada on that Grey Cup Sunday were tuned into the game. Drama always draws viewers and without exception, it is almost always delivered by the performance of your quarterback.
If the Western Division offers the greatest talent at the QB position, it's the East that offers the greatest intrigue and perhaps the most drama.
A healthy Trevor Harris is expected to lead a talented Ottawa Red Black team to the post season but therein lies the dilemma. An unhealthy Harris will almost certainly cost the team a chance to compete in the East. Head Coach Rick Campbell likes balance. Once my offensive coordinator, he was an O-lineman's dream play-caller. Run the ball, and then run it some more. Better to be the hammer than the nail and delivering a blow in the run game, rather than absorbing it during passing plays, most likely increased my longevity as a player. Thanks Coach. Last season, Ottawa lead the East in rushing attempts (344) while also producing the leading TD passer (30) in Trevor Harris (4,679). That balance will be critical if Harris can't stay healthy. In his absence, Drew Tate was a more than reliable stand-in. But his retirement a few days ago, leaves the Red Blacks vulnerable. Is Henry 'Smiling Hank' Burris still in playing shape?
In Montreal, the days of Anthony Calvillo and his steady hand at the wheel of a consistent Grey Cup contending team are long gone. In his place, the lingering effect of a front office delinquent in their job to find, groom and deliver his replacement. Always productive and talented in the run game and always solid on defence, the Al's have single handily proven a long held CFL axiom; you can't win without a QB. This year is no different. The sudden retirement of NFL quarterback Josh Freeman, who started 61 games as a quarterback in the NFL from 2009 to 2015, shouldn't have surprised anyone. He was never that good to begin with. NFL pedigrees don't translate into automatic success. Don't worry Al's fans; he wasn't going to be the one. At least it's better to discover during training camp then midway through a lost season that your QB stinks. Head Coach Mike Sherman now turns to Drew Willy, Matthew Shiltz, Antonio Pipkin and Garrett Fugate. Take your pick Alouettes faithful. Regardless, it will continue to be a long season without the emergence of the next Montreal superstar. Perhaps this season will produce that glimmer of hope for a franchise desperate to build another Grey Cup dynasty.
In Hamilton, fresh legs and young swagger dominate the quarterback position. Jeremiah Masoli, under the tutelage of Kent Austin and now June Jones, finally understands the CFL game. Gone are the bad habits and his instinct to rely on his athletic talent first, rather than the system in place and the strong supporting cast surrounding him. The evolution of Masoli over the past two seasons has been impressive, but apparently not impressive enough. Enter Johnny Manziel. Sometimes the court of public opinion lays a far harsher sentence than what the judiciary could ever provide and the Scarlet letter 'Johnny Football' has earned for his off-field performance, translates more like a bull's-eye on the field. Having opposing defenders attempt to deliver lessons in humility at the echo of the whistle is nothing new to Manziel. The good news for Ti-cat fans, Manziel arrived in Hamilton more prepared to learn and listen rather than emulate the persona and attitude that drove him out of the NFL in the first place. How his other-world playmaking ability and athleticism will translate to the CFL game remains the biggest mystery.
Ask every other Heisman winner or NFL first rounder that has ventured across the border and they'll all say the same thing. "It's a different game". Getting outside the comfort of four-down football and accepting that your vision, your reads and your mechanics will need adjustment and re-calibration after a lifetime of American rules, will be what Manziel works through in his early days of this CFL season. Winning over the locker room, the huddle and the sideline, that may take much longer in his journey.
In Toronto, having most recently led his team to a Grey Cup Championship, his fourth, the reports of Ricky Ray's demise have been greatly exaggerated. Entering his 16th CFL Season, Ray has endured more injuries over the last five seasons than just about any other QB during that same period. In his first five season as an Argo, he played in just 51 games out of a possible 84 starts – hardly the model of consistency. And despite that glaring statistic, he still sat first in the league in completion percentage and efficiency rating. Ricky Ray has the highest completion percentage in a single season (77.2), the highest completion percentage in a single game (95.0), the highest passer rating in a single season (126.4) and is 4-0 in Grey cup appearances. Despite a Grey Cup performance in 2017, there were still calls for his retirement. The knock on his game…he is slow. Most 38 year old quarterbacks are. He's challenged to outrun a defender and having blocked for Ricky and had my share of "look-out" blocks, not very elusive in the pocket. News flash – that's not his game. But when you've seen every defensive look a D-coordinator can give you, can throw the most awe-inspiring corner route the game has ever seen, never panic, never let nerves, emotions, situations  impact your performance, it doesn't have to be. Ricky Ray will always beat you with his arm. And in the pass first CFL, that's all that matters.
Sandy Annunziata is a two-time Grey Cup Champion and an Eastern All Star who played 11 seasons in the CFL. He is a lifelong resident of Niagara and current Niagara Regional Councillor for the Town of Fort Erie.