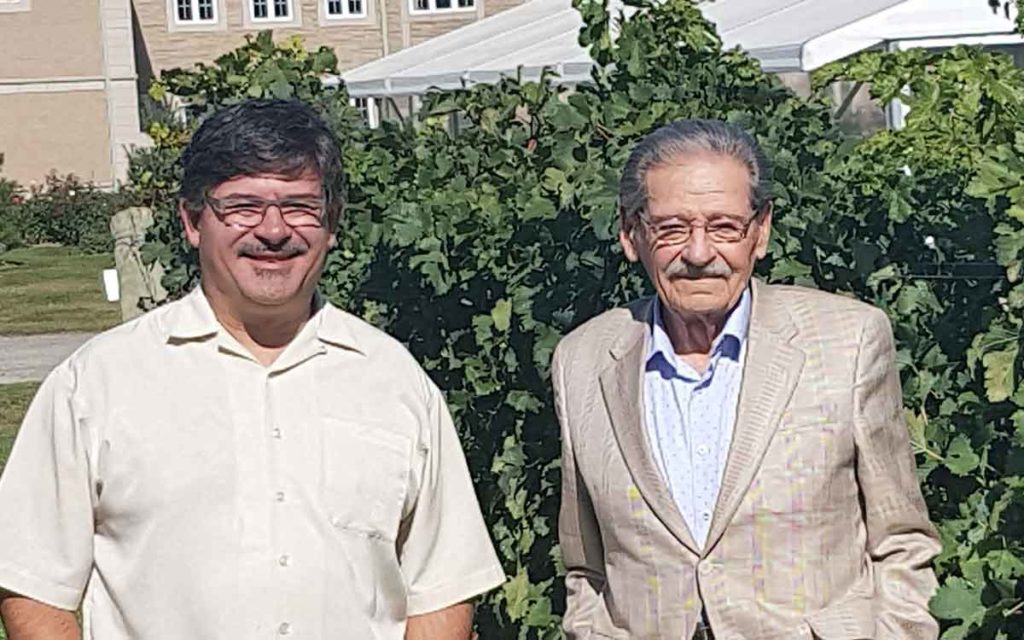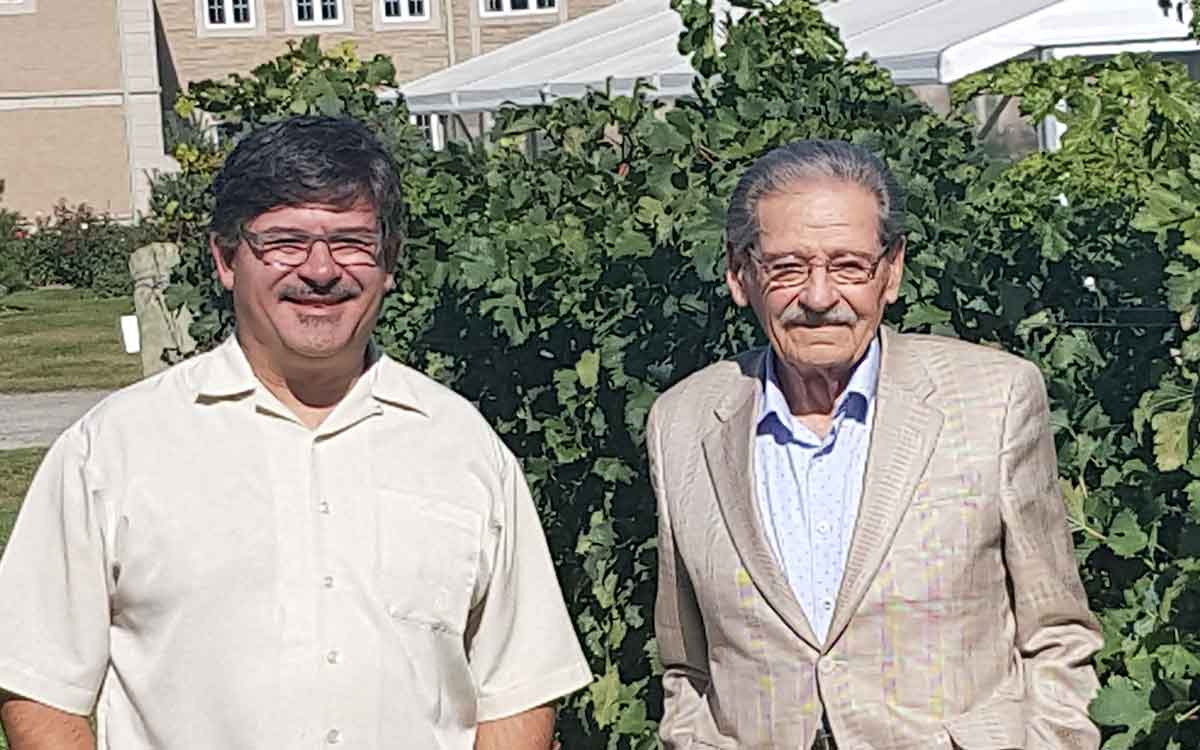 From left: Paul Bosc Jr. with his father Paul Sr. in the vineyard of their winery Chateau des Charmes.
Paul Bosc Sr. arrived in Canada from France in the early 1960s. He settled in Montreal and took a job with the liquor board. A fifth-generation French winegrower, Bosc knew a thing or two about wines and it quickly became apparent that Canada did not produce good wine.  "Canada didn't really have professional winemakers," said Bosc.  Not even 30 years old at the time, Bosc was often giving advice on winemaking. "I was lucky they had problems because I could fix them. They thought I was a genius, I wasn't," he said with a laugh.
In the late 1960s Bosc moved to Niagara, planted a few rows of grapes which grew, ripened and had no disease. He produced some "experimental wines" that were "somewhat commercial". In 1972 Bosc presented his wines to American wine writers in New York City and the response was very positive. "The reaction was amazing. They couldn't believe such a wine could be produced in the north east."  Positive articles were written about Bosc's wines in 16 states.
In 1976 Bosc purchased a farm on Creek Road that had a total of 60 acres and planted a variety of grapes. They still own it today. Two years later Bosc resigned from his day job and started Chateau des Charmes. At the time it was just the third winery in Niagara. "We were the only winery to have 100 percent European varieties in our vineyard," said Bosc.
As business expanded, Niagara's newest winemaker started to get a little nervous. "As we got larger and larger and purchased more property I started to worry about the whole thing," explained Bosc. The winery was up to 150 acres and Bosc always feared that a very cold winter would destroy everything. So they embarked on a program working with the University of Guelph attempting to genetically alter the grapes in order to make them heartier for the winter. Around the same time Bosc said he heard of this technology, a wind machine, which was used to stave off frost. So he bought some. "People thought this guy is nuts. Once again I proved them wrong." With the use of the wind machines the vineyards were able to survive a frost and now hundreds of wind machines can be seen on vineyards across the region.
Today Chateau des Charmes operates a total of 250 acres of vineyard on four different sites. The iconic building located on York Road in Niagara-on-the-Lake was built in 1994. The family had the foresight to pair the wine making with tourism back then. The building was designed to give visitors a glimpse of the wine making at various stages. "People can watch the production," said Bosc Jr. The venue also plays host to weddings, corporate events and fundraisers. About 100,000 people visit the winery each year.  At peak season the winery employs 95 people.
Along the journey from their humble beginnings, Chateau des Charmes has won many international awards. Paul Bosc Jr. said the awards were important for a small Niagara winery, particularly the international ones. "It was important because we were winning gold and silver and it was a breakthrough because they were important international wine shows. We've always been the underdog and people just didn't believe we could produce quality table wines in Niagara."
Bosc Jr. said it was only about 25 years ago that people locally and around the world started accepting white wine made in the Niagara region. "Today we produce and sell as much red wine as we do white."
The father-son duo was a good fit from the beginning bringing different skill sets to the table. Senior had things under control on the farm while Junior found his niche in marketing and sales. Bosc Jr. said he can pinpoint the moment he became committed to the industry. "It was the summer of 1982 and I went on a sales trip to California. I knew selling Niagara-made wine in California during those years wasn't going to be easy," Bosc Jr. explained. He went as his father's fill-in, sold a bit of wine and learned a lot. "I had a lot of fun but also worked hard. That trip exposed me to the international reality of the industry."
Bosc Jr. was hooked. "I felt like an evangelist for Niagara and Chateau des Charmes."
Over the years Chateau des Charmes' wines have been served to many celebrities and politicians including the Queen. But the Boscs recall two occasions in particular that reinforced the fact that they have made it onto the world stage. One was the 1985 Shamrock Summit which set the stage for the free trade agreement between Canada and the United States. The Summit was held in Quebec City and Chateau des Charmes' 1982 pinot noir was served to president Ronald Regan and prime minister Brian Mulroney.
Ten years later in 1995 then U.S. president Bill Clinton and Canadian prime minister Jean Chretien enjoyed a 1991 cabernet from Chateau des Charmes at a meeting between the two leaders.
Today, Bosc Jr. says the biggest challenge now for a winery that's been around as long as Chateau des Charmes has is staying relevant. That's a challenge in Niagara where new wineries seem to pop up on a regular basis with about 100 now in existence. "Everyone wants to dance with the new girl at school. We need to remind people we still know how to dance," said Bosc Jr.
While new dance partners come and go the Bosc family continues to focus on producing the best quality wines they can. It's very clear in speaking with both father and son that it's also about more than what is in the bottle. "Wine is an ambassador for Canada. I'll believe that for my entire life," said Bosc Jr.
"Great wine only comes from the nicest places."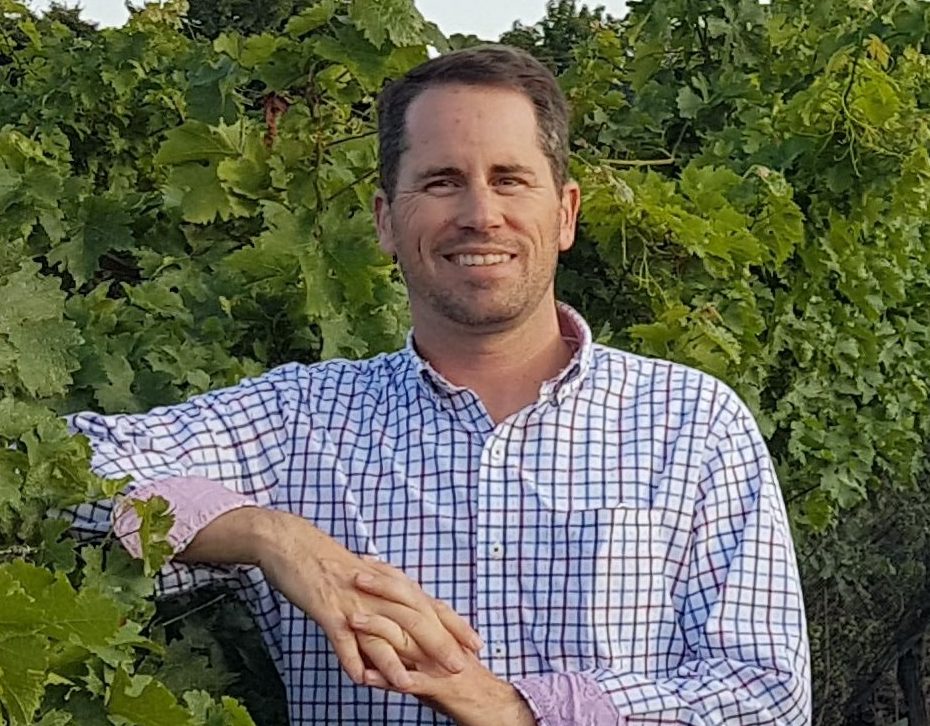 Kevin has spent over two decades as a public relations professional in a variety of sectors including professional sports, the arts, industry and healthcare.  After tiring of the daily commute to Toronto he returned to Niagara and launched The Niagara Independent, an online news source published twice weekly.
He is a graduate of Brock University, Niagara College and the Richard Ivey School of Business. He was named one of Niagara's 40 Under Forty in 2005.
Kevin is most proud of his twin daughters. He is also a triathlete and four-time Ironman finisher.