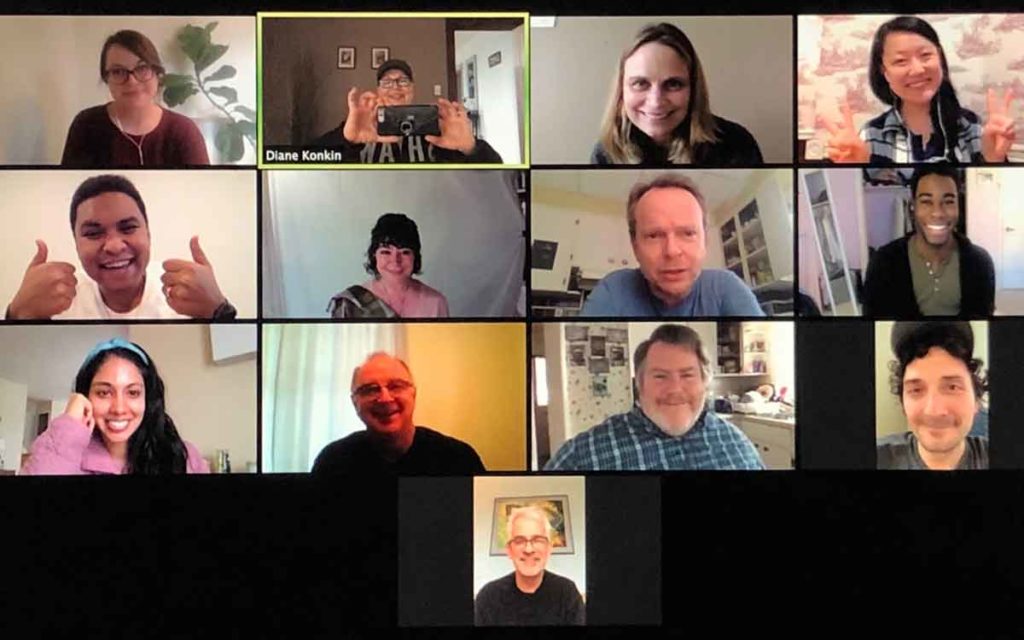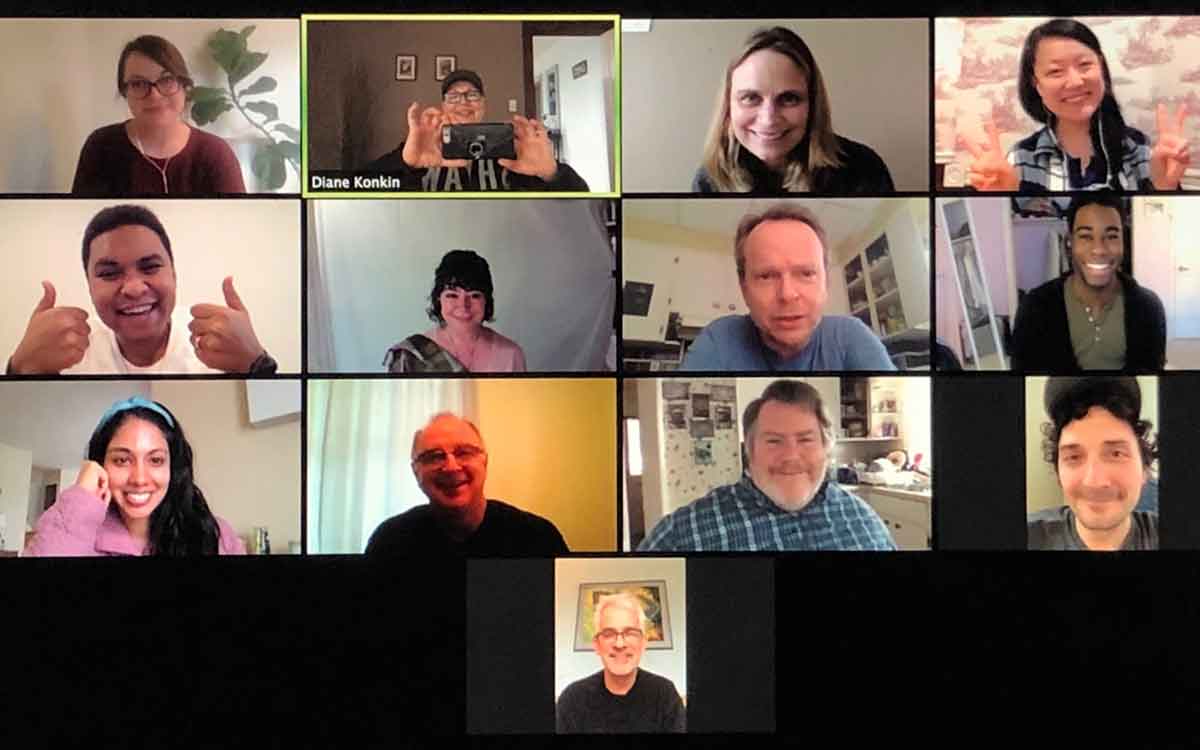 The cast of Charley's Aunt in a Zoom Rehearsal. Photo: Shaw Festival
As far as anyone can remember it's the first time in the Shaw Festival's history that the entire slate of season opening performances has been cancelled. To date the Shaw has had to cancel more than 180 shows in total. The first production was set to hit the stage on April 2. "We were days away from Charley's Aunt being on stage," said Shaw's Executive Director Tim Jennings.
Jennings said in his 35 years of working in theatre (he's now in his fifth year with the Shaw) he's never experienced anything like the impact of a global pandemic. "We are planning for the worst and hoping for the best," said Jennings who added the best case scenario now would be to have performances on stage by the beginning of July. The town of Niagara-on-the-Lake is not allowing any public gatherings until after June 30.
"We understand the risk levels and we've been in lock-step with all levels of government," explained Jennings. The Shaw, which is the biggest employer in Niagara-on-the-Lake, may look at extending their season if things get delayed any longer than early July. "We're thinking through all this now. We want to help the Town," said Jennings. He added one idea was to have one show in January or February to generate some revenue for local businesses and the Town. Jennings said under normal circumstances the not-for-profit theatre company has an economic impact of about $220 million on the entire Niagara region and employs over 400 people.
While management wrestles with what the schedule and logistics will look like once life returns to some normalcy, the ensemble continue to rehearse using video conferencing. Jennings said the cast and crew are using Zoom for rehearsals and FaceTime for things like solo work and music. "The sound delay in a digital meeting space is a challenge," said Jennings but he added the actors are having fun with it. "It's hard work and it's hard to be in this medium." Jennings said rehearsals are lasting about two and a half hours. There's also virtual ballet classes and vocal coaching. "Sometimes there are stumbles so they take a break if they need to."
Despite nothing happening on the Shaw's stages, Jennings said senior staff have been working longer hours. "The days have vanished." So far nobody has been laid off and Jennings is optimistic it can stay that way as long as they can be back on stage for the early July target.  Last year the Shaw had its best year ever in terms of revenue which has helped provide a financial cushion. Jennings added that the Shaw's supporters have been "amazing". The Shaw receives about seven per cent in government funding which according to Jennings is much lower than many other arts organizations that receive up to 30 and 40% funding from government.  "Individual donors are being very generous."
The staff at the Shaw are being generous as well. The highly skilled team in wardrobe along with other colleagues have been making gowns for Niagara Health. About 650 have already been delivered. Jennings said he is very proud of the employees that have come together to support their community. "How do you make lemonade?"
Part of what staff are planning for off-stage is what the logistics will look like in order to keep patrons safe when they return to the theatre to watch the productions. Things like increased cleaning and ushers not handling tickets are just a couple of things that will be implemented. Jennings assumes live theatre will be one of the last things to get the green light to open again. "That first performance will be very emotional. It will be a big deal."
In an email statement to past audience members the Shaw's Artistic Director Tim Carroll said, "We have an incredible team here who have been cooking up some wonderful theatre.  Of course it is frustrating to have to put that on hold, but if our aim is to create a more human, more connected theatre, then our first priority has to be keeping everyone safe. I know our amazing audience will understand and support us; and we send everyone our love and good thoughts. Please stay safe and well; we will get through this together."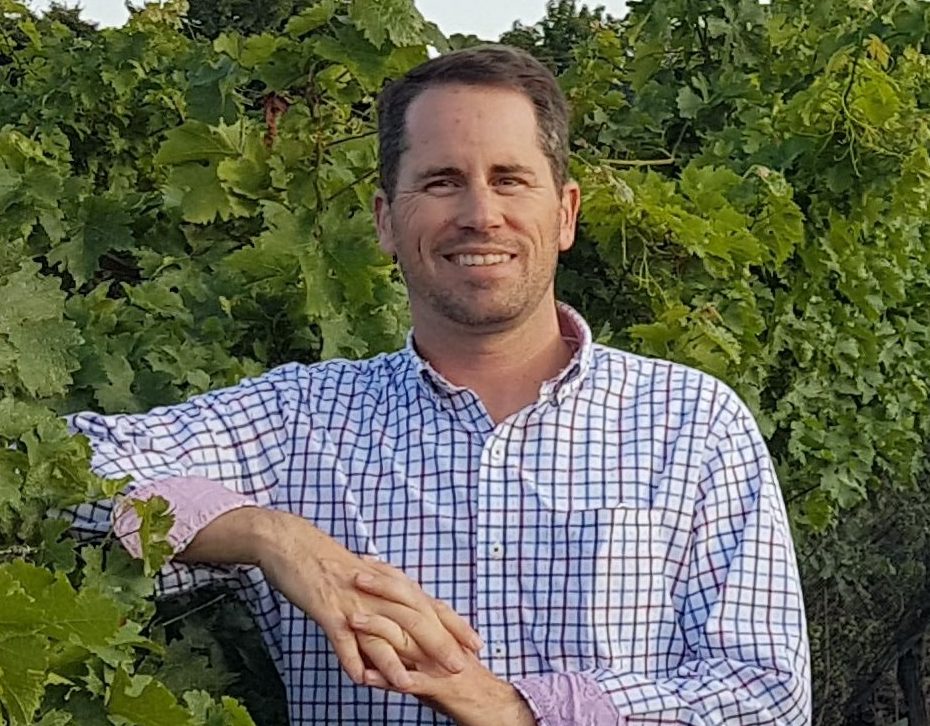 Kevin has spent over two decades as a public relations professional in a variety of sectors including professional sports, the arts, industry and healthcare.  After tiring of the daily commute to Toronto he returned to Niagara and launched The Niagara Independent, an online news source published twice weekly.
He is a graduate of Brock University, Niagara College and the Richard Ivey School of Business. He was named one of Niagara's 40 Under Forty in 2005.
Kevin is most proud of his twin daughters. He is also a triathlete and four-time Ironman finisher.