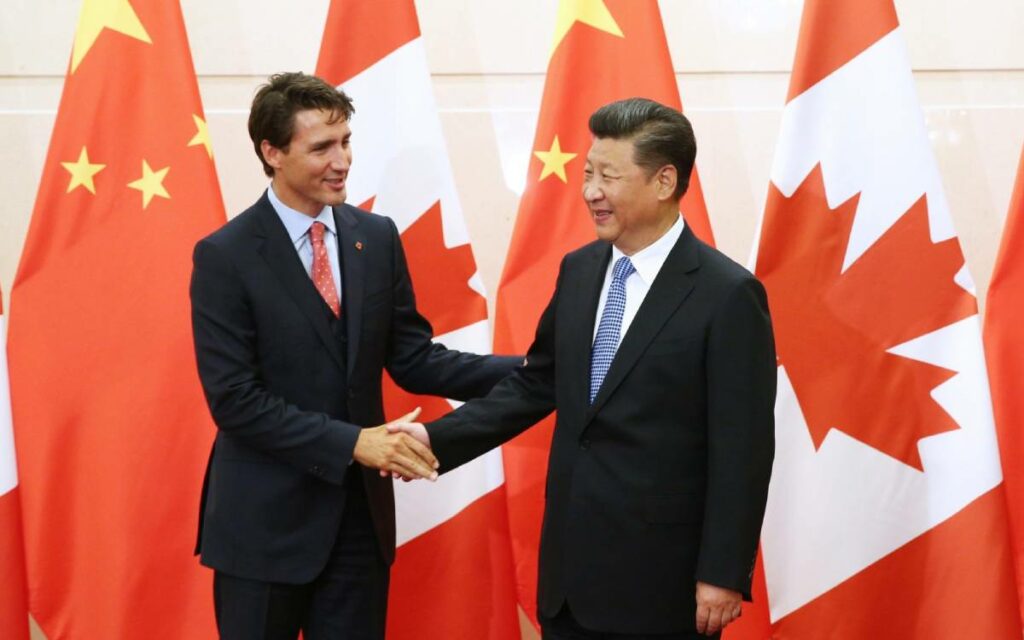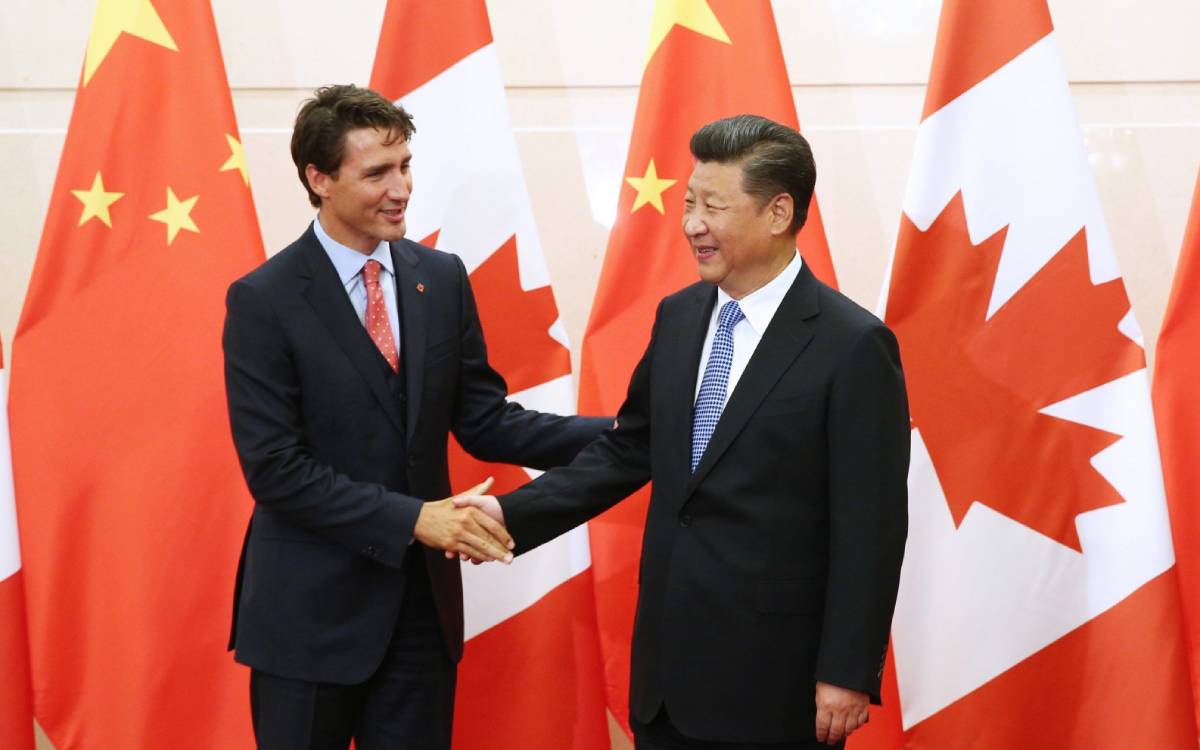 China's President Xi Jinping, right, shakes hands with Canada's Prime Minister Justin Trudeau.
Canada-China relations dominated the news in the Nation's Capital this week – more accurately, Canada's many questionable dealings with the Chinese Communist Party (CCP). The fact is the governing Liberal Party has multiple tight relationships with the CCP and this factors into all matters between the two countries.
On Monday we learned that the federal agency Natural Sciences and Engineering Research Council is spending $4.8million to partner with Huawei Technologies in sponsoring computer and engineering research at Canadian universities. The projects are to include chip-to-chip communications over heterogeneous fabrics, intelligence computing memory systems, brain-inspired photonic computing and privacy-preserver graphic analytics. The intellectual property is to be jointly owned – and this is the concern given Huawei's direct ties with the CCP.
Top universities around the world – from Oxford to MIT to Stanford – have halted all research projects with Huawei over intellectual-property and national-security concerns. Governments have as well. Canada's partners in the Five Eyes intelligence alliance have all banned or restricted Huawei's work developing their respective 5G mobile networks. In Canada however, our Government heralds its research collaboration with the CCP and it remains the lone holdout of the Five Eyes countries to continue working relations with Huawei.
Repeatedly, often inexplicitly, Prime Minister Justin Trudeau and his Cabinet Ministers excuse CCP wrongdoings and even go to the extent of chastising those who are critical of Xi Jinping and the CCP. Canadians have seen this posturing on many issues relating to the coronavirus pandemic. Again this week, the PM's reluctance to say anything that criticizes the CCP was highlighted with his non-responses about human rights violations respecting the Uyghurs of Xinjiang. MPs called on the Government to boycott the 2022 Winter Olympics in Beijing and then followed that up with a Parliamentary debate on the CCP's forced labour and systemic genocide of the Muslim Uyghurs.
At a scheduled press briefing, PM Trudeau's statement regarding the CCP's treatment of the Uyghurs was nonsensical: "On determinations of genocide, the principles of international law and the international community in general, I think rightly, takes very, very seriously the label of genocide, and needs to ensure that when it is used, it is clearly and properly justified and demonstrated, so as not to weaken the application of genocide in situations in the past… That's why it's a word that is extremely loaded."
When reporters pressed the PM on whether Canada would stand up to the abusive CCP, Trudeau curtly turned and walked away from the microphone.
Political commentary on the PM's apparent absolution of the CCP was universally critical. Sun Media reporter Anthony Furey mused "Is Canada really back?" when our PM refuses to call out China for genocide." The Globe and Mail headlined Liberal MP Wayne Easter stating the government had better "wake up and smell the roses." Ottawa columnist John Robson wrote that PM Trudeau has a "willful blindness" to the evils of the CCP: "If you asked Prime Minister Justin Trudeau whether Xi was a communist, he wouldn't admit it." Chris Selley of the National Post expressed it colourfully when he wrote: "When it comes to China and "genocide," Trudeau is a panda in the headlights."
Though it may have been painful to watch PM Trudeau fumble his comments about the CCP human rights abuses, his response was most likely scripted so as not to undermine the senior ranks of the Liberal Party. In connecting the dots, this week's political theatre may be interpreted as a "Business as usual" approach for the many corporate and personal relationships dating back generations between senior Liberals and China's ruling elites.
The Liberal Party of Canada is inseparably linked to today's CCP, and the foundation of most Canadian-Chinese business relationships is Power Corporation, the jewel in the crown of the Desmarais family fortune. The Liberal Party and Power Corp are interchangeable:
former PM Jean Chretien's son-in-law Andre Desmarais is President and co–CEO;
former PMs Paul Martin, Jean Chretien and Pierre Trudeau all served within Power Corp;
former PM Chretien has served (may still) as a Power Corp lobbyist in China;
John Rae, brother of former Liberal leader Bob Rae is a long-serving senior manager; and
Senator Peter Harder, one of PM Justin Trudeau's lead advisors on China, was Board Member of Power Financial Corporation, a wholly owned subsidiary of Power Corp.
Here is some relevant history about Peter Harder. He served as President of the Canada-China Business Council, a business advocacy founded in 1978 by Paul Desmarais and funded by Power Corp. Harder left this position when he was named to the Senate of Canada by PM Justin Trudeau. Interestingly, the Council is led today by Olivier Desmarais, grandson of Paul Desmarais and Jean Chretien. (What wonderful symmetry.)
The Desmarais family's Power Corp has significant investments in China. These include assets bought from the China International Trust Investment Corporation, a conglomerate owned by the CCP with one of the largest pools of foreign assets in the world. On top of this, Power Corp also holds more than a quarter of the stakes in one of China's biggest asset managers – China Asset Management Corp, which currently oversees $245 Billion of Chinese investments around the world.
The Trudeau Government's multifarious business interests are not limited to Power Corp's empire. Consider the ties the Trudeau-appointed Ambassador to China and his wife have in China. Ambassador Dominic Barton lived in China for decades operating within corporate and financial circles, serving in senior managerial posts at McInsey (the same company recently exposed for promoting Chinese street opioids worldwide). His wife, Geraldine Buckingham, is now in Honk Kong as Senior Managing Director and Head of the world's largest asset manager BlackRock – where she manages billions of dollars of investments in Asia-Pacific. This multimillionaire power couple has numerous business and personal relations within China and the CCP (which may explain Ambassador Barton's caution this week not to rush into any condemnation regarding the genocide of the Uyghurs).
From boycotting the Olympic Games to condemning human rights abuses, Canadians need only to follow the money and connect the dots between the main players of the governing Liberals to comprehend PM Trudeau's unintelligible – and unprincipled – responses to the CCP.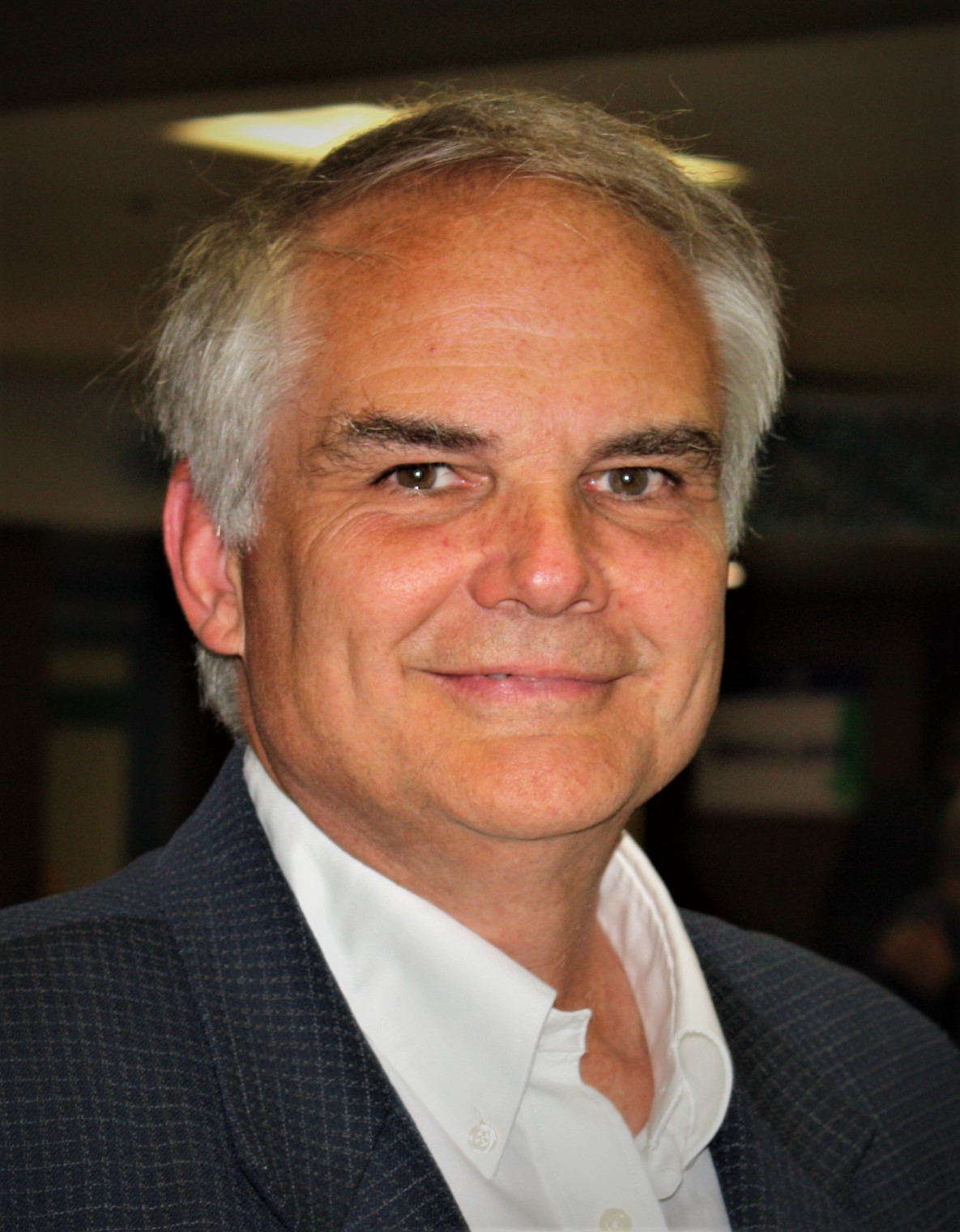 Chris George is an advocate, government relations advisor, and writer/copy editor. As president of a public relations firm established in 1994, Chris provides discreet counsel, tactical advice and management skills to CEOs/Presidents, Boards of Directors and senior executive teams in executing public and government relations campaigns and managing issues. Prior to this PR/GR career, Chris spent seven years on Parliament Hill on staffs of Cabinet Ministers and MPs. He has served in senior campaign positions for electoral and advocacy campaigns at every level of government. Today, Chris resides in Almonte, Ontario where he and his wife manage www.cgacommunications.com. Contact Chris at chrisg.george@gmail.com.