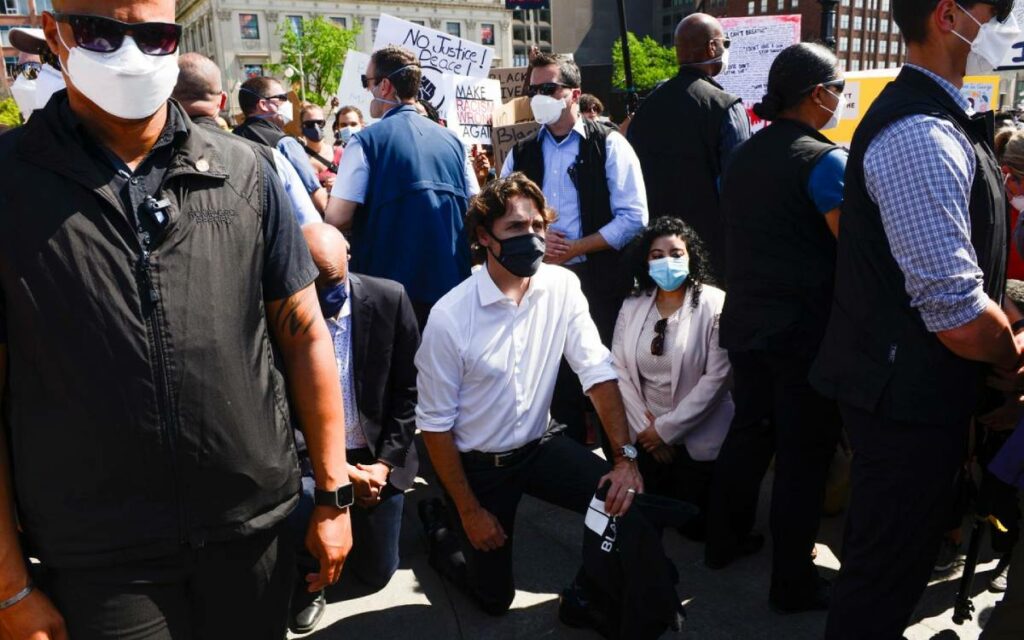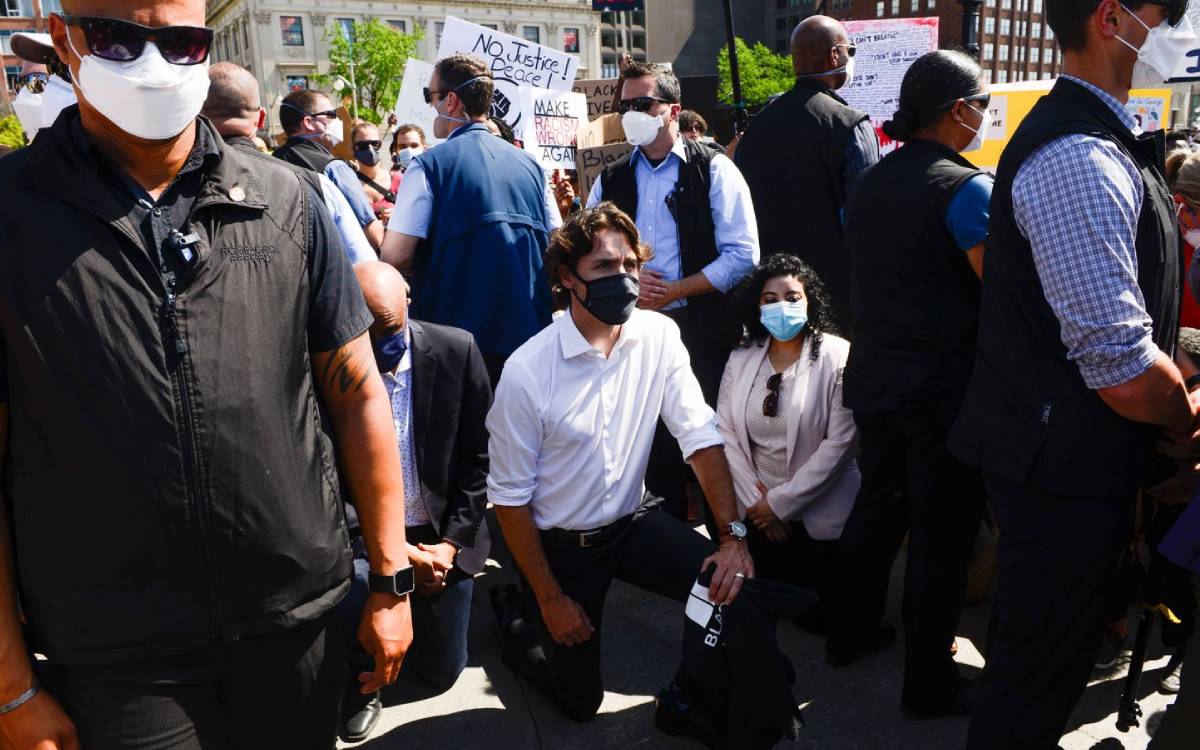 At every opportunity, the Trudeau Liberals are enabling the woke to further divide Canadians and create an unbridgeable chasm between progressive and conservative-minded people. Pictured: Prime Minister Justin Trudeau takes a knee for George Floyd during a rally in Ottawa, June 5, 2020. Photo credit: The Canadian Press/Sean Kilpatrick  
This week the National Post featured a book excerpt authored by one of its political columnists, Tasha Kheiriddin. She asserts that Trudeau's true legacy is his "stoking the woke" in our country. On a litany of issues – LGBTQ+, #MeToo, Black Lives Matter, Indigenous rights, anti-Muslim discrimination – Canada's Prime Minister Justin Trudeau purposefully virtue signals to embolden a radicalized social justice movement within the country.
The Trudeau Liberals have consistently aided and abetted Canada's woke. Their approach is tactical and mindfully taken to extend the Liberals political advantages with their progressive base. It's a name and shame game that fuels division and promotes woke objectives to disparage conservative values and traditional mores in the country. 
The recent, most blatant use of this approach was PM Trudeau's response to the Ottawa trucker protest this spring. Trudeau and his ministers' actions followed a pattern: 
Misrepresent the issue and create strawmen (convoy is filled with anti-vaxxers)

Draw lines of division to label opponent ("those people" are alt-right)

Denigrate and vilify opponent (protests led by white supremacists, arsonists and rapists who want to overthrow the government)

Claim moral high ground and virtue signal (PM represents decent Canadians, those who are responsibly vaccinated)
Today, as the facts are revealed on what occurred with this citizens' protest, there is mounting evidence of Trudeau's fabrications and manipulations, furthered by a complicit mainstream media, to frame the national narrative and political debate.   
At the time of the truckers' protest, Jonathan Kay wrote an insightful piece in Washington's Wall Street Journal, "If Donald Trump Were a Woke Canadian, He'd Be Justin Trudeau." Kay contends the PM has become "a divisive demagogue." The editorial recounts the manner in which Trudeau attacked his critics by labelling them racist and misogynist and identifying them as right-wing extremists and Nazi sympathizers. It was a "hyperbolic response" and taken to the Trumpian extreme of invoking the Emergencies Act to squelch any political dissent. 
Kay also draws on the 2017 controversies surrounding Canada's 150th birthday when Indigenous leaders refused to celebrate the nation's milestone. This was Canada's "Great Awokening," a time when being woke required agreeing that "Canada is a racist and genocidal hellhole." Recall in 2017, Canada Day was cancelled, flags lowered indefinitely, and mainstream news consisted of nothing but commentaries of national self-recrimination and self-flagellation. This was a watershed moment for the woke social-justice warriors who were empowered by Canada's political leadership (and Trudeau ensured he surfed the waves of discontent).
The London, UK-based The Telegraph headlined a similar editorial to the Wall Street Journal's that compares Trudeau to Trump as a polarizing figure. The paper claims: "Justin Trudeau's woke agenda is tearing Canadian society apart." The posit is that Canada has become a left-leaning society due to three generations of political correctness in education and media. The Trudeau Liberals have increasingly given a voice to groups who consistently demonize conservatives and the white working-class. This has resulted in a great divide that has polarized Canadian politics: the PM's approval ratings among conservative-minded people are in low single digits and "switching between the Tories and Liberals, once commonplace, is now rare."
Lisa Bildy is a civil rights lawyer from London, Ontario who has placed herself on the frontline fighting social justice activists. Bildy effectively sums up the current state of the Canadian populous, stating in a @LDBildy Twitter thread: "Our population is divided, possibly beyond repair. We don't just disagree, we live in completely separate & irreconcilable realities. We have different facts, different science, different media, different narratives, different values. We view each other as distorted caricatures."
At every opportunity, the Trudeau Liberals are enabling the woke to further divide Canadians and create an unbridgeable chasm between progressive and conservative-minded people. The Ottawa news agency Blacklock's Reporter broke the story this week of a publication and soon-to-be "values" awareness campaign for school kids. The publication identifies the Conservative Party as being "infiltrated" by racists. 
Blacklock's Reporter revealed that the federal government gave a $268,400 grant to the Canadian Anti-Hate Network (CAHN) to fund the writing and publishing of a guide Confronting And Preventing Hate In Canadian Schools. The CAHN is a federally-subsidized group that has received an additional $268,400 federal grant to operate its website, where it will begin promoting its anti-hate awareness program to teachers and directly to students.  
(Kudos to Blacklock's Reporter for exposing this government activity and to True North and Lorne Gunter of PostMedia for repeating the story. Remarkably there was no other mainstream media on this half-million-dollar-plus awareness campaign. The publication can be found here.)
The online book, on two occasions, identifies the Conservative Party as having members who are bigots and "groypers," which is defined as "a loose collection of young white nationalists."
In a chapter on "hate promoting symbols," the Red Ensign flag (Canada's national flag predating the current red Maple Leaf flag) is identified as a symbol of hate. Apparently, the flag is offensive because "Its usage denotes a desire to return to Canada's demographics before 1967 when it was predominantly white." 
The book instructs students to "know your enemy" and to call out bigoted students who may use "a defence" like "freedom of speech" or "reverse racism" to further their hate. It also encourages students to challenge their peers who may favour a problematic politician or political policy.  
The goal to incite divisions could not be more blatant. Confronting And Preventing Hate In Canadian Schools indoctrinates a "wokeness" that is both manipulatively biased and politically charged. As Lorne Gunter assesses it is nothing more than propaganda, "This guide is a glaring example of the reflexive prejudice of Canadian 'progressives.'"  
In extoling the virtues of CAHN, federal Minister for Diversity Ahmed Hussen proudly launched the sponsored publication. Hussen shared, "This new resource will be delivered through workshops in schools across the country and it will help raise awareness with students… to teach core values to our kids."
Two sidebars punctuate the point: 1) Ahmed Hussen is the politician who was caught on camera telling an audience of Torontonians during an election campaign that they should not vote Conservative because they are against blacks. 2) CAHN issued two news releases last week to bookend Minister Hussen's launch of their awareness campaign. On June 28th the group released "Ottawa Facing Far-Right Protests 'All Summer Long'" and on June 30th it reported "Ottawa's Summer of Far-Right Protests Has Begun."
There may be no better example than the publication Confronting And Preventing Hate In Canadian Schools for connecting the dots on "the woke," the Trudeau Liberals, and Canadian politics. This insulting publication signals Canadians need to wake up. 
NEXT WEEK: Woke activists rewriting Canadian history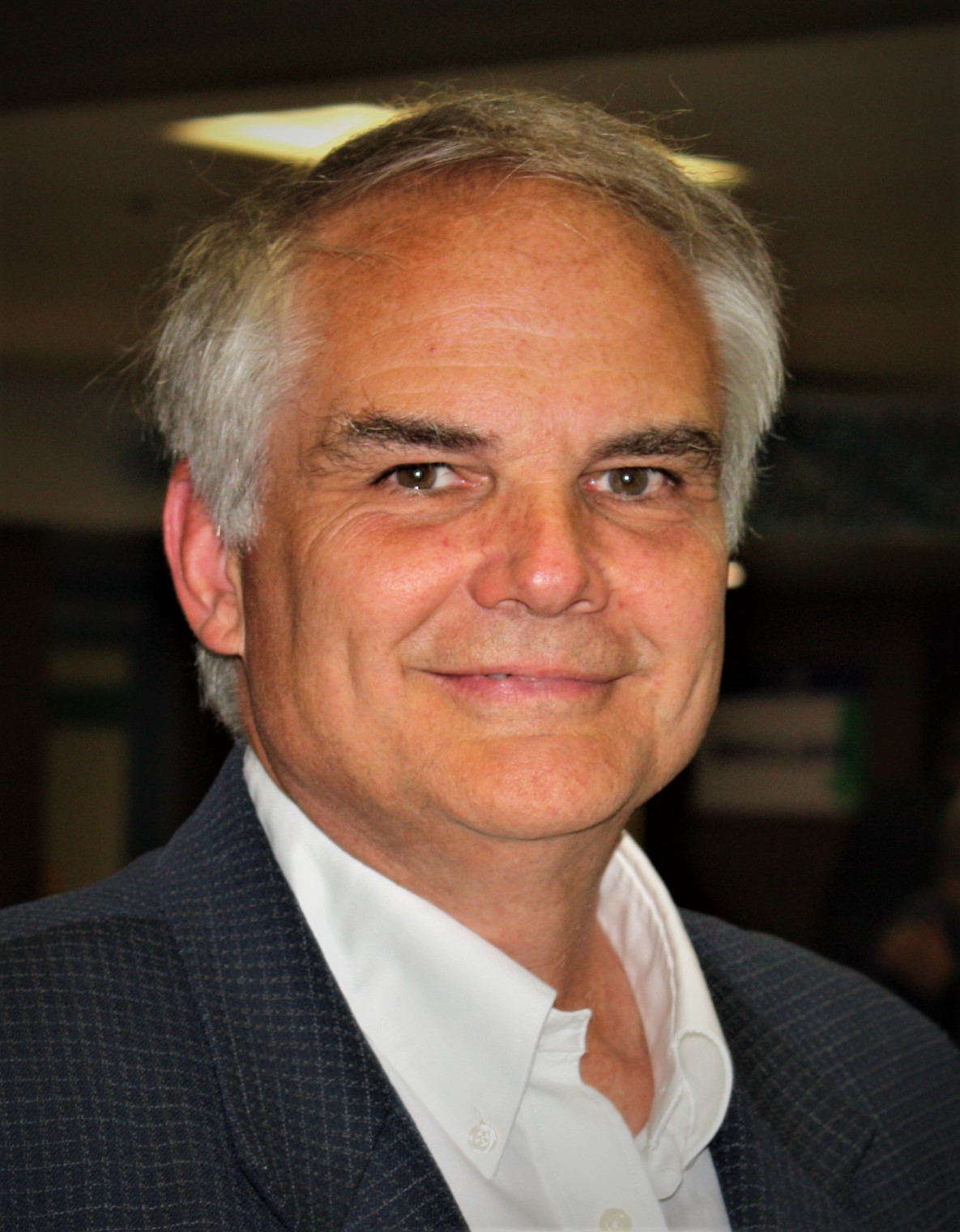 Chris George is an advocate, government relations advisor, and writer/copy editor. As president of a public relations firm established in 1994, Chris provides discreet counsel, tactical advice and management skills to CEOs/Presidents, Boards of Directors and senior executive teams in executing public and government relations campaigns and managing issues. Prior to this PR/GR career, Chris spent seven years on Parliament Hill on staffs of Cabinet Ministers and MPs. He has served in senior campaign positions for electoral and advocacy campaigns at every level of government. Today, Chris resides in Almonte, Ontario where he and his wife manage www.cgacommunications.com. Contact Chris at chrisg.george@gmail.com.