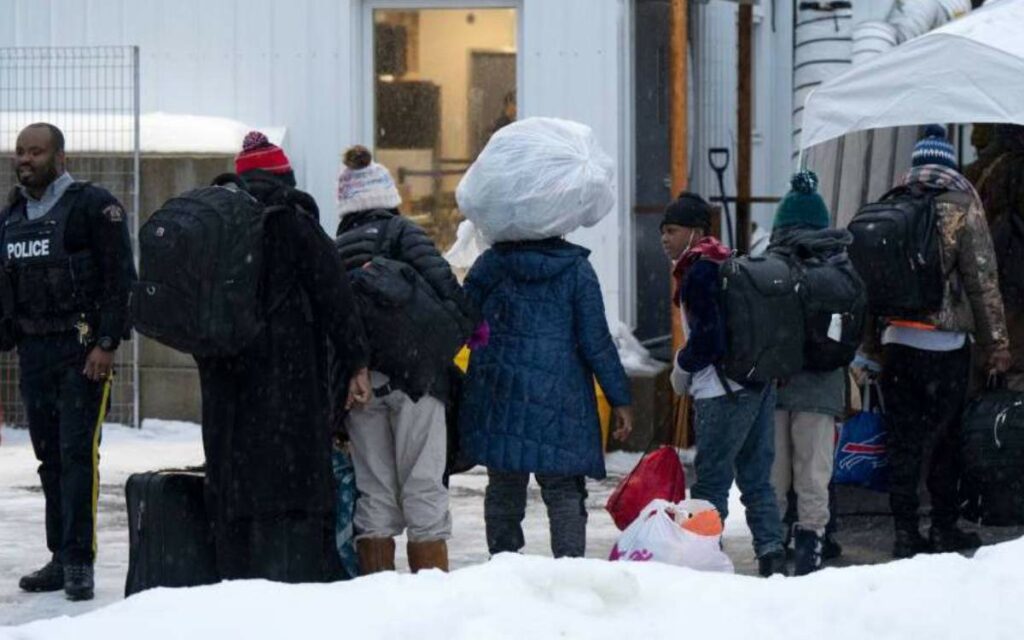 At present, there are thousands of asylum claimants occupying some 2,000 hotel rooms in Niagara Falls. The migrants crossed into Canada from the U.S. via Quebec's Roxham Road (pictured). Photo credit: Global News
As winter drags on, the migration crisis facing Canadian border communities is intensifying. Niagara is no exception.
"Our local service organizations can't keep up with the demand," Tony Baldinelli, Member of Parliament (MP) for the riding of Niagara Falls shared in a recent interview with The Niagara Independent. 
"Public services, such as schools, ESL training and testing, and others, such as our local not-for-profits and charitable groups, are struggling terribly to serve all those in need."
Baldinelli believes that the federal government is failing to provide the necessary support for local service agencies, who are attempting to help newcomers in desperate situations. 
"You would think in a country that prides itself on being a compassionate and welcoming refuge for asylum seekers, the government would ensure that their local partners are adequately provided with resources", he said. "When I speak to my municipal/regional counterparts, they are sharing that they absolutely need more help than they have been getting. The federal government cannot simply download these responsibilities onto the provincial, municipal, public, and local service agencies once the decision has been made to transfer individuals here."
While the Niagara region at large is having a difficult time staying ahead of the curve, the challenges facing Niagara Falls are even more dire. "There is no doubt that Niagara Falls is a severely impacted city… because of the number of hotel rooms we have in our community," Baldinelli said.
At present, there are thousands of migrants occupying some 2,000 hotel rooms in Niagara Falls.  The Honeymoon Capital is one of a handful of Ontario municipalities being used by the federal government to house asylum claimants flowing into Canada from the U.S. at Quebec's infamous Roxham Road crossing. 
When Parliament returns on March 6, Baldinelli and his Conservative colleagues plan to continue holding the governing Liberals to account and achieve a resolution to the crisis for Canadians. 
"We need to see this government working with its American partners to resolve the crisis, and develop enhanced frameworks for safe, efficient and legal access for asylum seekers," he said. "We also need a plan to deal with the IRCC backlog (exceeding 2.1 million in 2022)."
In addition to the negative impact the migrant crisis is having on local economies and service delivery, Baldinelli is also wary that, if left unaddressed, people will begin to place blame where it does not belong: immigrants and refugees looking to come to Canada. 
"Let us not allow eight years of government mismanagement of the immigration file to get taken out on the refugees," he explained. "As a country, we can, and we must, do better, and that starts by fixing the problems this government has created."
Baldinelli believes that a robust, effective, and well-functioning immigration system will be important to contend with a rapidly changing world economy. "There is no doubt that newcomers benefit this country. No matter what industry we're talking about, labour shortages have become a massive issue. Countless pivotal roles in our economy are filled by new Canadians. Those of us in government need to work to ensure the system is always running as smoothly and productively as possible."
Conservative Party leader Pierre Poilievre has argued that the process of verifying language, licensing and certification requirements for new immigrants needs to be revamped so that those with relevant skills and training can begin working in Canada in a much shorter time frame – a view shared by the Niagara Falls MP. "We need to provide the tools and support local agencies need so that our newest residents can access tests, receive their certifications, and start working more quickly."
"My parents both immigrated to Canada in the 1950s and later met here in Niagara," Baldinelli shared, reflecting on his own family's immigration experience. "This nation truly gave us everything. My parents and their families came here seeking a better life, and just think, today I have the unbelievable honour of representing the people of this community as their Member of Parliament. What an amazing country we get to call home!"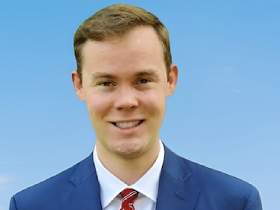 Nick Redekop completed his Honours Bachelor of Arts Degree in Labour Studies at Brock University. He has previously served in municipal and federal politics. In his free time, Nick enjoys following sports, taking part in outdoor activities, and reading biographies. Nick resides in Niagara Falls