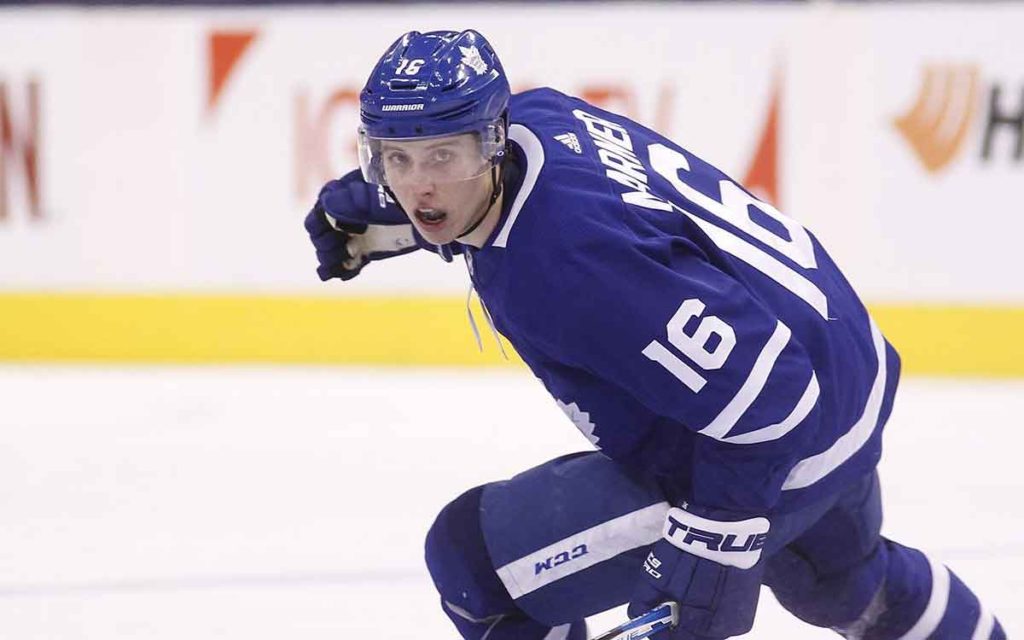 Will the Leaf's have enough cap space to sign free agent Mitch Marner?  Photo: John E. Sokolowski-USA TODAY Sports
It is a brave new world we are seeing unfold across professional hockey with the number of potential free agents-restricted and unrestricted- that have hit the open market. The salary cap, which was supposed to help curb spending by certain teams, and to create a more balanced, competitive league, might actually be doing the opposite. You now have situations where teams can build a good team through wise drafting and shrewd trades, but often won't be able to keep them together long enough to actually win the Stanley Cup.
Gone are the days of the Chicago Blackhawks, who won two Cups before they were forced to break up the band. Now, teams like Toronto and Winnipeg are facing the potential of having to dismantle very good rosters long before they have won anything significant.
Of course, no one can begrudge these players making as much as they can. We would do the same given the opportunity. And you work within the system that you have. But there seems to be a shift in philosophy that trends away from team success to just simple payday. Hometown discounts are a thing of the past-if they ever existed. Players today are now willing to accept the consequences of their demands in terms of how it affects the ability of the team to build beyond that player to form a championship-caliber team.
It appears that this year's poster child for this will be Mitch Marner. If you believe the things you read and hear, Marner's camp is determined to maximize his next contract regardless of what effect it produces on his next destination. Once again, let me be clear- it is not the player's responsibility to manage their team's payroll. But having said that, these things don't happen in a vacuum. Marner's next payday will have a huge impact on whatever team signs him. And what kind of team can the Leafs assemble with three players making $11 million per year? Kyle Dubas seems to have done an excellent job this week of manipulating the roster and the payroll to allow for Marner's demands, but whether they have enough to win is still up for debate.
The curious thing is that there are so many teams and players in this situation this off-season. And you can bet that once the first domino falls, it will produce a cascade effect to each subsequent contract. When Marner signs, the rest will likely take shape based on that. Montreal tried to facilitate that with their offer sheet to Sebastian Aho, but Carolina predictably matched it.
The important thing to remember is that with so many players about to hit the market, there will be choices. In a salary-cap world, there are finite resources. Worried about losing Marner? Well, what about throwing an offer sheet at Patrick Laine?  Stressed about losing Kyle Connor? Well, there's always Matthew Tkachuk.
Will fans see the RFA offer sheet become a regular occurrence this year? We've already seen one. After all, this a different world hockey fans live in now. And maybe hold off on purchasing your favourite team's jersey until the fall. The names on the back may be very different.