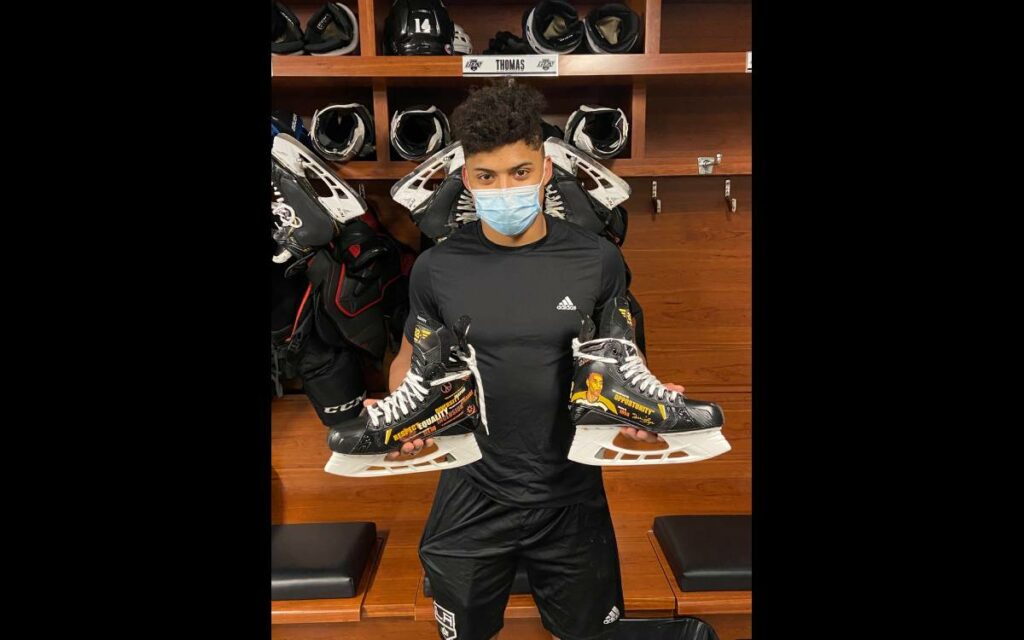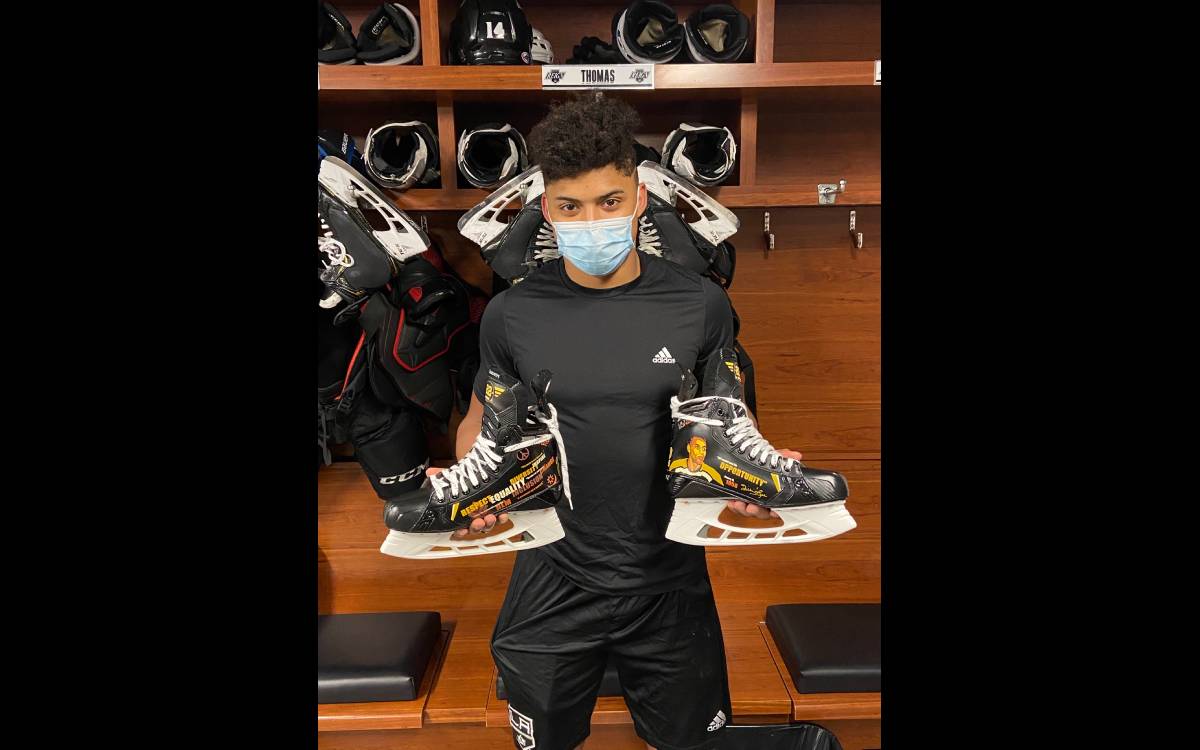 Akil Thomas with his Willie O'Ree skates.
Former Niagara IceDogs growing the game
Black History Month may have wrapped up this past weekend, but two former Niagara IceDogs are still forging ahead in their effort to grow the game of hockey for minorities around the world.
What started as a fun hobby was quickly scooped up by the National Hockey League, and is now a weekly podcast for Akil Thomas and Elijah Roberts.
Thomas and Roberts joined Kwame Damon Mason in creating 'Soul On Ice: The Podcast
Thomas and Roberts are both Black hockey players.
Thomas, a second-round draft pick of the Los Angeles Kings, currently plays for the Ontario Reign of the American Hockey League (AHL), while Roberts is waiting to begin his university hockey career with the Ryerson Rams after Covid-19 wiped out the 2020-21 season.
It was this month, March 25 of 2020 to be exact, that the first Soul On Ice podcast was released, and Roberts for one has a new found respect for the media and the work that goes into putting weekly shows together.
"I think the one thing Akil and I have learned through this entire process is how much work goes into each show," said Roberts.
"We're doing a lot of great things."
Thankfully both Roberts and Thomas haven't faced racism in their young hockey careers, but one particular story stands out the most to Thomas.
"We've had a lot of good guests, kind of crazy and sad stories," Thomas explained.
"One that maybe sticks out to me is Joel Ward, because he's kind of recent NHLer, and to hear what happened after he scored a game-winning goal in Boston was kind of crazy.
That was only a few years ago (2012), and to see someone get so much hate for scoring a goal for their team – that kind of hit me the hardest because of just how recent that was. And that same type of hate may still be in the game."
Thomas recently had the opportunity to wear Willie O'Ree themed skates in honour of the NHL's first Black player.
Both Roberts and Thomas know the platform they have to grow the game of hockey, and will continue to discuss diversity and inclusion.
"It's not about the money or the fame, it's about just reaching people and having our voices out there for people that need to hear from young Black athletes," Roberts said.
"Maybe they need some words of encouragement."
Thomas was quick to point out the racial strife of 2020, in particular south of the border, led to many guests and topics on their show.
"When we first started we wanted to just focus on the positive stuff, but with what happened last year in the States, and even hockey, we had to address certain topics, and will continue to do so," added Thomas.
"Just to have a platform for some minorities who are just getting into the sport, it's something we definitely want to do. There's a lot of minority kids that may feel they should play basketball or football because of their skin colour, but if we can give them a platform where they feel comfortable it will get more minorities in the sport."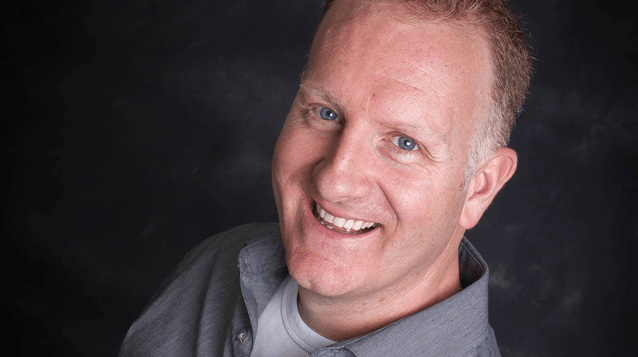 Rod Mawhood is a lifelong Niagara native who has had the pleasure of working in all three mediums – Radio, Print and TV – for over 20 years. His first announcing gig was with the then St. Catharines Stompers. Since then he's worked in radio and TV in Toronto, and currently is the announcer for the Niagara IceDogs and Niagara River Lions.
Rod also covers the Buffalo Bills for FOX Sports and the Buffalo Sabres for NBC Sports.