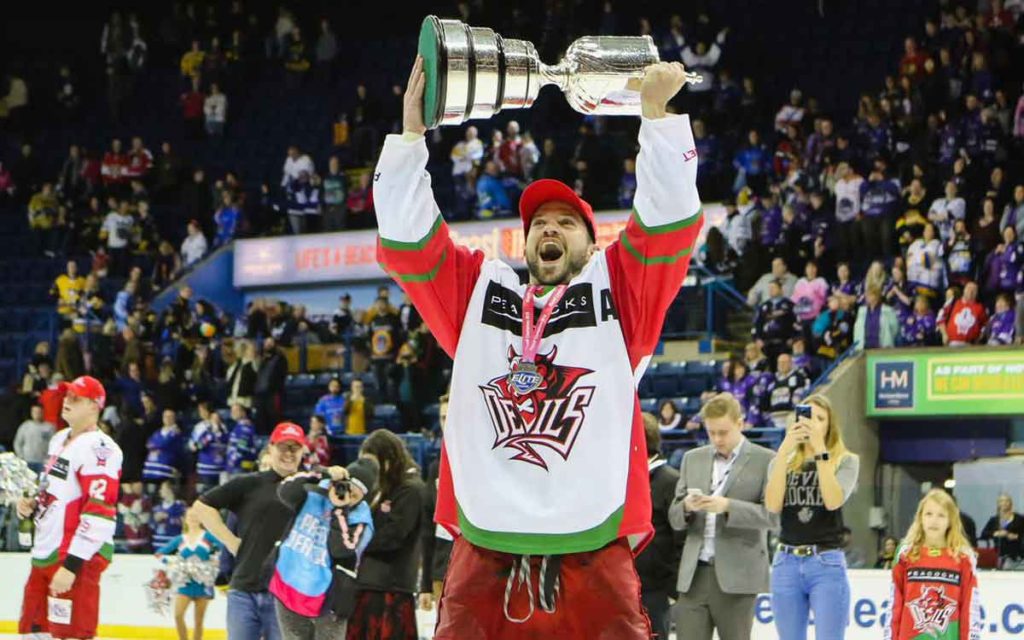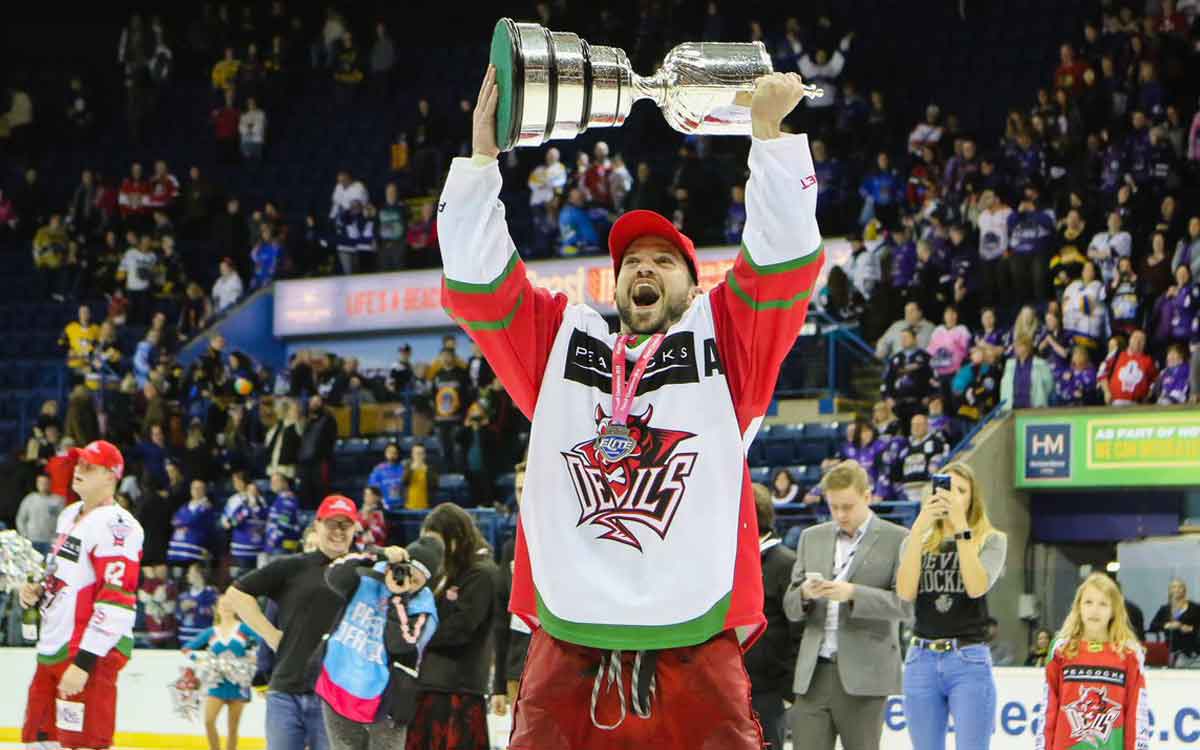 There was a definite Thorold Blackhawks and Niagara IceDogs feel to the Cardiff Devils this season.
And that Niagara connection was a big reason why the Devils were crowned Elite Ice Hockey League (EIHL) champions.
Joey Martin, and Sean Bentivoglio – both of Thorold – and Mike Hedden of Dunnville all played on a line together as Cardiff beat Belfast 2-1 in the championship game last Sunday.
"They say the hockey world is small, and this kind of proves it," said Martin who recently joined the Niagara Sports Report on 610 CKTB.
"It's pretty special to play with these guys that I grew up with."
Martin, who played with the Blackhawks from 2003 to 2005, has now played with Cardiff for five seasons including the last three with Bentivoglio. Hedden joined the club this season. In fact, Martin finished third in team scoring, Bentivoglio fourth and Hedden fifth.
On top of that, former Niagara IceDogs defenceman Drew Schiestel patrolled the blue line for the Devils, contributing six goals and 17 points in 40 games.
"Drew came in later in the season, we had a defenseman that left for the Finnish League, and we had a big hole to fill and lucky enough Drew was available and we brought him in, and he fit it right away," Martin said when asked about the former Buffalo Sabres draft pick.
"He's such a great guy in the locker room, and on the ice he's such a smooth skater. Great playmaker, he fit in right away and had a lot of success on our team."
Martin had 68 points in 60 regular season games with Cardiff this season, including 30 goals which is his best total as a pro.
The now 30-year old played parts of two seasons in Thorold with the Blackhawks, before moving on to Aurora and tier-2 junior A, then it was four seasons of NCAA hockey at the University of Nebraska-Omaha, before three seasons of pro hockey including 21 games in the American Hockey League (AHL).
So what made Martin choose the United Kingdom, and Cardiff, Wales to be exact?
"It was just that time," explained Martin. "I was kind of getting tired of the North American style of getting called up and sent down, and I just wanted to experience something different.
I thought I'd come over here for maybe one year, or two, and here I am – it's been five years and such a great experience."
Martin also used the European professional hockey experience to continue his education, earning a Master degree in business while in Cardiff. He hopes to stay in the game after his playing career ends, and hopefully use that education to land a job on the management side of things.
One thing for sure, Martin certainly doesn't forget his Thorold roots.
Everybody from the Thorold Blackhawks organization, that always has a spot in my heart there. That's where I learned I wanted to pursue hockey after junior. Thanks to everyone from the Blackhawks, and Thorold."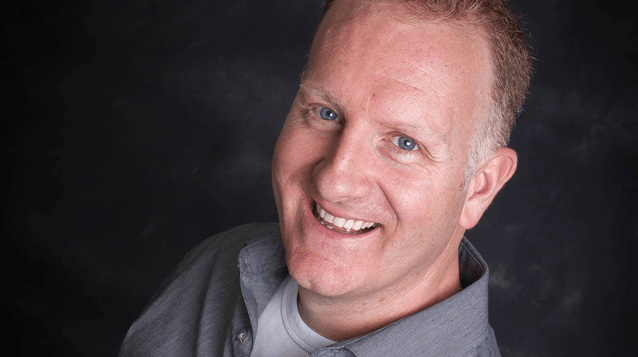 Rod Mawhood is a lifelong Niagara native who has had the pleasure of working in all three mediums – Radio, Print and TV – for over 20 years. His first announcing gig was with the then St. Catharines Stompers. Since then he's worked in radio and TV in Toronto, and currently is the announcer for the Niagara IceDogs and Niagara River Lions.
Rod also covers the Buffalo Bills for FOX Sports and the Buffalo Sabres for NBC Sports.