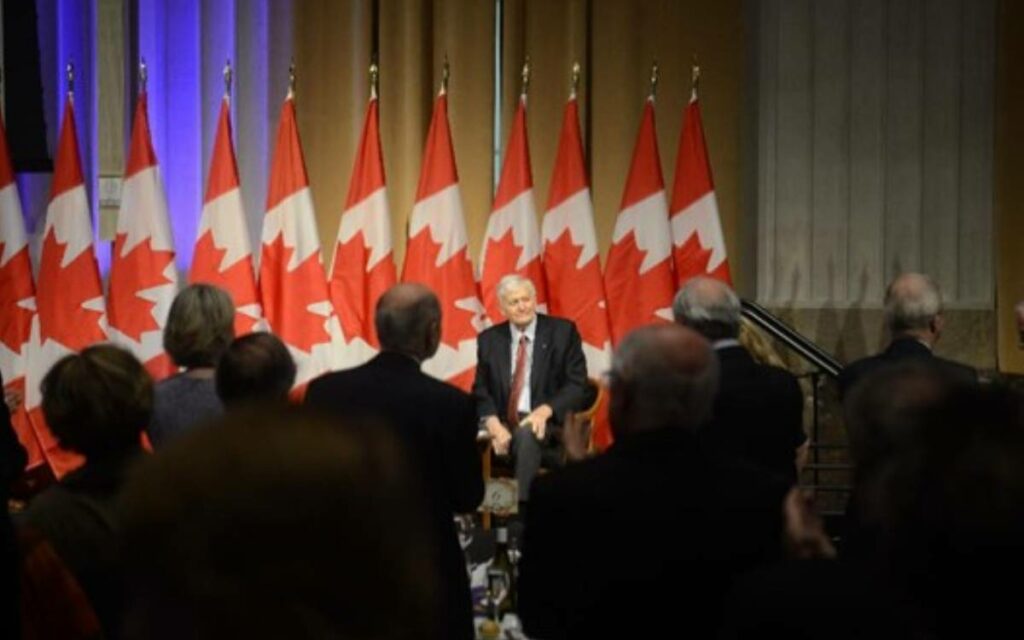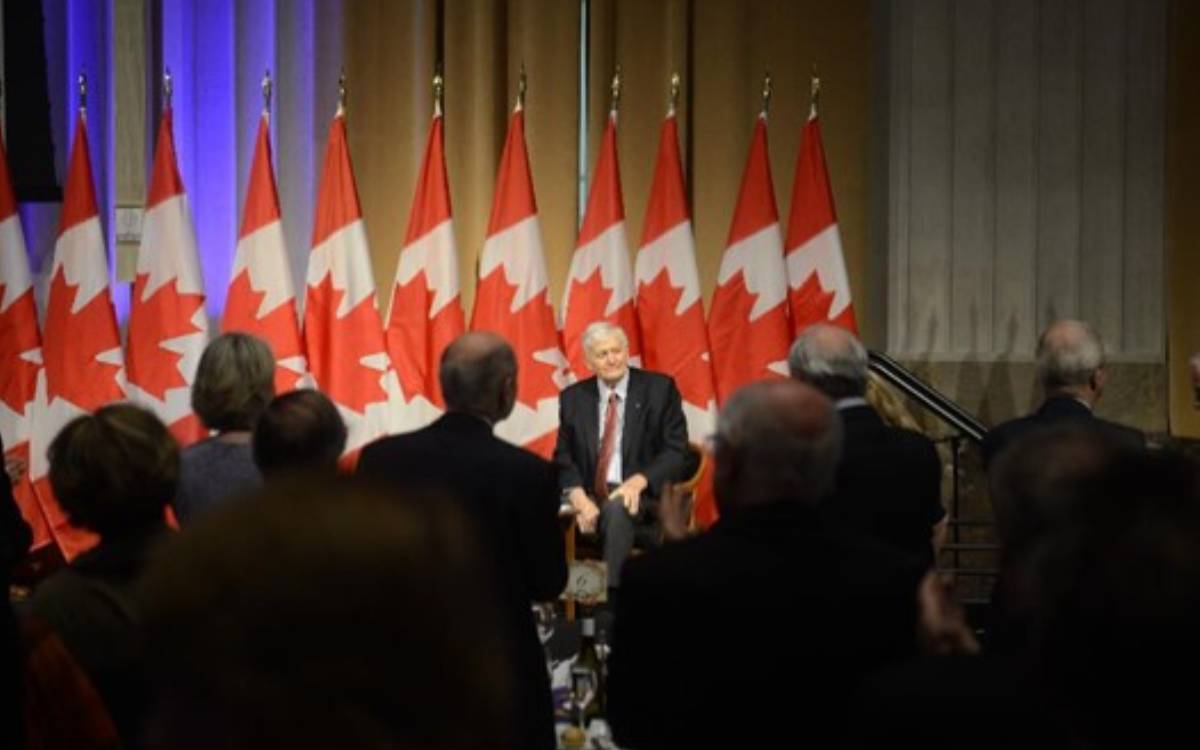 John N. Turner's 90th birthday celebration in Ottawa June 2019. Photo:Jean-Marc Carisse 
My good friend, political mentor and business associate died this past weekend.  As life goes, and for many, having a friend die is normal, but not everyone has a good friend, political mentor and business associate who is a former Prime Minister and one of the most recognizable political figures in modern Canadian history.
I began a close working relationship with John Turner when Mr. Turner was a candidate for the leadership of the Liberal Party of Canada, became Prime Minister and later the Leader of the Opposition – all commencing in 1984.  I left my role as his advisor in 1990 after fighting two of Canada's most important elections with him.  It was after the 1988 federal election that I moved on to my own career while he served out the remainder of his term as MP in the House of Commons until 1992.  He then began private life as a corporate lawyer in Toronto.
Since 1993, almost without fail, every Thursday we would meet for lunch.  Either near his office or at the Royal Canadian Military Institute where I am a member.  We would talk about current events and the state of politics globally.  His cause célèbre has always been parliamentary democracy. Even when he was Leader of his Party, he allowed his own caucus to speak freely in the House of Commons on matters they believed were important to them as Members of Parliament without fear of censure or removal from their Party.
Lunch discussion was punctuated with comments about how he believed that political power in Canada had become too centralized – where the Party Leader's Office was more important and influential than the Member of Parliament.  Often on visits to schools when we travelled together throughout the country, which he did religiously at least once a month for almost three decades, he would take the opportunity to talk to students from elementary age to university about the Magna Carta – which he called "the greatest living document on democracy ever written".
As context, the Magna Carta was crafted by King John of England in 1215 and decreed that the constituencies across the great land of England should elect their representative(s) and only when they got to Westminster would they elect a Prime Minister to lead the government of the day.  In fact, in 2015, Turner was the co-Chair of the 800th anniversary of the Magna Carta and took the opportunity to talk about it as a teachable moment.
To students, civics groups or bar associations, he asserted with those steely blue eyes that stared right into the souls of audiences that in Parliament,  " there are only two votes that matter with respect to confidence – one is the Speech From the Throne, which is policy and the other is the Budget, which is taxation – they  should be the only whipped votes". He believed that every other vote in parliament should be a free vote and without consequence to the Member of Parliament.
More importantly, Mr. Turner never waivered on his sentiments about the role of the Member of Parliament.  He bristled over the use of the word "back-bencher" and thought it degraded the role.  His admonition about the politicization of the Office of the Prime Minister (or the Leader of a particular party) was that it was a step backwards.  He lectured "members should be able to see the Leader of their Party without notice". Since 1962 when he first got elected, he fought for parliamentary democracy and even up until he died he lamented that the current political environment is way more politicized and polarized than ever.
At his 90th birthday party last year in Ottawa – held on Parliament Hill, and co-chaired by this writer, he spoke to hundreds of invited guests including the current Prime Minister and every former Prime Minister, several former and current MPs and many former staffers and media from Ottawa.  It was deemed to be the best political event ever held in Ottawa.
His speech to the assembled crowd was vintage Turner, with gravitas "democracy does not happen by accident, Canada is not a product of the mind but of the heart and if that's not understood, it just won't work".  It would inevitably be the last public event he would do. He said his piece and he left Ottawa in June last year knowing that his legacy was intact.
I will miss my friend John Turner, I will miss our lunches and I will miss his witticisms about politics, "about being transparent, about being forgiving, about understanding and most importantly about enjoying yourself".  In his larger than life life, he played the role as public property to the best of his ability – even into his 90's – there are few who can inspire as much as John Turner did and Canadians should celebrate that.  He was my friend, my colleague and my associate, but most of all he IS my spiritual guidance counsellor – he used to say, "Marc I love the writings of St. Augustine who said, for whom God has given some talent, let him give some back".  Words to live by. 
Marc Kealey is the principal of K&A Inc., a public policy and management consulting firm in Mississauga, Ontario Canada.  Marc is a former advisor to Rt. Hon. John N. Turner, Canada's 17th Prime Minister and is a student of John N. Turner – and an astute political observer.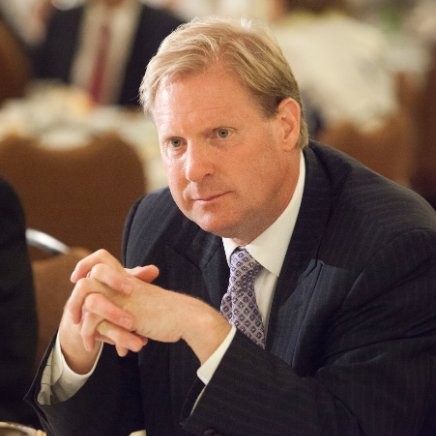 Marc Kealey is the Principal at K&A Inc., one of Canada's premiere public policy and management consulting firms. Marc is a former advisor to a Prime Minister of Canada John N. Turner.  He lectures globally on politics and public policy and contributes regularly in media.  For more information contact Marc at info@kealeyandassociates.com