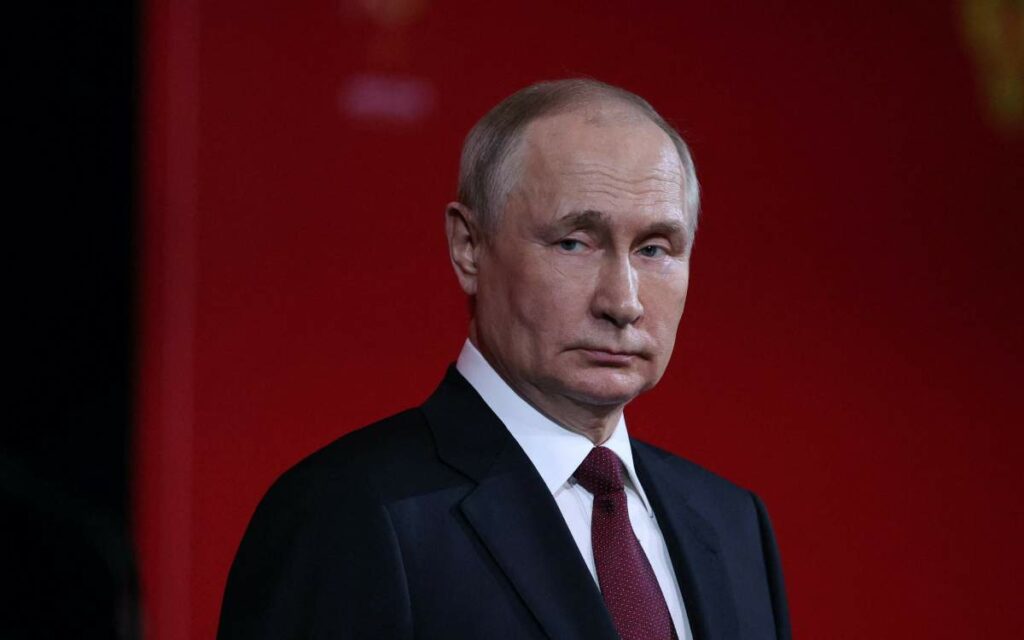 A tougher stance on President Vladimir Putin's manoeuvres in Ukraine is not a call for World War III. It's simply a call to do what's right, and indeed expected of us. Photo credit: New York Times/Sergei Bobylev
Earlier this month, Russian forces officially retreated from the city of Kherson in southeast Ukraine. Russian troops were pinned down on the western side of the Dnipro River and were at risk of being cut off from their own supply lines and captured or killed. Russians withdrew their forces and retreated east out of Ukraine. 
Since then, Ukraine troops have successfully liberated Kherson and there are stories of soldiers finding their relatives who they thought had been killed earlier in the war. Stories of the Russian poor treatment of citizens in occupied cities and the missile strike in Poland are overshadowing the success of Ukraine's forces. 
Last Tuesday, a missile landed in Polish farmland near the border with Ukraine and killed two people. The blast came amid a Russian aerial assault on Ukraine to weaken its power grid ahead of a cold winter. 
The missile strike raised deep concern around the world about whether Russia might be expanding the war by targeting beyond Ukraine and into a NATO member country. This would have come to the chagrin of NATO, as the organization sought to avoid being dragged into a wider war since the initial Russian invasion in February.
As the largest security alliance in the world, NATO has denied sending soldiers into Ukraine and has rejected Kyiv's proposals to enforce a no-fly zone over its cities, which could force allies to engage in airstrikes against Russian fighter jets or launch air defence systems against Russian territory.
Although some of NATO's member states are supplying weapons and other assistance, NATO as a whole does not. To discourage Putin from making them his next target, the military alliance has concentrated on bolstering its forces in member nations close to Russia's and Ukraine's borders. Though if this was found to be an attack on a NATO country, NATO's hand would be forced, and greater action would be required. 
Following their investigation, NATO found the missiles were Russian-made and were believed to be fired by Ukraine in defence against a Russian attack. Though, President of Ukraine Volodymyr Zelenskyy denies that this resulted from a Ukraine defence system.
Even ahead of NATO's investigation, world leaders were eager to downplay the missile and what it could mean. Hours after landing in Poland, U.S. officials said their preliminary assessments suggest Ukrainian forces fired the missile at an incoming Russian projectile, and U.S. President Joe Biden said it was "unlikely" that it was fired from Russia.
Call it good intelligence or burying your head in the sand. Whatever it was, it worked. The world is remaining on the sidelines, tossing a few bucks here and there and saying that type of support is enough. While a nation like Ukraine is left to take on a world superpower. It's almost as unfair as having Timbit hockey players who just laced up their skates for the first time take on the Boston Bruins. 
Is this a call to start World War III? Absolutely not. As global leaders, it is our responsibility to prevent bloodshed, protect lives, and stand up against bullies. Use the position of power that each country has created over the years to help those who are out-gunned, out-manned, out-numbered, and out-planned. 
We need to take a stand and find our backbone or face the consequences. 
Daniel Perry is a consultant with Summa Strategies Canada, one of the country's leading public affairs firms. During the most recent federal election, he was a regular panelist on CBC's Power and Politics and CTV Morning Ottawa.