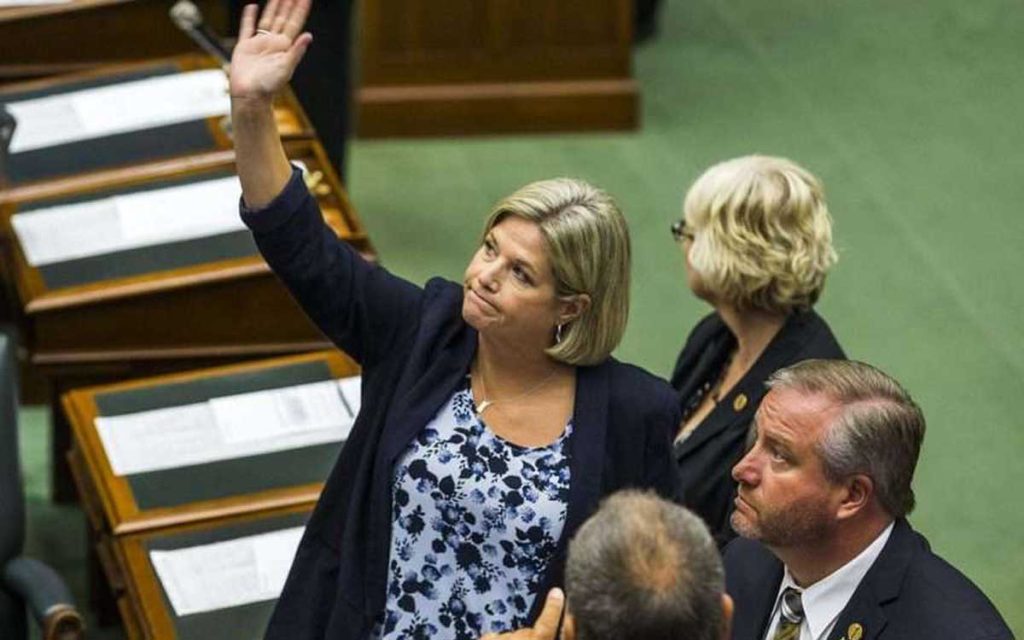 NDP leader Andrea Horwath acknowledges the protesters in the public gallery.
As the circus at Queen's Park continues to unfold over the Ford government's plan to proceed with  almost halving the size of Toronto City Council, opposition parties continue to distinguish themselves by their childish antics, noisy protests and melodramatic speeches.  One of the latest salvos from the opposition benches was questioning how much extra taxpayers were being charged for additional sittings of the legislature on the weekend and in the wee hours of Monday morning to attempt to have the Bill passed in time to permit a reasonable period before the Toronto municipal election.  It is rich indeed for Ontario Liberals in particular to suddenly develop a concern with wasting taxpayer dollars after a long period in power when they squandered more money year after year than any other Ontario government in recent memory.  In addition, the Liberals and NDP have both been actively throwing whatever delaying tactics they can muster to slow down the Bill's passage, guaranteeing  that more tax dollars are expended in the process.
Furthermore, politicians across Canada apparently deem this situation in Ontario worth of their attention.  Everyone from Jean Chretien, Roy Romanow, Brian Mulroney and many more former and current politicians have been critical of the Ford government's actions.  Justin Trudeau, while noting that the federal government had no intention of intervening in this matter, nevertheless took some potshots at Ford and his colleagues.  Many others, including Brad Wall and Brian Peckford, have weighed in supporting the Ford government's action as well.  It is safe to say that previous uses of the notwithstanding clause have never attracted the same amount of national interest and criticism, and it appears that this current dust-up has much more to do with politics than constitutional substance.
It's not as if other governments do not have other serious issues to deal with.  In the federal sphere,  NAFTA negotiations remain tenuous, Canadian taxpayers are saddled with the cost of a $4.5 billion dollar pipeline that is not getting built, the investment climate is sharply deteriorating and the economy generally is slowing while national debt is growing.  In Ontario, a successful conclusion of NAFTA talks is arguably more vital than to any other province as just over a quarter of the province's economy depends on trade with the US.  The fall legislative agenda in the province will be full of priorities such as dealing with anti-competitive Bill 148, fighting the federal carbon tax and auditing the mess of the provincial books among others. The matter of the size of Toronto City Council pales in comparison to these vital issues.
Despite all of the caterwauling, virtually all experts predict that the Ford government will be successful in passing this Bill to shrink Toronto Council, whether via the conventional path of appeal or with the notwithstanding clause as a last resort.  It is time for the Ontario opposition parties to stop the hysterics and for the legislature to move on to the many other important issues facing the province.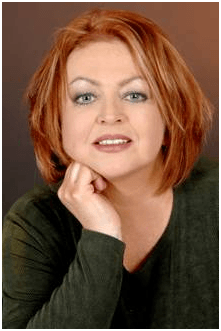 Catherine Swift is currently President and CEO of Working Canadians (www.workingcanadians.ca.  Prior to that, Catherine Swift had been with the Canadian Federation of Independent Business since September 1987, initially as Chief Economist. She became Chair in June 1999 after being named Chief Executive Officer in July 1997 and President in May of 1995.  Her various responsibilities included coordinating policy issues at federal, provincial and municipal levels of government, representing CFIB with politicians, government, business, media and other groups.
Ms. Swift has worked with the federal government in Ottawa holding several positions with the Departments of Consumer and Corporate Affairs, Industry and Communications. Her areas of specialization included corporate and industrial analysis and international trade. Catherine Swift has a MA in Economics.
She has published numerous articles in journals, magazines and other media on such small business issues as free trade, finance, entrepreneurship and women small business owners. Ms. Swift is a Past President of the Empire Club of Canada, a former Director of the C.D. Howe Institute and past President of the International Small Business Congress. She was cited in 2003 and again in 2012 as one of the top 100 most powerful women in Canada by the Women's Executive Network.