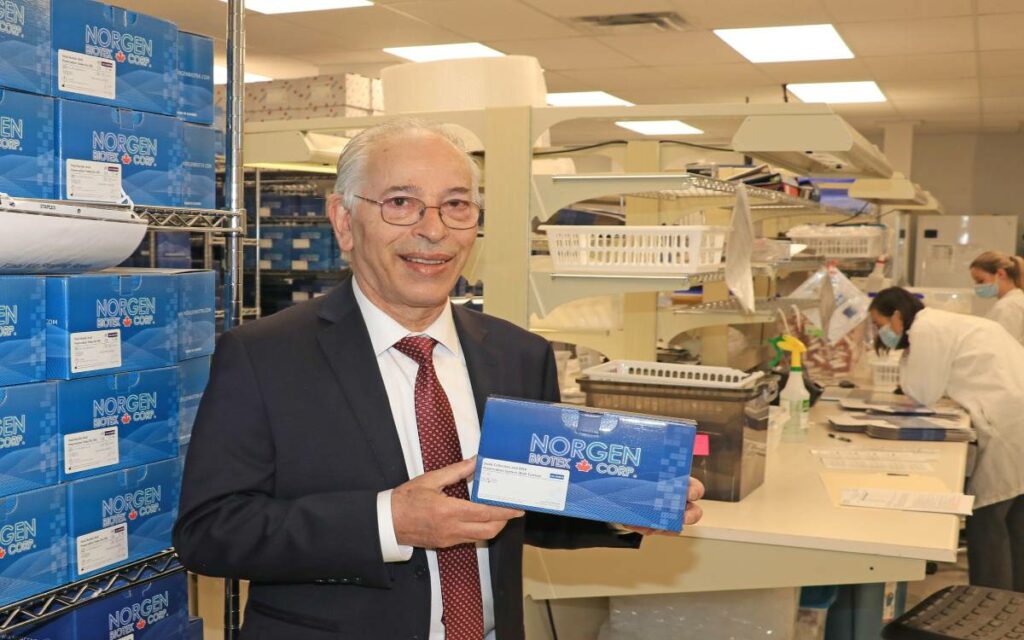 Yousef Haj-Ahmad inside Norgen Biotek, the Thorold-based company he started in 1998 that now employs more than 80 people. Yesterday, it was announced that the Haj-Ahmad family donated $5 million to help build out Brock University's new engineering department. Photo credit: Brock University
Local biotech company owner donates $5 million to help Brock build out engineering program
Brock alum, former professor, and owner of Thorold-based Norgen Biotek Corp. Yousef Haj-Ahmad has donated $5 million to the university's newly established engineering department. 
Haj-Ahmad, who holds a B.Sc. and M.Sc. from Brock, said that the decision to give the transformational gift is the result of he and his family's lifelong collective connection to the university, and their belief that their alma mater can play a major role in an emerging sector.
"This is the century of knowledge and science, and engineering is across all of the sciences," said Haj-Ahmad. "Brock University can have a major impact in the community and worldwide. I'm thankful that I'm able to give back to a community and a university that put me on the right track."
Officially launched last year with an undergraduate minor, the newly named Yousef Haj-Ahmad Department of Engineering now includes six faculty members (with more to be hired) and plans to welcome its first cohort of undergraduate Integrated Engineering students for the 2024-25 academic year.
Once fully established, Brock will be one of only three Canadian universities to offer an Integrated Engineering degree at the undergraduate level. 
"We often hire engineers outside of Niagara and bring them to our region, but that is often difficult," said Spencer Fox, president of local fabrication and construction company E.S. Fox Limited, himself a mechanical engineer by trade.
"An Engineering program at Brock would allow local students to study engineering and remain with their families in Niagara upon graduation. We look forward to collaborating with Brock in the development of the region's future engineers."
Along with its undergraduate offerings, the department also plans to launch a professional Master of Engineering degree in 2023/24. 
Region fires nearly two per cent of workforce for failing to comply with vaccination policy
On Valentine's Day, the Regional Municipality of Niagara fired 66 of its approximately 4,100 employees for not complying with the corporation's mandatory vaccination policy.
The Region introduced a mandatory vaccination policy for all employees in September 2021, following Niagara Regional Council's direction. Staff had until 8:30am on Feb. 14, 2022 to comply with the policy or face termination with just cause.
According to an official statement from the organization, "Niagara Region introduced the vaccination policy and implemented supporting procedures, including requiring staff to disclose their vaccination status, and provided staff with a reasonable amount of time to comply with the policy and demonstrate a legitimate Human Rights Code exemption to the policy, if applicable."
While he couldn't comment in any detail on where exactly the terminated employees worked, Region spokesman Peter Criscione said, "the individuals not in compliance with the policy worked in departments across the organization." 
Front entrance to local MP's office vandalized
On Monday, someone smashed the front glass door entrance to MP for Niagara Centre Vance Badawey's constituency office in Welland. 
The two-time Liberal MP and former Port Colborne mayor called the incident "unfortunate" on social media, before then stating he "will continue to stand-up and unequivocally do [his] duty in the best interests of the residents and businesses of Niagara Centre."
The vandalism came on the same day that the Trudeau government revealed it was invoking the Emergencies Act to deal with the ongoing protest on Parliament Hill.
Badawey is the second Niagara area Liberal MP in six months to be the target of vandals. Back in September, MP for St. Catharines Chris Bittle allegedly had his personal vehicle spray painted while parked in his driveway overnight. Still no arrests have been made related to the incident.  
Mayor of St. Catharines Walter Sendzik and city councillor Karrie Porter have also both been the victim of vandals in recent months. 
Province proceeds to next phase of reopening
Starting today, capacity limits in Ontario for several venues are being either increased or removed entirely, depending on whether or not proof of vaccination is required. 
Restaurants, bars, and gyms, for instance, no longer have limits on the number of patrons permitted.
"Given how well Ontario has done in the Omicron wave we are able to fast track our reopening plan," said Premier Doug Ford earlier this week. "This is great news and a sign of just how far we've come together in our fight against the virus. While we aren't out of the woods just yet we are moving in the right direction."
If public health and health system indicators continue to improve, the province will lift capacity limits in all remaining indoor public settings and eliminate the vaccine passport system on March 1.  
No potential date has been set for when mask mandates will be lifted. However, in a press conference this week Dr. Kieran Moore said the government will assess the situation two weeks after restrictions are lifted on March 1. 
For a full list of changes, go to the Ontario government website here.  
Fully vaccinated travellers no longer need PCR test to enter Canada
As the pandemic continues to wane worldwide, the federal government is eliminating several border restrictions, including the need for fully vaccinated travellers to submit an on-arrival PCR test when entering Canada.
In a press release on Tuesday, the Public Health Agency of Canada said the country has moved passed the crisis stage of the pandemic, stating, "it is now time to move towards a more sustainable approach to long-term management of COVID-19."
Starting Feb. 28, fully vaccinated travellers will only be required to submit a rapid antigen test prior to their arrival. The test, however, must be administered by a laboratory, healthcare entity, or telehealth service. 
"Since the onset of this pandemic, we have taken practical and necessary steps to stop the spread of COVID-19 – and as the situation evolves, so does our response," said Minister of Public Safety Marco Mendicino. "I especially want to thank Canada Border Services Agency employees for their tireless work over the past two years. We always take action to secure our borders and protect our communities, because that's what Canadians expect."
The rules remain unchanged for unvaccinated travellers. The government is also keeping in place random test selection.
"The return to mandatory random testing of all vaccinated travellers will facilitate travel for Canadians all while helping our public health authorities to detect future changes in COVID-19 importation rates and variants of concern," said Minister of Health Jean-Yves Duclos. "As we have said all along, Canada's border measures will remain flexible and adaptable, for potential future scenarios."
For a full rundown of the changes, go to the Government of Canada's website here.  
Inflation rate climbs to 5.1 per cent
According to data released by Statistics Canada on Wednesday, the country's inflation rate rose to 5.1 per cent in January, up from 4.8 per cent in December. 
This is the first-time annual inflation topped five per cent in more than 30 years. 
The biggest contributors to the increase were prices for housing, gas, and groceries. 
Prices for groceries increased year-over-year by 6.5 per cent – the largest yearly increase since May 2009.
Gas prices were up 31.7 per cent last month compared to January 2021.