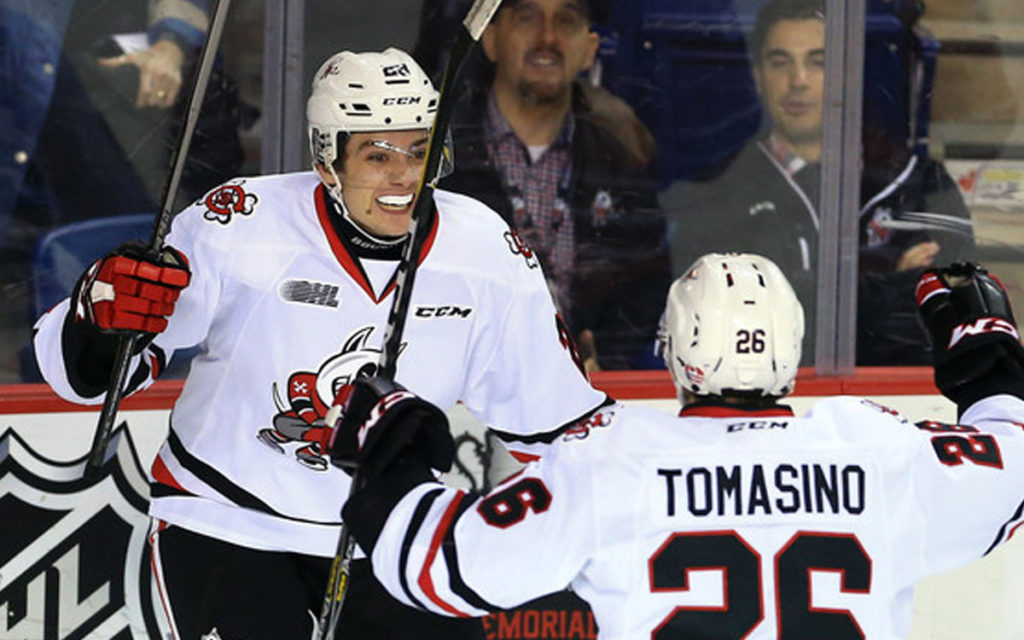 Niagara Ice Dog Philip Tomasino has been invited to try out for Canada's Under-18 team.
Niagara Ice Dogs' Philip Tomasino is among forty-four of the nation's top under-18 hockey prospects that will gather in Calgary at the end of July to compete for a chance to wear the Maple Leaf on home ice as part of Canada's National Men's Summer Under-18 Team competing at the Hlinka Gretzky Cup in Edmonton and Red Deer this August.
The invitations have been extended to four goaltenders, 14 defencemen, and 26 forwards who are developing in the Canadian Hockey League (CHL) and Canadian Junior Hockey League.
Tomasino previously represented Canada Black at the World U17 Hockey Challenge last fall.
"Unlike our other summer camps, these players are part of a selection process from the moment they arrive, and the opportunity is to represent Canada on the world's stage," said Scott Salmond, vice-president of hockey operations and national teams for Hockey Canada. "We have a very talented group of players coming to Calgary in late July, and we will no doubt have some very difficult decisions to make when it's time to select this year's Canada's National Men's Summer Under-18 Team. The players are excited to arrive and get started, and they are all coming in with the goal of making our decision a difficult one."
Newly rebranded as the Hlinka Gretzky Cup, the annual tournament is one of the only true, best-on-best competitions for this age group. While the event is being co-hosted in Edmonton and Red Deer, Canada will play all of its games out of Rogers Place in Edmonton, except for a pre-tournament game against the Czech Republic slated for 7 p.m. on Aug. 4 at the brand-new Servus Arena in Red Deer.
"There's nothing like competing on home ice, and this will be a very special event for our team – staff and players," said Salmond. "The work begins in Calgary at selection camp, and we're looking forward to heading up the QEII and competing in front of Canadian fans this summer. This is always a true demonstration of best-on-best hockey, and the fans in Edmonton and Red Deer will not be disappointed."
Niagara Ice Dogs' and recent Los Angeles Kings draft pick, Akil Thomas represented Canda last year winning the tournament in Breclav, Czech Republic. Canada defeated the host team 4-1, with a squad that included 18 players who were selected in the 2018 NHL Entry Draft. When all of the picks were in, 77 alumni of the event were selected by NHL Clubs – 19 first-rounders, in fact – including seven of the top-10 picks.