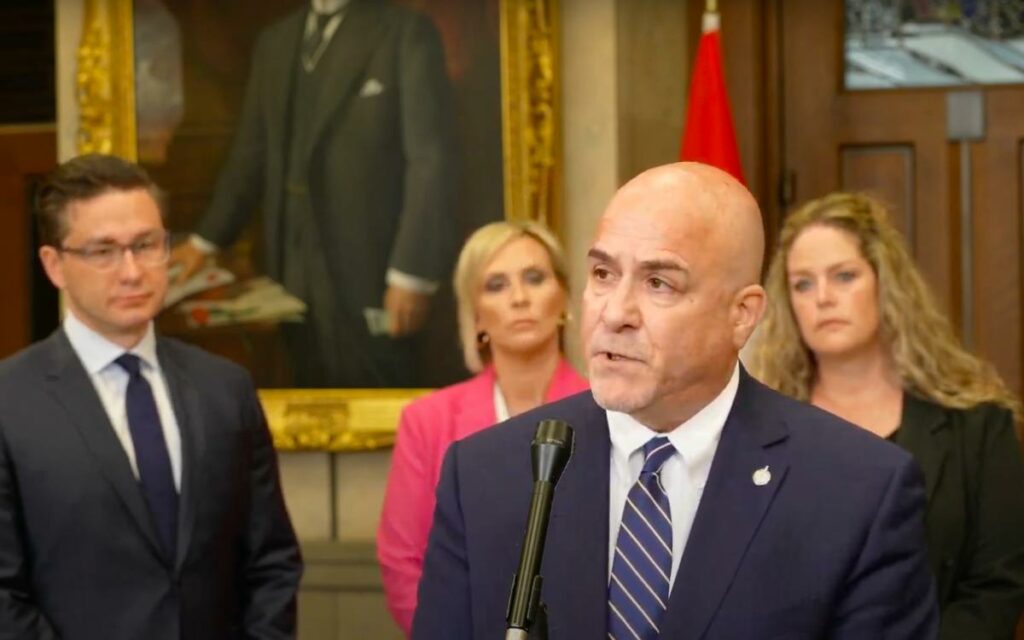 Niagara Falls MP Tony Baldinelli (pictured, front) set to sponsor and introduce legislation this week that will return serial killer back to maximum-security prison and keep him there for life. Baldinelli and Conservative Party leader Pierre Poilievre announced their plan to reverse the decision to transfer Bernardo at a press conference on Sunday, June 11. Photo credit: YouTube/Pierre Poilievre
"The name Paul Bernardo in our community is synonymous with evil."
At a press conference in Ottawa Sunday afternoon, local MP for Niagara Falls Tony Baldinelli and Leader of the Official Opposition Pierre Poilievre revealed the Conservative Party's plan to ensure infamous serial killer Paul Bernardo is returned to and remains in a maximum-security prison for the rest of his life.
The plan involves Baldinelli sponsoring and introducing a private members' bill in the House of Commons this week that, if passed, will guarantee the "vile monster" that murdered and raped Tammy Homolka, Leslie Mahaffy, and Kristen French in St. Catharines in the early 1990s is transferred back to maximum security and only ever leaves "in a coffin". 
Correctional Service of Canada transferred Bernardo from Millhaven Institution, a maximum-security prison in Bath, Ontario, to a medium-security facility in Quebec last week. 
"Conservatives, like all Canadians, were shocked to learn that the vile serial killer and rapist, Paul Bernardo, one of the most evil monsters in Canadian history, had been moved from a maximum-security prison to a medium-security facility," Poilievre said. 
"As usual, Justin Trudeau and his useless Public Safety Minister refused to take any responsibility. They claimed that the decision was out of their hands and that there is nothing they could do about it. This is a lie. More dangerous, violent criminals are getting out of maximum security because of Trudeau's Bill C-83, which requires prisons to be chosen for inmates to give them the 'least restrictive environment' possible." 
According to the Conservative leader, the Trudeau government could have reversed the transfer by issuing a directive or order in council to the Correctional Services Commissioner requiring that all court-ordered dangerous offenders and multiple first-degree murderers be kept in maximum-security for their entire sentences.
Poilievre and Baldinelli were joined by three of Kristen French's childhood best friends for the press conference Sunday: Marcia Penner, Laura Murray, and Tennille Chwalczuk. 
Speaking on behalf of the trio, Penner said the proposed legislature was "not only extremely important to (them) personally, it's imperative to every single victim and their families going forward."
"We need to bring justice back to the victims and their families for once and for all."
Baldinelli said Penner contacted him a week ago.
"She (Penner) asked that we raise the issue, that we criticize the issue, that we bring publicity to the issue, and that if we could take steps to change this decision that we act on it," a palpably emotional Baldinelli told reporters Sunday.
Per the Niagara Falls MP, he worked in close coordination with his Conservative shadow cabinet colleagues Raquel Dancho, critic for public safety, and Rob Moore, critic for justice, to quickly come up with viable legislation that would ensure "decisions such as Paul Bernardo (being moved to medium-security) can never be made again."
Baldinelli's bill will require that all court-ordered dangerous offenders and mass murderers be permanently assigned a maximum-security classification. It will also repeal the Liberals' 'least restrictive environment' standard for assigning inmates to prisons and restore the language of 'necessary restrictions' that the previous Conservative government under former Prime Minister Stephen Harper had put in place. 
Lawmakers will have to act fast to pass the legislation, as the House rises for the summer on June 23 and doesn't return until September 18. 
Poilievre said he hopes members pass the bill "without delay" and "with unanimous consent".