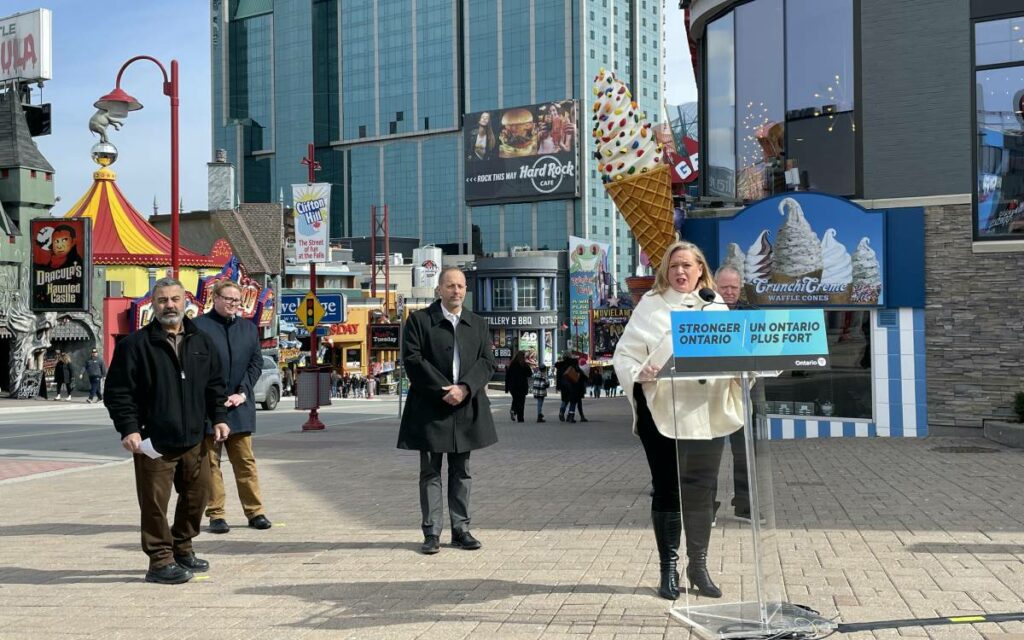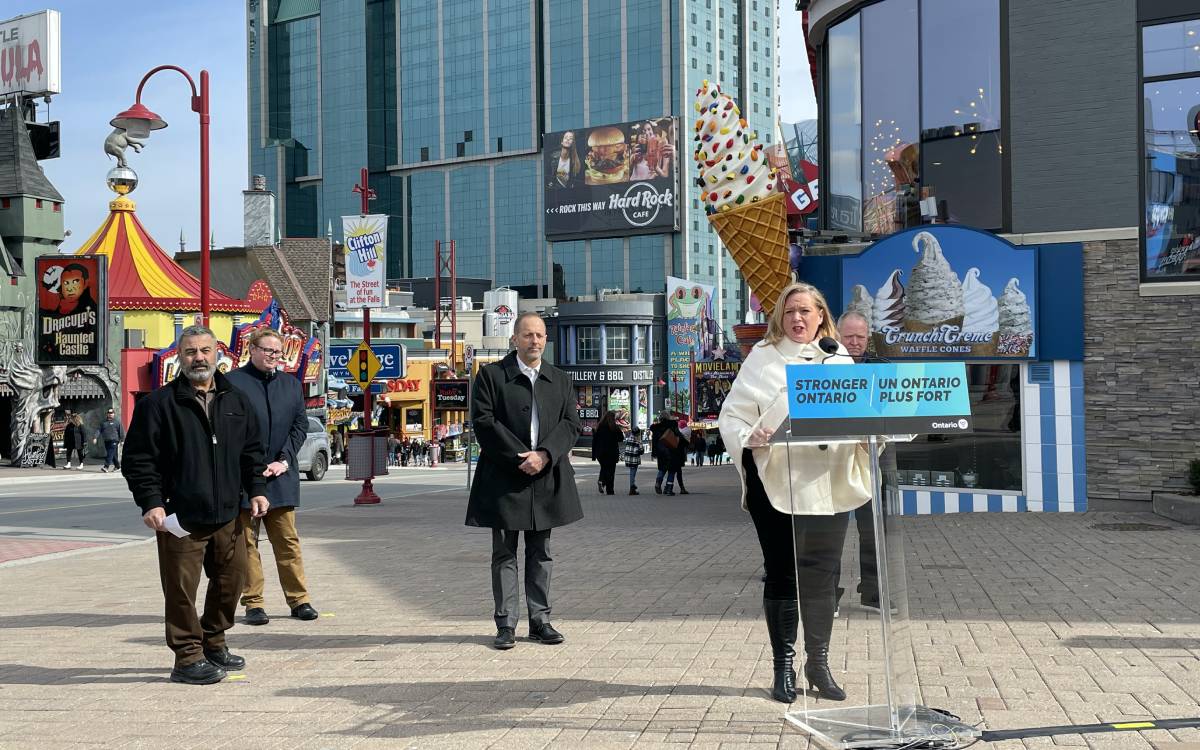 Speaking outside Boston Pizza on Clifton Hill in Niagara Falls Thursday, Minister of Heritage, Sport, Tourism and Culture Industries Lisa MacLeod (pictured at podium) outlined a provincial tax incentive that will provide Ontarians up to 20 per cent back on eligible accommodation expenses for leisure travel this year. Photo credit: The Niagara Independent/Nicholas Tibollo
With March Break next week and the high tourism season just around the corner, Minister of Heritage, Sport, Tourism and Culture Industries Lisa MacLeod was in Niagara Falls Thursday to announce the provincial government's 'Ontario Staycation Tax Credit'. 
Valid all year until Dec. 31, 2022, the travel incentive allows Ontario residents to get back up to 20 per cent on accommodation expenses for leisure stays in the province. 
Residents can claim eligible expenses up to a maximum of $1,000 for individuals and $2,000 for families, with a maximum return of $200 for an individual and $400 for a family.
The tax credit, said Minister MacLeod, "is the Province of Ontario right now telling you after two years – when we were told to social distance, self-isolate, and stay at home – that they have, and we have, the confidence in our sectors to get back to business. To get back to making memories. And get back to welcoming people from around this province and around the world in iconic destinations such as Niagara Falls."
"It is now time," said the minister, "to safely travel in the Province of Ontario."
Eligible expenses can be incurred at hotels, motels, lodges, bed-and-breakfast establishments, cottages, campgrounds, and other short-term accommodations subject to GST/HST, including Airbnb.
To claim the tax credit, Ontario residents must keep detailed receipts of their stays and then simply apply when they file their 2022 personal income tax and benefit returns next year. Eligible recipients can receive the credit even if they do not owe income tax.
"We know it's going to be a while before the international travellers come here once again," said Mayor of Niagara Falls Jim Diodati. "In the meantime, we need domestic tourism, we need the 'staycation', we need people here…and this will be the exact kind of incentive that's going to incentivize (Ontario residents) to come here to Niagara Falls to have a good time."
In a non-pandemic year, upwards of 14 million visitors travel to Niagara for vacation.
Locally, more than 40,000 people rely on the tourism industry to make a living.
"It's been a very difficult time," said Diodati, "but resilience is a part of our DNA."
"I'd like to say, officially, Niagara Falls is open once again!"
Alongside Minister MacLeod and Mayor Diodati, also in attendance at Thursday's announcement on Clifton Hill were president and CEO of Tourism Industry Association of Ontario Chris Bloore, chair of Niagara Falls Tourism Joel Noden, local city councillor Vince Kerrio, and regional councillor for Niagara Falls Bob Gale. 
"Any tax break that helps tourism helps the City of Niagara Falls and Niagara Region as a whole, and that's certainly something I can get behind," said Gale, who will represent the Ontario PC Party this June as its candidate for Niagara Falls.
"As we open up over the coming weeks and months, a thriving tourism and hospitality industry will be essential to a strong post-pandemic economy recovery, both locally and across the province."
Over 1.8 million families are eligible to take advantage of the Ontario Staycation Tax Credit, with an estimated $270 million worth of support allocated for 2022.
Prior to the pandemic in 2019, the tourism industry generated $38 billion in economic activity and supported approximately 395,000 jobs across Ontario.