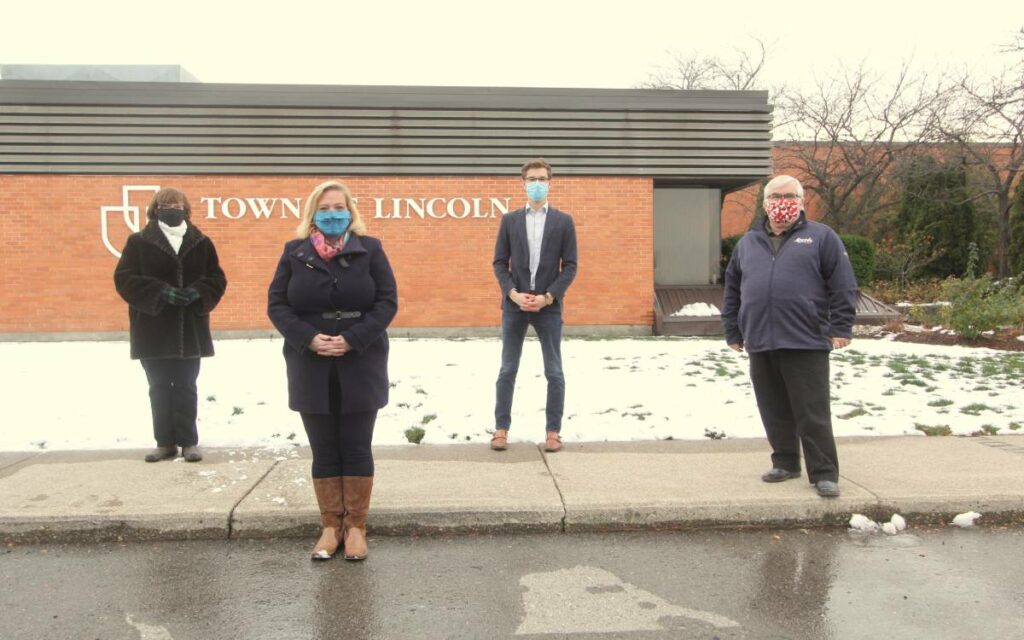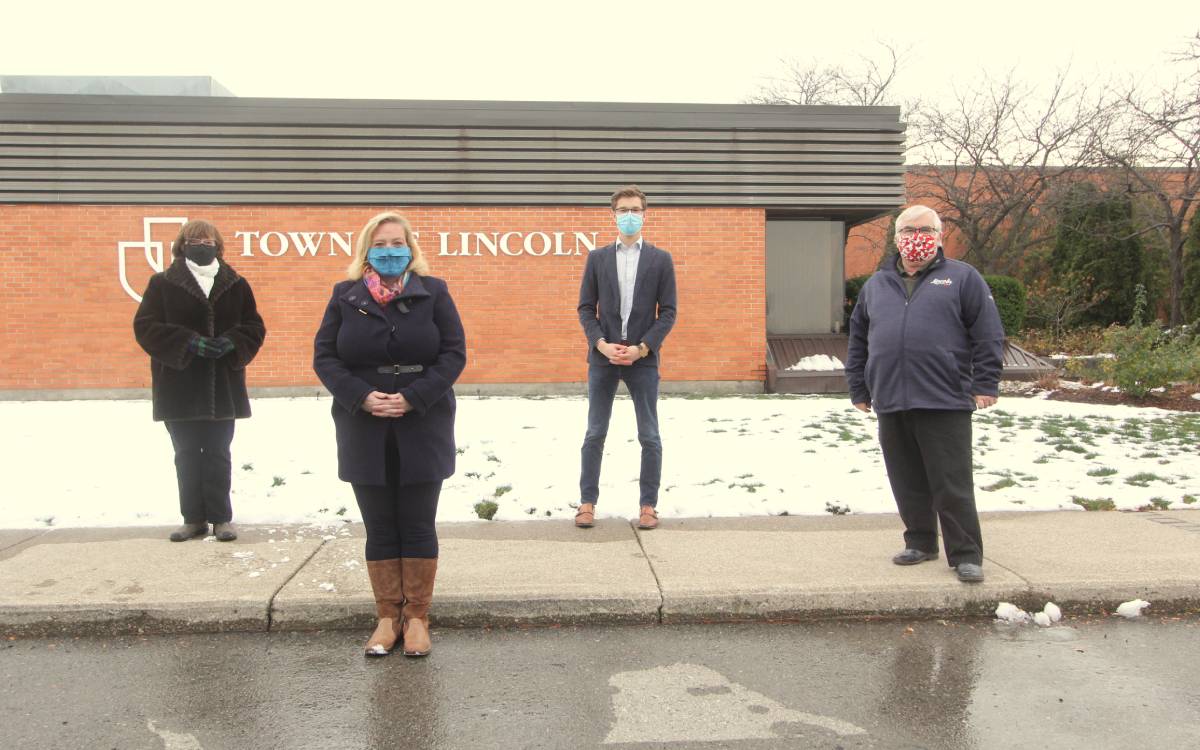 From Left: Sandra Easton, Mayor of the Town of Lincoln; Hon Lisa MacLeod, Minister of Heritage, Sport, Tourism and Culture Industries; Sam Oosterhoff, MPP for Niagara West; Robert Foster, Councillor, Regional Municipality of Niagara
Niagara Parks is getting a financial boost as the Honourable Lisa MacLeod, Minister of Heritage, Sport, Tourism and Culture Industries announced up to $12.81 million to help ensure the region remains one of the top tourism destinations in the world during and after the COVID-19 outbreak. The province is providing the one-time funding to help protect jobs, keep some attractions open, ensure compliance with public health protocols, and continue to keep visitors safe through policing and road maintenance activities.
"Our government is proud to support the Niagara Parks Commission, one of the most spectacular tourist areas that Ontario has to offer," said MacLeod.
"We are incredibly appreciative of today's announcement of financial support from our Minister, Lisa MacLeod. We look forward to emerging strongly in to 2021," said David Adames, CEO, Niagara Parks Commission.
Niagara Falls Mayor, Jim Diodati said, "Niagara Falls is the number one leisure destination in Canada and this support marks a confidence from the government that will help bolster Niagara Falls and the Niagara Parks Commission. The tourism and hospitality industry is hemorrhaging and this will serve as a first step to helping get us back on track. Great thanks to the provincial government and to Minister MacLeod for keeping her hands on the wheel as we drive through the pandemic."
No stranger to Niagara, MacLeod, made the first of her two stops yesterday in West Niagara.
The Minister made a multi-million dollar funding announcement in support of the province's tourism sector. MacLeod is scheduled to make another tourism sector related announcement in Niagara Falls this morning at 9:15 at Niagara Parks' Flower Showcase.
Yesterday, the Minister announced that the provincial government is investing more than $3.4 million across the province to support 27 local events and initiatives through the new Reconnect Festival and Event Program. These events are the first to be approved as part of this $9-million fund, created to help municipalities and organizations deliver innovative and safe experiences that allow people to reconnect with the beauty and diversity of their communities in new ways during COVID-19.
Sam Oosterhoff, MPP for Niagara West, joined Minister MacLeod, along with Sandra Easton, Mayor of the Town of Lincoln, to announce that Bench Brewing Company in Beamsville will receive over $64,000 in funding support through the Reconnect Festival and Event Program, for their event, Bench Winterfest.
"The pandemic continues to disproportionately impact tourism and culture – two major industries that normally connect us to each other and bring our communities to life," said Minister MacLeod in a statement.
"It is critical that we support organizations that are finding new ways to engage and reconnect Ontarians with their local communities while creating local jobs. The Reconnect Festival and Event Program will help support the economic and social recovery of communities across Ontario."
Matt Giffen, Founder of the Bench Brewing Company, said he is "thrilled to be a recipient of funding from the Reconnect Festival and Event Program." He added that, "The investment announced today will support ongoing plans for a winter festival that advances the objectives of the Reconnect program.  We are grateful for the support of our local political and community leaders and thank the Minister for championing Ontario's heritage, sport, tourism and culture industries."
The new program was launched in October 2020, with funding available to help festival and event organizers adapt to new public health measures with virtual, drive-through and other safe offerings. To give organizations more time to develop new programming and submit applications, the Reconnect Festival and Event Program deadline will be extended by three weeks to Dec. 22, 2020, at 5 p.m.
"Festivals and events and companies like Bench Brewing make important contributions to communities like ours, creating local jobs, boosting the economy and giving us all the opportunity to experience what Ontario has to offer right in our own backyard," said Sam Oosterhoff, MPP for Niagara West.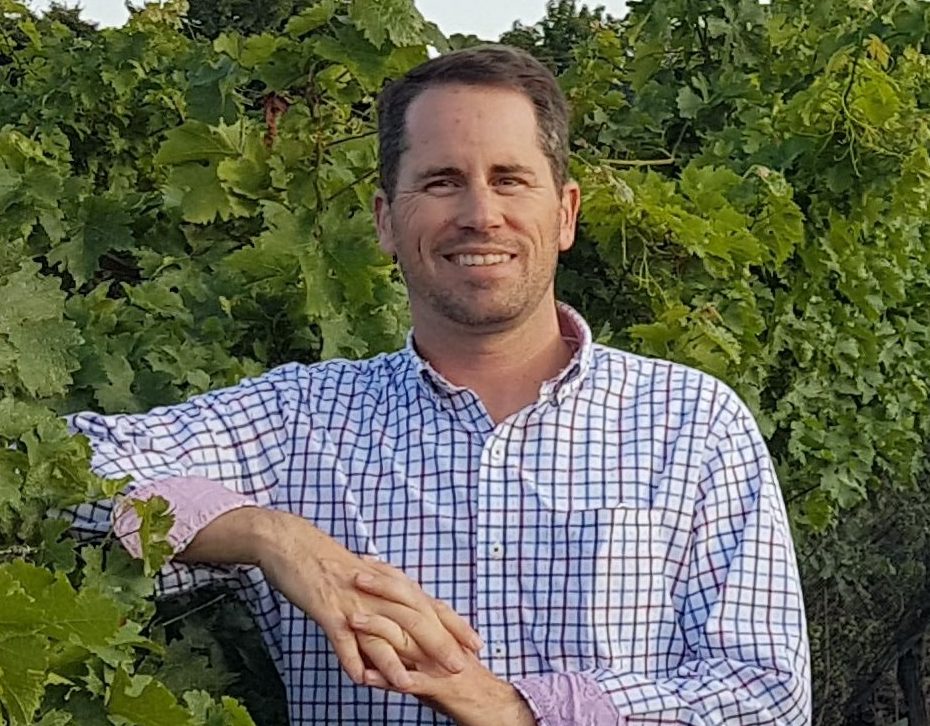 Kevin has spent over two decades as a public relations professional in a variety of sectors including professional sports, the arts, industry and healthcare.  After tiring of the daily commute to Toronto he returned to Niagara and launched The Niagara Independent, an online news source published twice weekly.
He is a graduate of Brock University, Niagara College and the Richard Ivey School of Business. He was named one of Niagara's 40 Under Forty in 2005.
Kevin is most proud of his twin daughters. He is also a triathlete and four-time Ironman finisher.