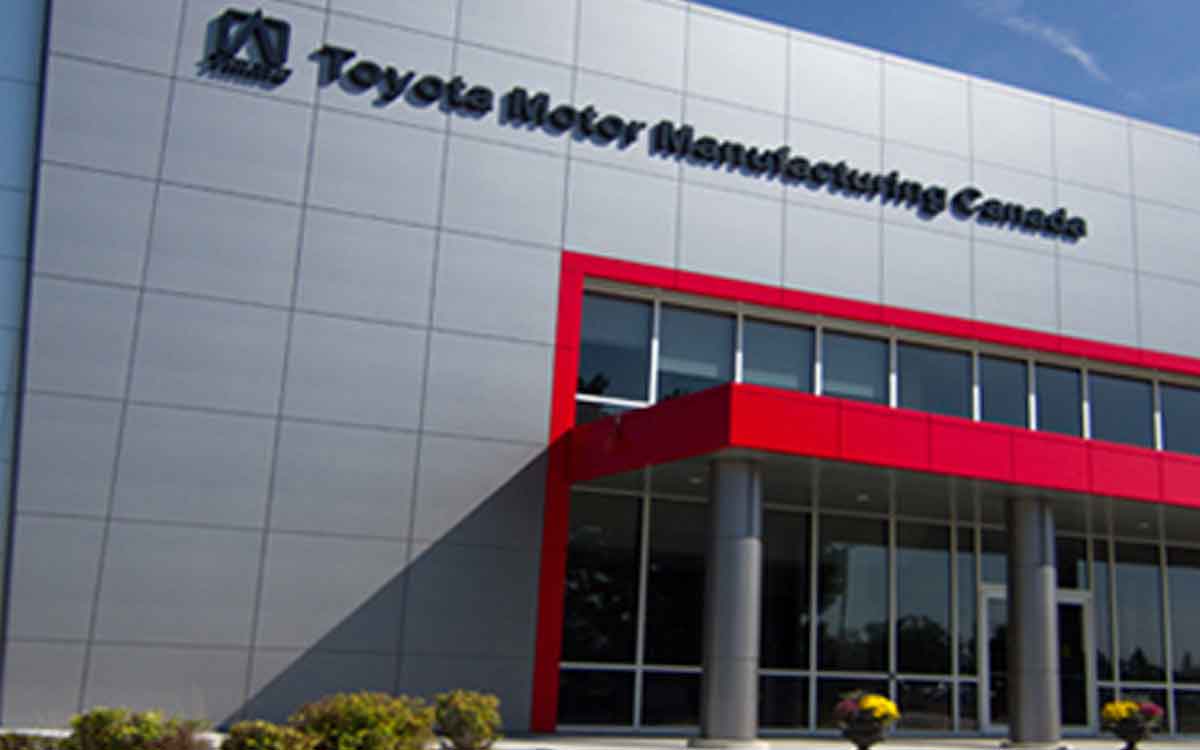 Toyota announced it will begin manufacturing a luxury SUV in Cambridge.
It was a good news announcement for Ontario's auto sector yesterday. Toyota Motor Manufacturing Canada (TMMC) announced they will begin producing their luxury SUV at its Cambridge plant moving production from Japan to Ontario. The plant will supply all of the North American market.
"Building on our recent Toyota RAV4 announcement and our recent facility modernization investments, we are excited to announce that TMMC has been selected to produce the popular Lexus NX and Lexus NX Hybrid models for the entire North American market," TMMC President Fred Volf told Team Members and dignitaries.
In 2003, TMMC became Toyota's first facility entrusted to produce Lexus vehicles outside of Japan – a tremendous honour within Toyota – and has since made more than 1.3 million Lexus RX and Lexus RX Hybrid vehicles. While unionized auto plants in Ontario continue to downsize or close, the Cambridge and Woodstock Toyota plants remain non-union and continue to grow despite an aggressive push by Unifor over the past several years to try and unionize the Toyota plants.
The company did not say how many new jobs would be created or how much money the company will be investing in the plants.
Todd Smith, the province's Minister of Economic Development, Job Creation and Trade, welcomed the announcement saying in a statement. "The auto industry is getting the message loud and clear — Ontario is open for business and open for jobs," said Smith. "Our government's ongoing actions to cut red tape and lower business costs are putting Ontario back at the top of the list for automotive investment."
Starting in 2022, Toyota will begin to produce the Lexus NX at its Cambridge plant, in both gasoline and hybrid versions. This will accompany current production in Cambridge of the mid-size luxury Lexus RX and RX hybrid. Toyota also currently manufactures its popular RAV4 sports utility vehicle in plants in Woodstock and Cambridge and is one of the province's top vehicle producers.
"Toyota's decision to produce a new generation of Lexus vehicles in Cambridge is another example of how Ontario's skilled workforce and advanced supply chain are perfectly suited to build the vehicles of tomorrow," said Christine Elliott, Deputy Premier and Minister of Health and Long-Term Care, who attended yesterday's announcement. "Working together, we're helping create jobs and make the sector more competitive. We're showing the world that Ontario is open for business and open for jobs."
With more bad news than good in the past several years when it comes to the province's auto sector, the Ontario government has vowed to make Ontario a top destination for the auto sector. The province released a comprehensive plan for supporting the auto sector entitled, 'Driving Prosperity: The Future of Ontario's Automotive Sector' earlier this year. It sets out a 10-year vision for how industry, the research and education sector, and all three levels of government can work together to strengthen the auto sector's competitiveness and bring new jobs to the province.
Not surprisingly, given a federal election is just around the corner, prime minister Justin Trudeau was on hand for the good news announcement. However Trudeau ended up taking questions not on the state of the province's auto sector but rather the trade dispute between China and Canada as well as environmental issues.
TMMC has manufactured vehicles in Canada for more than 30 years and currently employs more than 8,500 team members at its facilities in Cambridge and Woodstock, Ontario.  Committed to producing vehicles in Canada, Toyota has invested more than CDN $8.5B in its Canadian operations since 1985, and has built more than eight million vehicles over that period of time.