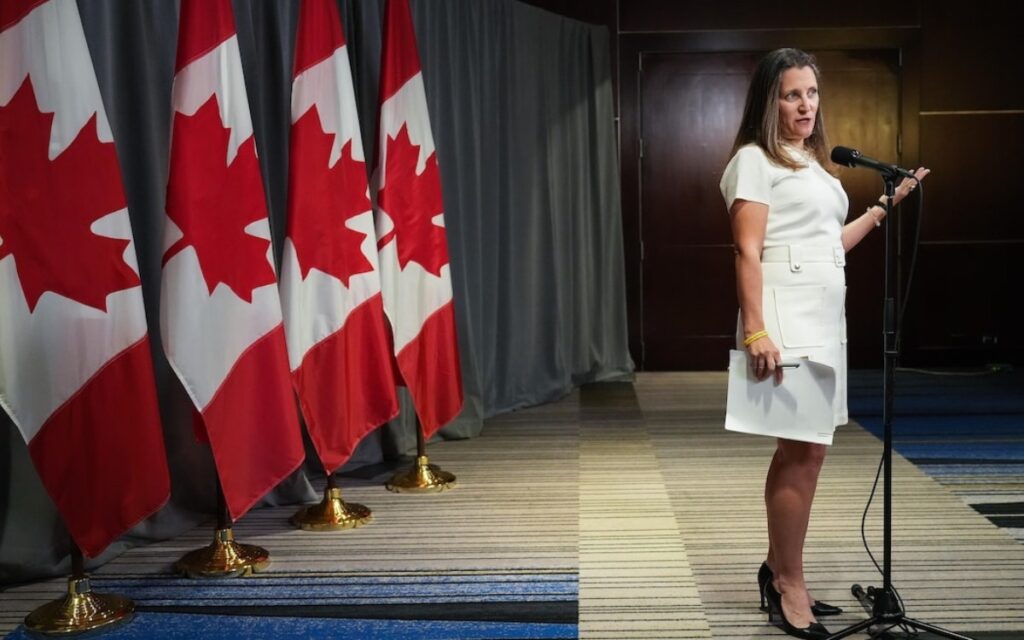 Don't believe the hype. Nothing coming out of the federal government's cabinet retreat in B.C. will actually address the myriad economic issues Canada as a country and Canadians more generally are facing. Pictured Canada's Minister of Finance Chrystia Freeland addresses reporters in Vancouver. Photo credit: The Canadian Press/Darryl Dyck
Canadian Prime Minister Justin Trudeau made headlines this week when the federal cabinet met behind closed doors at a Vancouver resort ruminating on the increasing financial pressures faced by Canadians. The PM framed these discussions by stating his government will focus on Canada's economy when parliament resumes on September 19.
"Our focus this week as we kick off what will be a busy and important fall of parliamentary work is on the economy. It's hearing from Canadians, working with Canadians, to solve the very real pressures they're facing," Trudeau offered. 
The PM and his cabinet colleagues were looking for "solutions" to ease the affordability concerns of Canadians. The PM cited two specific examples of his government's focus to improve the country's economic matters: affordable housing and the national childcare program. 
With respect to affordable housing, the PM himself announced what is the largest loan in Canadian history to a housing project with the Squamish Nation. The government will provide a low-interest, 50-year loan of $1.4 billion to help with a ten acre residential and commercial development project in the Kitsilano neighbourhood of Vancouver. The First Nation received this unprecedented loan to build affordable rental apartments.
Yet, the government made a special arrangement for this particular deal that will allow the Squamish Nation to skirt national affordable housing criteria. Of the 6,000 units being constructed, only 20 per cent are required to be affordable housing units. This is well below the 40 per cent affordable housing criteria set for government loans. In the end, there will be 1,200 units priced at Vancouver's rental market value, instead of being available for low-income Canadians. 
Although there was no specific news emanating from the cabinet retreat about implementing the national childcare program, CBC broke "insiders" leaks about the government's plan to introduce a national dental care program as well as a one-time $500 benefit payment to low-income renters. 
The CBC was also the first to report on the government's plans to temporarily increase GST rebate cheques in the fall. Two "anonymous sources" said the Trudeau cabinet agreed to double the amount of the next two GST cheques – received by lower income Canadians every three months. The thought is this initiative will ease some of the hurt of inflation through 2022. 
It has also been reported that the federal cabinet is considering new federal measures that might be provided to help Canadians with the cost of living. These measures could include a direct payment to middle and lower-income individuals, although in a media availability session Finance Minister Chrystia Freeland would not confirm specifics. 
What is strikingly absent in the news from Vancouver is any substantive comment by the PM or his finance minister on Canada's fiscal policy, or government spending, or industrial growth, labour issues, national trade objectives, etc. In what is being reported out to the public, the cabinet's discussions centered around new government programs and new spending. 
In related news this week, the Bank of Canada announced another interest rate hike of 0.75 percentage points. This is the fifth time since March that the Bank has increased borrowing costs in an effort to curb Canada's inflation rate, which is at heights not seen in this country since the 1980s. Canada's benchmark overnight rate is now at 3.25 per cent, the highest level since the economic troubles in 2008.
Inflation and higher interest rates are having a direct impact on Canadians' budgets. An August Angus Reid survey revealed that three of four Canadians (76 per cent) worry about their finances, and more than half (56 per cent) cannot keep up with the cost of living. One in two Canadians (52 per cent) stated they could not manage a sudden expense of more than $1,000.
Then there was the report by Equifax Canada that revealed Canadians are racking up credit card debt to stay on top of their bills. There has been a 6.4 per cent increase in credit card balances between the first and second quarters of 2022. 
This type of financial strain currently being felt by Canadians is likely not to be eased by doubling a GST rebate cheque or a one-time $500 hand out. Conservative MP Dan Albas who serves as the Opposition finance critic lamented the Bank's interest rate hike "more pain for Canadians." Albas issued a media statement on Wednesday claiming the Bank's move is a direct result of the government's "out-of-control spending" that has contributed to inflation.
Albas stated, "Canadians appear poised to face a significant economic downturn. Canadians deserve a government that will fight the cost of living crisis." 
A recent Scotia Bank analyst of Canada's monetary policy points to unbridled government spending as a core reason for the Bank's inability to harness inflationary pressures. The Scotia Bank report suggested The Bank of Canada should not be fighting inflation on its own. It concluded that "lower government spending on goods and services could help lower inflation."
Clearly, Finance Minister Freeland and the Trudeau cabinet are not heeding this counsel for fiscal prudence. In June the government announced an additional $8.9 billion "affordability plan" that will have government spend its way out of its fiscal jackpot. 
In Vancouver, Canadians heard more of the same. 
On this point, Yves Giroux of the Parliamentary Budget Office has been highly critical of Freeland and the government's long term fiscal plan. Giroux points to one factor that is seldom mentioned: the cost of financing the debt, particularly with increased interest rates. Consider the federal government's interest payments on bonded debt totaled $20.4 billion last year. With the continuous deficit spending by this government the interest payments are projected to rise to $42.9 billion by 2027. This figure is factoring a near-zero interest rate, however with interests rates of three per cent one must triple that payment. 
Given the government's propensity to spend more and more money (it does not have) it is not surprising that the Organization for Economic Co-operation and Development (OECD) has projected that growth in living standards in Canada would rank dead last among its 38 developed member-countries over the next 40 years.
From the headlines out of Vancouver, it is evident there is no relief in sight for financially strapped Canadians. There is no reassurance to be had from a PM who does not think about monetary policy. There is no confidence in Trudeau with the claim his government will focus on the economy.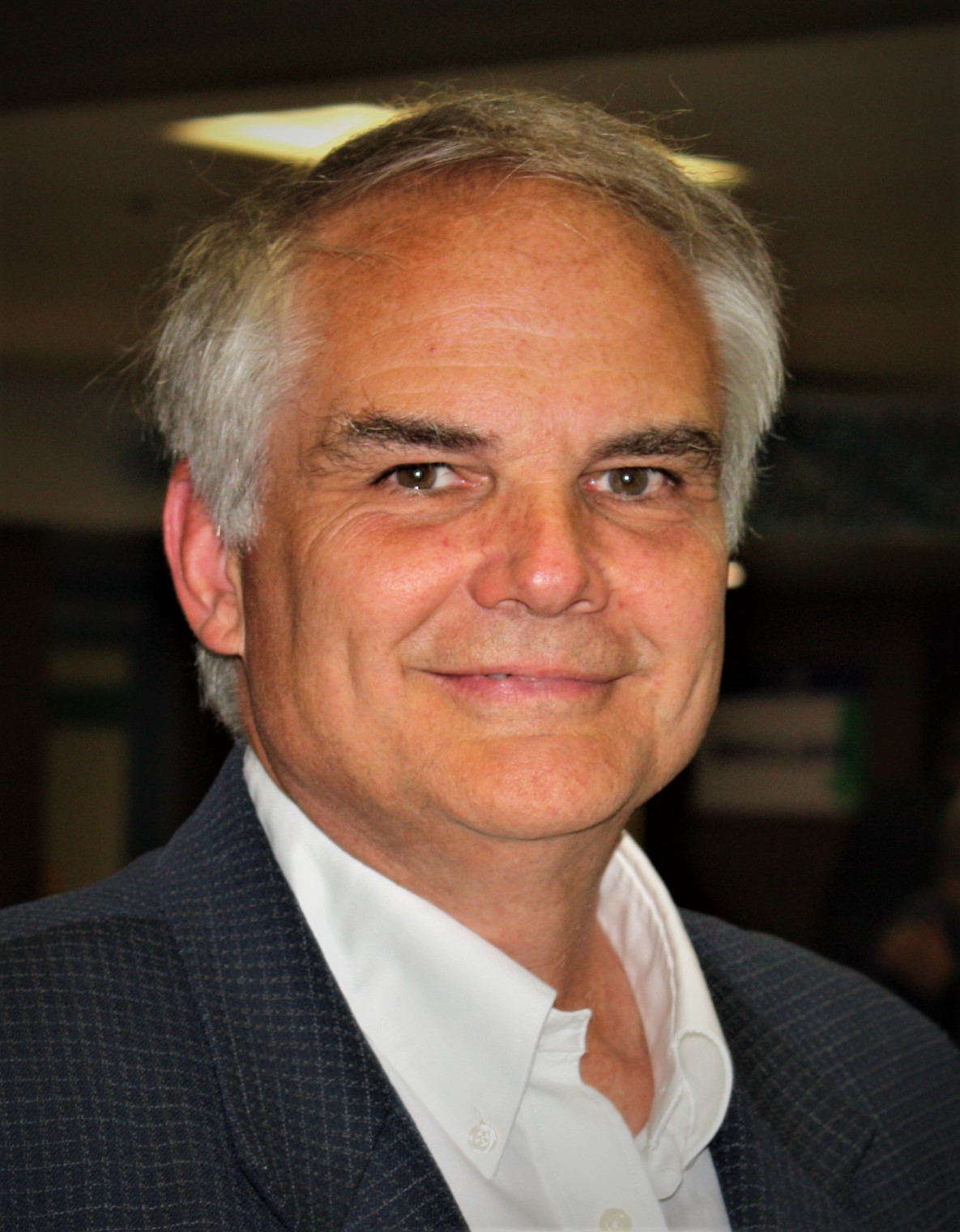 Chris George is an advocate, government relations advisor, and writer/copy editor. As president of a public relations firm established in 1994, Chris provides discreet counsel, tactical advice and management skills to CEOs/Presidents, Boards of Directors and senior executive teams in executing public and government relations campaigns and managing issues. Prior to this PR/GR career, Chris spent seven years on Parliament Hill on staffs of Cabinet Ministers and MPs. He has served in senior campaign positions for electoral and advocacy campaigns at every level of government. Today, Chris resides in Almonte, Ontario where he and his wife manage www.cgacommunications.com. Contact Chris at chrisg.george@gmail.com.