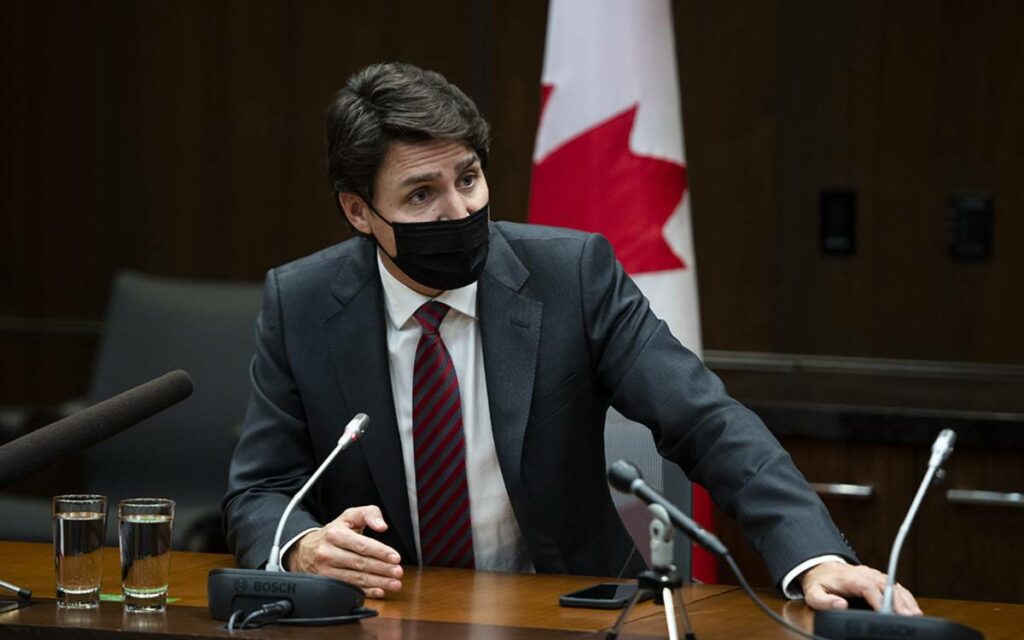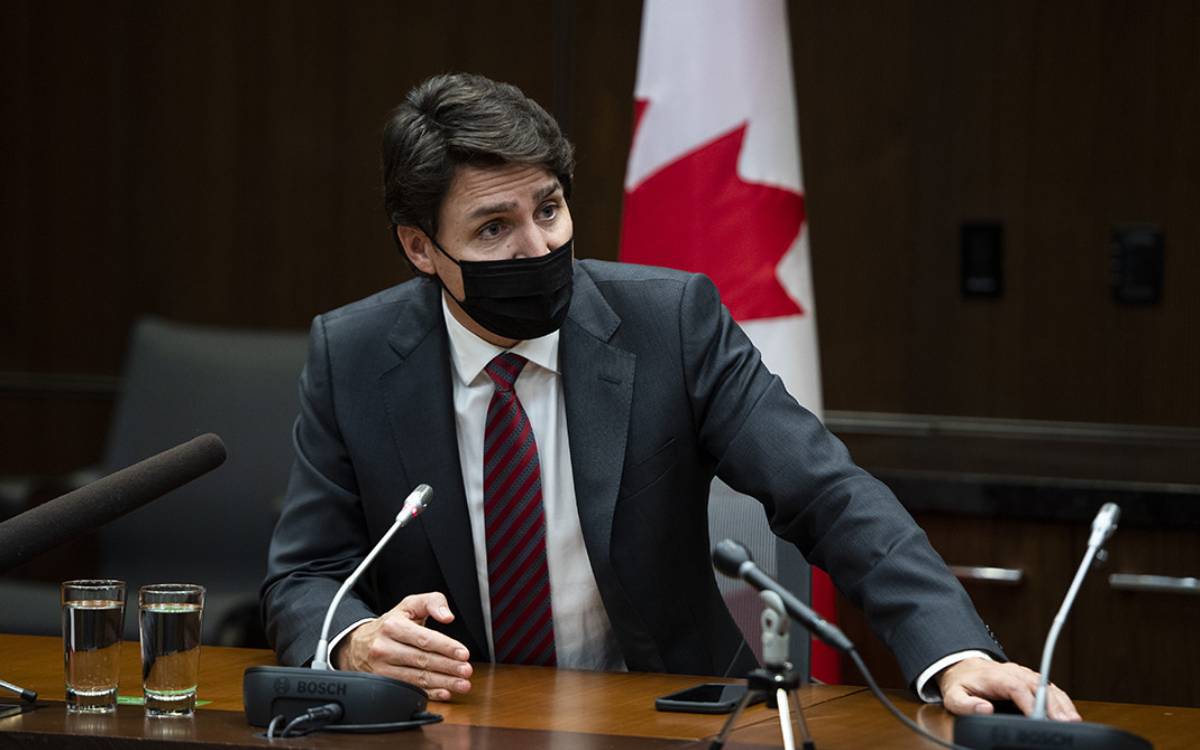 Prime Minister Justin Trudeau, in responding to this outpouring of support for the truckers, was quick to dismiss the truckers and their supporters as "small fringe minority" holding "unacceptable views" that do not represent the "views of Canadians." Photo credit: The Canadian Press/Justin Tang
"A propogandist's purpose is to make one set of people forget that certain other sets of people are human." – Aldous Huxley 
The eyes of the world are now watching Canada's Freedom Convoy. It is a full-blown international story. Canadian truckers have set a new Guinness World Record for the longest convoy stretching an estimated 100 kilometers in length. The western Canadian convoy is being joined by parades of thousands of rigs – coming east from the Maritimes and south from throughout the United States.
The protest convoy was sparked by the truckers' dispute with the introduction of a vaccine mandate for cross-border truckers – a move that will worsen the current shortages of drivers. At its core, it is a grievance against vaccine mandates and public health and government restrictions that curb individuals' civil liberties. The convoy organizers intend for a peaceful and law-abiding demonstration that will plug the highways in and around the Nation's Capital and will conclude with a rally near Parliament Hill.   
A group called "Canada Unity" has worked alongside the truckers to compile a set of demands to present to the government. A posted "memorandum of understanding" on its website calls for all levels of Canadian government to stop the use of vaccine passports, waive fines linked to COVID-19, and reinstate employees who were fired for breaking COVID-19 rules. It identifies government restrictions and mandates as "unconstitutional, discriminatory and segregating."
James Bauder, founder of the Canada Unity Foundation, asserts, "This is not about the vaccine, by the way…It's about the mandate…We're done with mandates."
The trucks pulled out of Prince Rupert and Vancouver on the weekend. With the news of the convoy rolling down the open prairie highways, it caught the attention of a global audience. Then somewhere in the cold of Saskatchewan, or perhaps it was in Manitoba, the truckers' journey captured Canadians' frustrations and angst over the prolonged pandemic, and it spoke directly to their distrust of the governments' overreach. 
Canadians' admiration for the truckers is remarkable by any stretch of the imagination. Tens of thousands of Canadians line highways and overpasses to cheer and wave signs, personal vehicles have joined the trek to Ottawa, and #FreedomConvoy2022 is consistently trending on social media. Since Monday the Freedom Convoy Facebook page has attracted over 726,000 followers, its Instagram page more than 245,000. In four days, the Freedom Convoy's GoFundMe page has had more than 83,000 donors give more than $6.5 million to help with fuel, food, and accommodations for the truckers.
Prime Minister Justin Trudeau, in responding to this outpouring of support for the truckers, was quick to dismiss the truckers and their supporters as "small fringe minority" holding "unacceptable views" that do not represent the "views of Canadians." He stated he would not lift the vaccine mandate, suggested that the convoy was led by anti-vaxxers and urged those truckers to get vaccinated so that Canadians can "get back to the things we love to do."
The PM's arrogance in that Wednesday media session was perhaps best summed up by journalist Alan Fryer, the former news reporter for CTV National and W5, who tweeted: "Trudeau doubles down on the divisive rhetoric. A true leader would acknowledge the frustration and disappointment most Canadians are feeling today and urge neighbours to reach out to those they disagree with. Not vilify them. The man is incapable of putting partisanship aside."
Justin Trudeau was calculated in addressing the media, confident that his political backroom operatives were spinning in overdrive to win the public opinion war. 
It began with Gerald Butts' weekend tweets suggesting possible misappropriation of funds by convoy organizers. The Trudeau Liberal cabal was intent on casting doubt and stirring up mischief. Character assassination and undermining causes are rote for these politicos: 
Misrepresent issues and create strawmen (convoy is filled with anti-vaxxers) 

Draw lines of division to label opponent ("those people" are western / right agitators) 

Denigrate and vilify opponent (truckers are rubes, led by white supremacists) 

Claim moral high ground and virtue signal (speaking for Canadians, get vaccinated) 
In 72 hours, the Trudeau Liberals have pitted Canadians against themselves, spinning that the protest is "anti-vaccine," dangerous and potentially violent. The government narrative was amplified by its subsidized mainstream media. The Toronto Star editorial team suggests, "Truckers are flirting with extremists. They should call off their protest." One Global News headline screamed: "Far-right groups hope trucker protest will be Canada's "January 6th." 
In social media, Liberals were also in attack mode and two such attacks warrant special mention. First, pollster Frank Graves made his views known early in the week with the tweet: "Imagining a Canada where a tiny minority of retrogressive intolerant morons doing some pathetic twisted outtake of Convoy are being celebrated by media and former official opposition leader. These imbeciles are lying squarely in the path to safety and renewal. I weep." 
The prize for bile goes to Penny Collenette, otherwise known to Liberals as "the Queen of Patronage" after her PMO stint doling out hundreds of appointments for PM Jean Chretien. In a series of tweets, Collenette highlighted comments that miscast the convoy as a Canadian insurrection: "Assault on Parliament Hill. That's enough. That's it. Moan about the loss of your damn freedom from vaccination while putting the rest of us at risk but how dare you gaslight an attack on Canadian democracy. Crawl back under a hole. Stay there."
This unsolicited, ugly rhetoric is driving a wedge of mistrust and intolerance between the truckers and their supporters, and those who are informed by mainstream media and the PM's pulpit. In fact, all the press conferences and news headlines from Ottawa this week have succeeded in one thing: they have divided Canadians.
Still the trucks continue to push on towards Ottawa. And let the last word be one of hope.
Niagara West MP Dean Allison witnessed the crowds gather Thursday on the QEW overpasses to pay tribute to the Freedom Convoy. Allison observes, "It is amazing to see the thousands of people – moms, dads, youth – out on the side of the road cheering on our truckers. No doubt, truckers have been our heroes working hard through the last two years. They are heading to Ottawa to protest the massive government overreach we have seen grow continuously, eroding our civil rights. When the prime minister and legacy media says this protest is only a small fringe group, they are deliberately misleading Canadians."
Indeed. Move over Aldous Huxley. Roll on Freedom Convoy.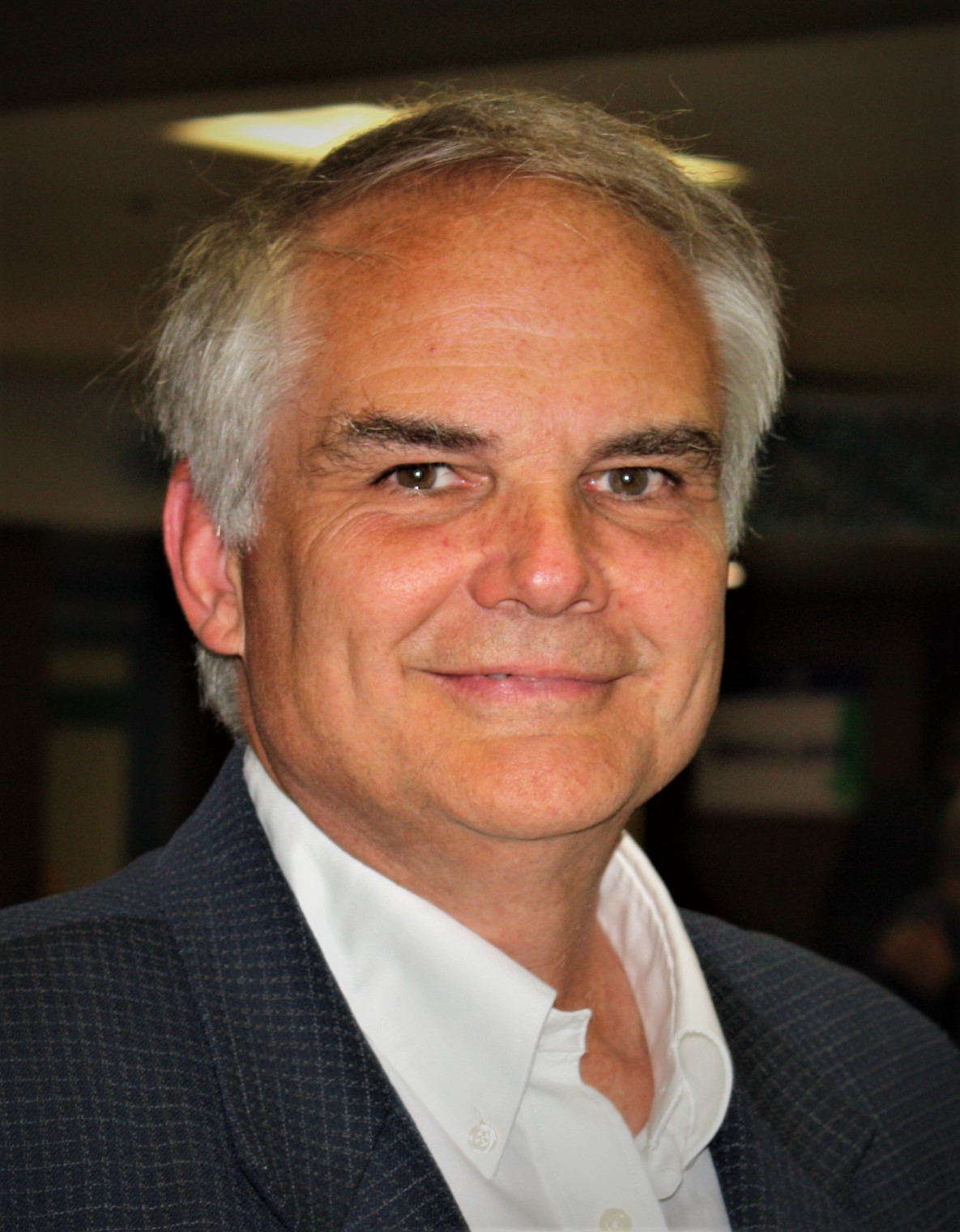 Chris George is an advocate, government relations advisor, and writer/copy editor. As president of a public relations firm established in 1994, Chris provides discreet counsel, tactical advice and management skills to CEOs/Presidents, Boards of Directors and senior executive teams in executing public and government relations campaigns and managing issues. Prior to this PR/GR career, Chris spent seven years on Parliament Hill on staffs of Cabinet Ministers and MPs. He has served in senior campaign positions for electoral and advocacy campaigns at every level of government. Today, Chris resides in Almonte, Ontario where he and his wife manage www.cgacommunications.com. Contact Chris at chrisg.george@gmail.com.